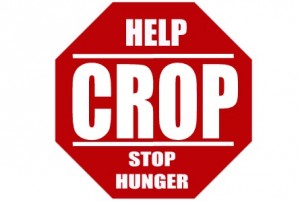 (CSi) The Valley City-Barnes County CROP WALK for HUNGER is Wednesday, May 5 with registration anytime between 6:30 and 7 pm.
Co-chairperson Emmy Swedlund says, "The CROP WALK will be a little different this year. "Jefferson Mile", the mile route around Jefferson Elementary School and the Hi-Liner Athletic Fields area, and there will be 4 education stations, one station at each of the corners."
Walkers can register at any of the 4 corners of the Jefferson mile between 6:30 pm and 7 pm After registering, walk clockwise around the mile path, and do it one, two, three or even times before the event closes at 8 pm.
Co-chairperson Sharon Buhr adds, "We walk because they (those in Asia and Africa) walk. We walk to raise funds to help them, but they walk because they have to walk to get water, or buy items, or go to school."
Walkers are encouraged to donate money to help hungry people all around the world, including the people in the U.S. who are in need. Walkers can drop their donations off at any of the 4 education stations along the walk, or leave the donation at your church anytime now through mid May. The 4 education booths include Safe Water (Our Saviors Lutheran…giving out clean water), Hunger (Epworth Methodist…giving out bananas), Health and Disease (Faith Lutheran), and Planting Gardens and Raising Animals (Connect Church…giving out packets of seeds).
The target to raise is $5000. Twenty percent ($1000), if that much is raised, will be given to our Barnes County Food Pantry, who is definitely in need of food. Over the past 15 months almost 2000 individuals have been served by the Food Pantry.
The remainder of the funds go to various places across the globe. They are used directly for food for people in need (e.g. refugee camps), but the funds can also go for seeds and purchasing gardening tools so people can grow their own food, for technical training and micro-enterprise loans so people can start their own businesses, and to dig wells because many people have to walk to a river to get their water every day.
Buhr gives an example of how far people in some parts of Kenya have to walk to get their daily water. Imagine a track (like our own Hanna Field Track), with one lap being 400 meters. Now imagine having to walk around that track 50 times every day in order to get clean water for your family!
Everyone is invited to join the CROP WALK for HUNGER…for the exercise, for donating funds to help hungry people, and empathize with others overseas who have to walk such a distance just to get their water.
The walk starts with registration from 6:30 pm to 7 pm on Wednesday, May 5, at either of the 4 stations of the "Jefferson Mile". "Come walk, learn, donate," emphasizes Swedlund. And if you cannot come to the walk drop your donation off to your church for the CROP WALK for HUNGER. If you have any questions, please contact Sharon Buhr at 840-0973.