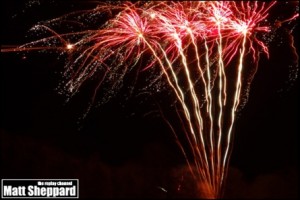 Jamestown  (CSi)  The Independence Day public fireworks display in Jamestown is planned for Sunday July 4, following the Sunday races at Jamestown Speedway, at the Stutsman County Fairgrounds.
RES Pyro, of Belle Plaine, Minnesota, will  begin the display  lasting approximately 15 to 20 minutes beginning at 10:30 p.m. from the north end of the track, taking a break in racing, if it's still going on, and then return to racing after the fireworks.
Jamestown Speedway racing is Sunday July 4 starting at 7-p.m.