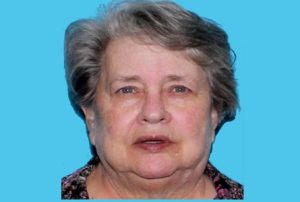 Update…
The Silver Alert issued on 7-20 has been cancelled. Sharon Mardsen has been SAFELY located by law enforcement officials.
Earlier
A Silver Alert is being issued at the request of MINOT POLICE DEPARTMENT. SHARON MARDSEN of MINOT NORTH DAKOTA is a 73 year old WHITE FEMALE.
SHE is 5 FEET 4 INCHES tall, weighs 200 pounds and has GRAY hair and GREEN eyes.
HER last known whereabouts were on JULY 19 and 8 A M in 9 0 9 24TH AVE MINOT NORTH DAKOTA. SHE is believed to be driving a MAROON CHRYSLER PACIFICA AND LICENSE PLATE NORTH DAKOTA 4 4 0 C A X.
Additional information: MAY BE WEARING RED FRAMED GLASSES AND BROWN DRESS PANTS WITH PURPLE PULLOVER, SUFFERS FROM ONSET DEMENTIA.
If you have any information regarding this incident, please contact THE MINOT POLICE DEPARTMENT at 7 0 1- 5 7 8 -8 7 8 2.
The above Silver Alert information is available to the public by calling 5 1 1 and at www.ndresponse.gov/alert.