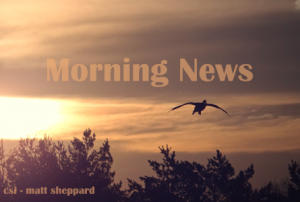 CSi Weather…
REST OF TODAY… Decreasing clouds. A 20 percent chance of showers and thunderstorms. Highs around 90. South winds 10 to 20 mph.
.TONIGHT…Mostly cloudy in the evening then clearing. Lows in the upper 60s. Southeast winds 5 to 15 mph.
.THURSDAY…Sunny. Highs in the mid 90s. Southeast winds 5 to
10 mph. Heat index 95 to 100.
.THURSDAY NIGHT…Partly cloudy. A 20 percent chance of showers
and thunderstorms after midnight. Lows in the upper 60s.
Southeast winds 5 to 10 mph.
.FRIDAY…Mostly sunny with a 50 percent chance of showers and
thunderstorms. Highs in the lower 90s. Northwest winds 5 to
10 mph.
.FRIDAY NIGHT…Mostly clear with a 30 percent chance of showers
and thunderstorms. Lows in the mid 60s.
.SATURDAY…Sunny. Highs in the upper 80s.
.SATURDAY NIGHT…Mostly clear. Lows around 60.
.SUNDAY…Sunny. Highs in the upper 80s.
.SUNDAY NIGHT…Mostly clear. Lows in the lower 60s.
.MONDAY…Sunny. Highs in the mid 90s.
.MONDAY NIGHT…Mostly clear. A 20 percent chance of showers and
thunderstorms after midnight. Lows in the upper 60s.
.TUESDAY…Mostly sunny. A 20 percent chance of showers and
thunderstorms in the afternoon. Highs in the lower 90s.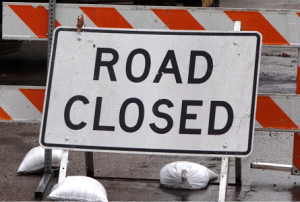 Valley City  (CSi)   Barnes County 11 will be closed approximately 1.5 miles west and 3.5 miles north of Litchville, North Dakota beginning Friday, July 23rd. A detour will be provided. This closure is expected to last approximately 6 weeks.
The North Dakota Department of Health dashboard is updated daily by 11 am and includes cases reported through the previous day. The investigations are ongoing and information on the website is likely to change as cases are investigated. The information contained in this dashboard is the most up to date and will be different than previous news releases. This dashboard supersedes information from previous news releases or social media postings.
Check out our other dashboards: The COVID-19 Vaccine Dashboard, NDUS Dashboard.
NDDoH
COVID-19 Stats
Tues. Jul 20,  2021
10:15 a.m.
Barnes
New Positives 0
Total Positives 1425
Active 0
Recovered: 1393
Stutsman
New Positives 6
Total Positives 3564
Active 14
Recovered  3467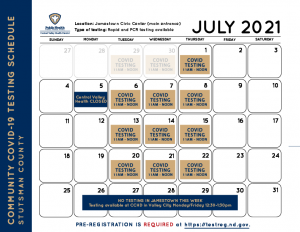 Jamestown (CVHD) Central Valley Health District's COVID-19 testing clinics are on Tuesdays, Wednesdays and Thursdays from 11-a.m. to noon.  The clinics will be held at the Jamestown Civic Center.   Pre registration is required.
Jamestown  (CVHD)  Central Valley Health District wants the public to know that there will be NO testing scheduled at the Civic Center on July 27, 28, and 29 due to availability of the testing site.
CVHD encourages those with symptoms to seek testing from their medical provider during the week of July 26 to July 30.  Testing is also available in Valley City on Monday July 26 and Friday July 30 at the public health department as an additional opportunity for testing.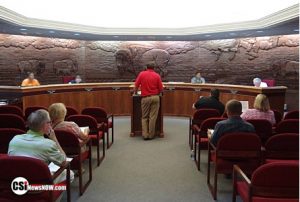 Jamestown  (CSi)  The Jamestown City Council's  Finance & Legal, Building, Planning & Zoning Committee, and Civic Center & Promotion Committee met Tuesday evening at City Hall.  All members were present.
FINANCE & LEGAL COMMITTEE:
Considered the request from Midcontinent Communications for a proposed non-exclusive franchise in the city for the right to construct, maintain and operate within and upon, in and under the streets, alleys and public grounds of the city, a telecommunication system for public and private use in the city.   Midco Senior Director of  Government Affairs  Justin Forte explained the company's plans to serve Jamestown.  He plans to have an operations center located in Jamestown. At start up about six employees will be hired in Jamestown.
He said it's a $15 million infrastructure  investment in Jamestown with construction to start in Jamestown in the spring of 2022.
The committee recommends having the City Attorney work with Midco officials at the outset of the plans and explore establishing a specific franchise agreement.
The Committee recommends the City Council approve 2022 preliminary budget.
Approval of the Preliminary Budget is at the August 2 City Council meeting.
The preliminary budget can be adjusted downward but not increase.
In October the final budget will be approved.
Considered the amendment to the City of Jamestown Procurement Policy, approved by a City Council resolution on September 7, 2010.  Mayor Heinrich said he has transparency concerns in having the City Council involved in the process.  He suggested ways to keep the Council engaged, and also a cost savings to the city concerning paperwork and advertising bids.  Travis Dillman pointed out that the policy will expedite the  process, of procurement. Assistant City Attorney, Abby Gerioux pointed out that a city Ordinance will need to be amended, concerning the sealed bidding process.
The committee recommends, the City Attorney work on amending the City Ordinance. With a First Reading at the August meeting.
At the conclusion of the meeting, Mayor Heinrich highly suggests residents be vaccination for the COVID-19 virus, noting a recent large jump in the Stutsman County positive cases, and the number of current active case, going from zero actives  recently to the latest number of 14.
BUILDING, PLANNING & ZONING COMMITTEE
INFORMATIONAL: The appointment of a member to serve on the Planning Commission for a five year term to August 2026, is scheduled on the August 2, 2021, city council agenda.
CIVIC CENTER AND PROMOTION COMMITTEE
The committee recommends the request for authorization for Jamestown Tourism to apply to BNSF on behalf of the City of Jamestown for the Frontier Village Train Parkette project.  If approved by the city council, Jamestown Tourism will apply for the grant on behalf of the city.
The meeting was shown live on CSi Cable 67 followed by replays.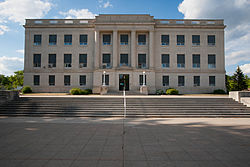 Valley City (CSi) The ND Association of Counties (NDACo) and the ND County Commissioners Association (NDCCA) will hold a Barnes County Courthouse tour on Wednesday, July 21 at 10-a.m.
The tour includes visiting with commissioners and other elected or appointed officials. This meeting may qualify as an open meeting, so members of the public may be present to observe any interactions with the County Tour.
Also the Barnes County Courthouse elevator will be out of service for maintenance, intermittently in the next few weeks. Those who cannot use the stairs and need to do business with 2nd and 3rd floor offices, will need to call that office and schedule a meeting with that respective office on the 1st floor of the Barnes County Courthouse.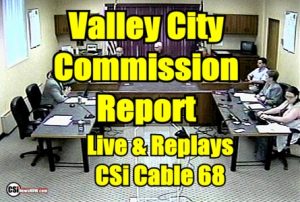 Valley City  (CSi)  The Valley City Commission met in Regular Session Tuesday evening at City Hall.
All members were present.
APPROVAL OF CONSENT AGENDA
Electrician, Plumber and/or Mechanical Contractor License(s) for Olauson Duct Cleaning.
Public Comments ….No one spoke
PUBLIC HEARING
Open Public Hearing regarding Special Assessments Commission for Paving Improvement District No. 121.  No property owners came forward to protest.
Following the Public Hearing City Commissioners, Approved Special Assessments as recommended by the Special Assessment Commission for Paving Improvement district No. 121
ORDINANCE
Approved the Second and Final Reading of an Ordinance to Amend and Reenact Section 14-12-02 of the Valley City Municipal Code Relating to Permits for Vehicles of Excessive Size and Weight.
City Attorney Martineck, said there were no changes from the First Reading concerning changes in the fees, and approved the master fee schedule.
RESOLUTION
Approved a Resolution Approving Engineer's Report & Directing Preparation of Detailed Plans, Specifications & Estimates of Probable Cost for Consolidated Sewer & Water District No. 59
Approved a Resolution Accepting Bid and Awarding West End Lift Station Project.
Approved was  a Resolution  approving the plat and variance request for Lunde addition to Barnes County.
Approved a Resolution offering for sale lots as listed, in the agenda, authorize and easement, with a planned trail on the site.
Approved a Resolution to approve the Master Fee Schedule.
NEW BUSINESS  
Approved a Special Alcohol Beverage Event Permit for Boomers Corner Keg on August 13, 2021from 6:00 PM to 12:30 AM for the Debbie Gabel Memorial Event. Finance Director Richter, said the police department has approved the permit.
Approve  was Visitors Committee Recommendation for Image Enhancement Grant for Thrivent in the amount up to $2,850 for a Storefront improvement. On Central Avenue.  Bobby Keplin,
Approved a 30 day notification to Leevers.  City Attorney Martineck, said with reconstruction in that area, the city is requesting taking back a portion of their parking lot.
Approved a Transition Plan for a hiring a new City Assessor Position, upon Sandy Hansen's retirement, when it occurs..  City Administrator, Crawford, explained the process, noting an internal hiring with training and salary
Approved were Appointments:
Outlined by Finance Director, Richter.
Dick Gulmon-City County Health Board
Dewey Magnuson-VC Library Board
Tammy Jo Taft as VCSU Representative on the Visitor's Committee.
Considered was  Project Decisions concerning changes for 6th Street NW Reconstruction (NDDOT Project No. SU-2-990(060), PCN 23154). City Engineer, Chad Peterson offered alternatives, for the $1.5 million project.  The City Council approved and occurred with the changes as proposed.
Approval to Purchase property list as 63-3060062 for the assessed value of $12,500.  City Administrator Crawford, the State Water Commission will pay a percentage of the costs.
Approve a Site Authorization Renewal for the Valley City Twisters Gymnastics Inc. at Bridges Bar and Grill from 7/20/2021 to 6/30/2022.  Finance Director Richter, this is a renewal.
Approved Hannah Field Parking Lot Plans.  City Administrator Crawford presented information from Sheyenne Care Center, concerning plans.  She pointed out, some changes in access, entering  and leaving the lot, including  accommodating bus traffic in the area.
Approved a Special Alcohol  Event Permit for the Eagle Club on August 12 & 19 on Central Avenue for Summer Nights on Central.  Finance Director, Avis Richter said, this is the Second Annual Event, and police and fire departments have signed off on permit.
Approved a Special Alcohol Beverage  Event Permit for the Eagles Club on July 31, for an Outdoor Cornhole Tournament.  Finance Director, Avis Richter said police and fire have also signed off on this permit.
Highlighting the CITY ADMINISTRATOR'S REPORT:
Gwen Crawford said she and City Finance Director Avis Richter have been working on the 2022 city budget.
The StreetScape Committee is meeting, and noted additional items in this phase, some moving from the first phase including benches.
 CITY UPDATES & COMMISSION REPORTS:
City Attorney Martineck said the City Sanitation Department has an opening, with anyone interested to apply at City Hall.
City Fire Chief Scott Magnuson said a burn ban is still not in effect, and urges anyone using a fire pit on their property to have a garden hose available, and water the grass around it prior to using.
Chief Hatcher said, the Valley City Police Department has established a facebook page.
Commissioner Gulmon said through May this year, city sales tax collections are up 47 percent, restaurant tax collections are up 33 percent, and Hotel Tax Collections are up 16-percent.
Mayor Carlsrud said, the 2022 city budget planning is continuing with more meeting set.
The meeting was shown on CSi Cable 68 followed by replays.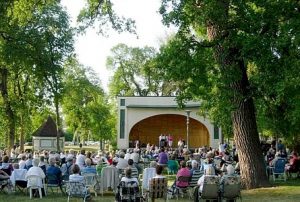 Valley City  (CSi)   Music at the City Park Bandshell for 2021. Here is this summer's schedule:
July 21 – Myron Sommerfeld & Music of the Stars
As part of the 25th Anniversary celebration Myron will be recognized for his contributions and dedication to the arts and music in Valley City.
Tickets will be sold for the Sept. 10, Peggy Lee Commemorative event to benefit the Barnes County Museum will be sold.
July 28 –  FM Golden Notes New Horizons Band
August 4 – Maasjo Sisters
August 11 – Jesse Veeder, singer/songwriter
August 18 – DeMasi Brothers
Music in the Park is on Wednesday evenings at 7:15 pm.
This summer they will be celebrating 25 years in existence. Musicians are featured each week showcasing their talents for the community and surrounding area.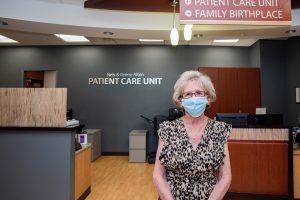 Jamestown  (JRMC)   A couple who loved the hospital as much as they loved each other are naming the Jamestown Regional Medical Center Patient Care Unit.
Nels Albin was 83 years old when he passed away in 2019, after a two-year battle with cancer. He was an area farmer, woodworker and antique collector. His wife Ileene Albin worked at Jamestown Hospital and as volunteer at JRMC for years. Together they traveled, raised a family and shared a love of the land. They also established a $100,000 estate gift in Nels' will to create a legacy.
Ileene says, "We're grateful to JRMC for the care we've received and most recently, what Nels received. We wanted to share the blessings we had with others."
Foundation Director Lisa Jackso, says,  "The investment in care ensures access to local services at a level our friends and family deserve."
JRMC celebrated the Albins' generosity with a dedication ceremony on July 14.
Ileene  adds, "We'd received care at the hospital.  So it was important to us to have a facility this close in the community."
Over the course of 20 years, the Ablins helped build the new hospital, start the Foundation endowment program, purchase equipment and create the JRMC Cancer Center.
Jackson points out, "Their first gift was a $5 memorial. Since then, they maximized their support by utilizing IRA rollovers and the North Dakota 40% tax credit.  I know how important caring for others was for them."
Nels married Ileene 25 years ago. In doing so, he also took on a fatherly role to her four adult children – Tawnie Jewett, Perry Presler, Troy Presler and Jason Presler.
The family agreed – this estate gift will inspire generosity in others as well.
Perry said, "Today was a wonderful way to display what a wonderful person Nels was."
Jamestown is near to the Albins' hearts. In addition, after Nels' two-year battle, supporting cancer care also had special meaning for the family.
Jackson says, "Throughout the years, I've seen extraordinarily dedicated supporters, many of whom have made a lasting impact on JRMC.  We are grateful when people are so thoughtful about planning their legacy. It hasn't just affected our hospital; it has transformed our community. A hospital like JRMC is unique and rare. The community is proud of that. Generations of commitment made JRMC the destination for care that it is today.
JRMC's journey began with dedicated people who made sacrifices for the community's health and vitality. In 1927, local leaders sold bonds to campaign for a new healthcare facility — what was then Jamestown Hospital. Those leaders provided Jamestown and the surrounding area with state-of-the-art care and a "vision of the future."
Like them, support continued through the generosity of families like the Albins and thousands of others.
Moving forward, Nels' legacy will live on. The Nels and Ileene Albin name welcomes patients and families as they enter the Patient Care Unit on the second floor of JRMC. These are patients who may be expecting a baby, recovering from hip surgery and for some, breathing their last breath.
Lisa Schrenk, registered nurse and manager of the JRMC Patient Care Unit  says,"Our patients see the names of community supporters on our walls, plaques and signage. They tell us how they feel cared for by both our medical teams and the people who made this hospital possible.   "Not everyone is called to care at the bedside like a nurse is. However, everyone can care, in their own way. We are grateful for the Albin family. What a beautiful tribute."
To learn more about giving at JRMC, call (701) 952-4880.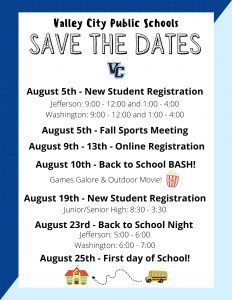 Valley City  (VCPS)  The Valley City Public School District will unofficially kickoff the 2021-2022 school year with a "Back-to-School Bash," at Hanna Field on Tuesday, August 10.
Superintendent Josh Johnson says the event is to bring together the Hi-Liner community for a celebration of the upcoming school year. As you know, last year we were unable to host many of these events and we thought this would be a great way to re-connect our students, parents, and school district ahead of the '21-22 school year.
Johnson encourages everyone to join them us on August 10th for some food, fun, games, and movies up at Hanna Field. Admittance will include a free will donation and the Valley City Boosters Club will be selling concessions. If you have any questions, feel free to call the district office or email either Brenna.Schroeder@k12.nd.us or Josh.johnson@k12.nd.us.
Information regarding school supplies, student registration, fall meetings, and back to school nights will be forthcoming. We hope to see you on Tuesday, August 10th at Hanna Field!!!
Jamestown (CSi) Jamestown Public Schools Superintendent Dr. Robert Lech explained to the school board on Monday, an update on the strategic plan.
Dr. Lech says he is currently working with the executive team to review and make suggested updates to the district's current plan.
He looking at keeping the same six strategic initiatives contained in the update: Academic Engagement and Personalized Learning, Professional Learning and Development, Social and Emotional Learning, Resource Management and Planning, Engagement in Extra and Co-Curricular Activities, Continuous Improvement and Data-Driven Decision Making.
The plan includes, ongoing objectives and completed objectives to be presented to the school board, meeting, regarding what has been done and what is being focused on next.
In other business, the school board also elected Greg Allen as board President. Hedi Larson was elected Vice President.
In other business, the Jamestown school board voted unanimously  to approve the installation of new lights at Trapper Field.
The Jamestown School District's contribution would be $20,000 toward the estimated $200,000 project, contingent on the Jamestown Parks and Recreation Department committing $100,000 for lighting  installation.
Update…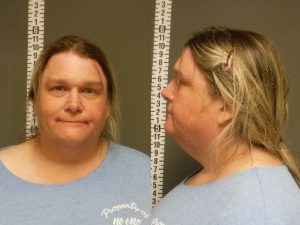 FARGO, N.D. (AP) — Authorities say a woman has been arrested for a bank robbery in Wyndmere, west of Wahpeton. The Lincoln State Bank was held up at gunpoint shortly before 11 a.m. Monday. The Richland County Sheriff's office says  43-year-old Tessa Jaksa, of Moorhead, Minnesota woman was arrested after a tip from someone who recognized images released to the media. KFGO radio reports the suspect is jailed in Fargo and awaiting federal charges. The money taken in the robbery was recovered.
BISMARCK, N.D. (AP) — A federal appeals court panel has upheld a ruling that orders North Dakota to pay more than $450,000 in plaintiff's attorneys fees and costs stemming from tribal lawsuits over state voter identification requirements. Last year, the state agreed to settle longstanding legal disputes with Turtle Mountain Band of Chippewa and the Spirit Lake and Standing Rock Sioux tribes. The tribes sued over North Dakota's requirement that voters have identification with a street address. The tribes said it creates a disadvantage for Native Americans who live on reservations where street addresses are hard to come by. An 8th U.S. Circuit of Appeals panel has upheld a federal judge's May 2020 order that the state pay nearly $453,000.
In sports…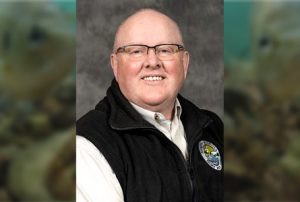 Bismarck  (CSi)  Gov. Doug Burgum Tuesday appointed North Dakota Game and Fish Department Deputy Director Scott Peterson to serve as interim director of the department until a new director is named. Current Game and Fish Director Terry Steinwand is retiring July 31 after more than 15 years as director and nearly 40 years with the department.
Peterson has served as deputy director of Game and Fish since 2014. He joined the department in 1986 as a Garrison Diversion habitat biologist and has also served as a wildlife resource management supervisor and wildlife resource section leader. Peterson earned a bachelor's degree in wildlife management and zoology from North Dakota State University.
Game and Fish has a two-year budget of approximately $92 million and is authorized for 165 full-time team members.
Tuesday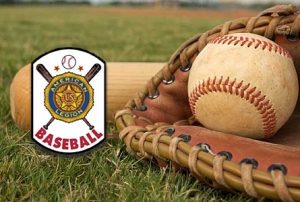 Class B Dist. 7 Legion Baseball Tournament
Wishek-10 Ellendale- 9
Wahpeton- 14  Enderlin 3  (4 innings)
LaMoure 7 Lidgerwood/Hankinson 1
Oakes 10 Lisbon 4
District 4   at Jack Brown Stadium
Play-In Game
Jamestown Blues 9 Nelson County 4

Sheyenne/New Rockford 8  Jamestown 7
Carrington 2  Kidder County 1
Wednesday
11-a.m. Valley City vs. Jamestown
2 pm – Jamestown vs. Kidder County…elimination game
35 minutes after that – Sheyenne/New Rockford vs. Carrington…. semifinal
35 minutes after that – Jamestown/KC winner vs. SNR/Carrington… loser semifinal/elimination game
Bucks Celebration
MILWAUKEE (AP) — Police say two shootings in downtown Milwaukee early Wednesday as crowds celebrated the Milwaukee Bucks first NBA championship in 50 years left three people wounded. The shootings both happened about 12:42 a.m. at two locations near Water Street. TV station WISN had a reporter broadcasting from the scene when multiple shots were heard, prompting people to flee. Police say a 22-year-old man had non-life threatening injuries from one of the shootings and a suspect was in custody. In the other shooting, a 19-year-old woman and a 32-year-old man had non-life threatening injuries. One person was in custody and other suspects were being sought.
NBA FINALS
MILWAUKEE (AP) — It had been been 50 years since the Milwaukee Bucks last won an NBA championship. Fittingly, their two-time NBA most valuable player scored 50 in last night's clincher.
Giannis Antetokounmpo (an-teh-toh-KOON'-poh) had 50 points, 14 rebounds and five blocks as the Bucks beat the Suns, 105-98 to win the series 4-2. He shot 16 for 25 from the field and made an unbelievable 17-of-19 free throws after entering the game shooting under 56% from the line in the postseason.
The Greek Freak was named the NBA Finals MVP following his remarkable performance.
Khris Middleton delivered 17 points and Bobby Portis had 16 off the bench for Milwaukee, which hadn't won the title since Kareem Abdul-Jabbar and Oscar Robertson carried the 1971 squad.
The Bucks started strong and enjoyed a 29-16 lead heading into the second quarter. But the Suns dominated the reset of the half, outscoring Milwaukee, 31-13 to carry a five-point advantage into the locker room.
The Bucks became the fifth team to win the NBA Finals after trailing 2-0 and the first to do it by winning the next four games since Miami against Dallas in 2006.
Chris Paul scored 26 points to end his first NBA Finals appearance in his 16th season. Devin Booker added 19 points but shot just 8 for 22 and missed all seven 3-pointers after scoring 40 points in each of the last two games.
MLB..
— Jose Abreu (ah-BRAY'-oo) doubled and tripled early before his three-run blast capped a five-run eighth that sent the White Sox past the Twins, 9-5. Abreu's 18th home run of the season occurred shortly after the Twins seized their first lead in the top of the inning on a two-run home run by Jorge Polanco off reliever Ryan Burr. Yoan Moncada (yoh-AHN mohn'-KAH'-dah) clubbed a two-run home run, his third round-tripper in his last four games after going 26 games without one.
UNDATED (AP) — The Houston Astros have maintained their 3 1/2-game lead over Oakland in the AL West.
Jose Altuve (al-TOO'-vay) celebrated the 10th anniversary of his major league debut with homers in his first two at-bats to jumpstart the Astros' 9-3 pounding of the Indians. Altuve smacked his seventh leadoff homer of the season to put Houston ahead to stay.
Kyle Tucker added a two-run homer as the Astros broke the game open with a six-run fifth that made it 8-0.
Luis Garcia continued his strong season, scattering three hits over six scoreless innings of the Astros' third win in a row.
The Athletics completed a two-game sweep with a snappy 6-0 shutout of the Angels. Matt Olson homered for the second straight day and added an RBI single. The blast left him tied for fourth in the majors with 25.
James Kaprielian had another strong performance, scattering five hits and striking out seven over six innings to lower his ERA to 2.65.
Ramon Laureano hit a two-run double while the Athletics scored three times in the sixth inning to take control.
Also on the major league schedule:
— Marco Gonzales got his first win in three months by allowing two runs over five innings of the Mariners' 6-4 victory at Colorado. The Mariners started the inning with four straight hits, the last being Cal Raleigh's two-run double that tied the game. Dylan Moore put them ahead with a two-out, two-run homer off Germán Márquez, who had his first home loss since May 4.
— Francisco Mejía (meh-HEE'-uh) drove in five with a two-run homer and a bases-loaded triple to highlight the Rays' attack in a 9-3 romp over the Orioles. Randy Arozarena (ah-roh-zah-REH'-nah) also homered to help Tampa Bay climb within one game of the AL East-leading Red Sox. Baltimore ace John Means returned from a shoulder injury and allowed five runs and seven hits over five innings of his first start since June 5.
— The Yankees earned their third straight win by belting four home runs in a 6-4 downing of the Phillies. Brett Gardner, Gary Sanchez, Giancarlo Stanton and Estevan Florial each hit solo homers as the Yanks prevented the Phils from cutting their 2 ½-game deficit in the NL East. Aroldis Chapman worked the ninth for his first save in over a month despite allowing Andre McCutchen's solo shot.
— The Tigers picked up their fifth straight win as Robbie Grossman and Eric Haase (hahs) homered in a 4-1 decision over the Rangers. Tarik Skubal (TA'-rihk SKOO'-bul) got the win, giving up one run on four hits in six innings. The Rangers have lost seven straight games and have been outscored 43-3 in their five games since the All-Star break, including three straight shutouts before Tuesday.
— Ryan O'Hearn and Jorge Soler (soh-LEHR') homered for the Royals in a 5-2 win over the Brewers. Mike Minor allowed one earn run and five hits in six innings, snapping a personal four-start losing streak. Manny Pina hit a two-run single for the Brewers, who moved up the start time four hours so fans could watch the Bucks host the Suns in the NBA Finals.
— Javier Baez laced a two-run single and Ian Happ added a two-run double during a six-run ninth that pushed the Cubs past the Cardinals, 7-6. Chicago was able to come back against St. Louis closer Alex Reyes, who converted his first 22 saves opportunities this season. Nolan Arenado (ah-eh-NAH'-doh), Jose Rondon (rahn-DOHN') and Tommy Edman homered for St. Louis, which had won three in a row.
— The Reds' four-game skid is over after Joey Votto (VAH'-toh) and Aristides Aquino (ar-ehs-TEE'-deez ah-KEE'-noh) went deep on consecutive pitches to power them past the Mets, 4-3. Jonathan India slammed his first career leadoff homer, a no-doubt shot to center that glanced off the batter's eye. Wade Miley shook off Pete Alonso's first inning home run to pitch into the seventh, giving up two runs and seven hits.
— Touki Toussaint allowed one run and three hits over 6 1/3 innings of his season debut to pitch the Braves past the Padres, 2-1. Toussaint was back from a right shoulder strain and retired the first seven batters he faced before walking Victor Caratini in the third. Freddie Freeman smacked a tiebreaking homer in the sixth inning, giving him five round-trippers in his last seven games.
— Pinch-hitter Will Smith crushed a three-run homer in the bottom of the ninth to complete the Dodgers' comeback in an 8-6 stunner against the Giants. Chris Taylor powered the rally with the third multi-homer game of his career belting a solo shot in the fifth and a two-run drive an inning later. Alex Dickerson, Mike Yastrzemski (ya-STREHM'-skee), LaMonte (lah-MAHNT') Wade Jr. and Thairo Estrada went deep for the Giants, who went ahead 6-1 before their lead in the NL West dropped to one game over Los Angeles.
— Josh Bell hit his 100th career home run and the Nationals picked up their third straight win by defeating the Marlins, 6-3. Miami led in the sixth before pinch-hitter Yadiel Hernandez Trea Turner and Juan Soto delivered RBI singles. Adam Duvall's three-run homer gave the Marlins a 3-2 lead in the top of the sixth.
— Josh VanMeter had a triple and a double while the Diamondbacks erupted for eight runs in the seventh inning of an 11-7 win against the Pirates. Josh Reddick's two-run single broke a tie with two out in the seventh before Arizona won its third in a row, the Diamondbacks' longest winning streak since April. John Nogowski hit his first major league home run and Gregory Polanco also went deep for Pittsburgh, which led 5-1 after 4 1/2 innings.
— The Red Sox-Blue Jays game in Buffalo was postponed by rain and will be made up as part of an August 7 doubleheader. The makeup game will be played in Toronto.
MLB-NEWS
Oakland ballpark gets preliminary OK, but A's don't like price tag
UNDATED (AP) — The Oakland City Council has approved preliminary terms for a new $12 billion waterfront ballpark project for the Athletics. However, it's unclear if the vote will be enough to keep the baseball team at the negotiating table instead of leaving the San Francisco Bay Area city.
A's President Dave Kaval said the financial terms do not work for the team and isn't pleased the ballclub has been kept out of the loop on negotiations.
The Athletics have played at the antiquated Coliseum since moving from Kansas City after the 1967 season. They have made unsuccessful attempts to build ballparks in Santa Clara and San Jose, and are prepared to negotiate a move to Las Vegas if they can't work out an agreement in the Bay Area.
— Nationals General Manager Mike Rizzo says he doesn't plan on having infielder Starlin Castro back with the team this season. Castro was placed on administrative leave July 16 by Major League Baseball under its domestic violence, sexual assault and child abuse policy. Rizzo didn't say if his statement on Castro was based on the whether the process will play out in time or not.
— Tigers starting pitcher Spencer Turnbull will undergo season-ending Tommy John surgery and is expected to miss much of the 2022 season. Turnbull threw a no-hitter against the Mariners on May 18 and was 4-2 with a 2.88 ERA in nine starts this season. He last pitched on June 4, then went on the injured list with a strained forearm.
OLYMPICS-SOCCER-SWEDEN-US
TOKYO (AP) — Stina Blackstenius scored a pair of goals and Sweden once again stunned the United States at the Olympics with a 3-0 victory in the women's soccer tournament.
The top-ranked Americans are the favorites to win gold in Tokyo and were riding a 44-match unbeaten streak heading into the match. But Blackstenius put the Swedes up 1-0 in the first half and the United States couldn't recover.
In other Olympic news:
— A Chilean taekwondo athlete and a Dutch skateboarder are the latest Olympians to test positive for coronavirus at the Tokyo Games. Chilean athlete Fernanda Aguirre says in an Instagram post she is "devastated" and says she feels "so much sadness, anguish, frustration." The Chilean Olympic Committee says Aguirre tested negative before her flight but then positive at the airport in Japan. She's asymptomatic but won't be able to compete because she will have to spend at least 10 days in quarantine. Dutch Olympic skateboarder Candy Jacobs says she is "heartbroken" after being sent into quarantine.
— USA Volleyball says an American beach volleyball player is in quarantine after testing positive for COVID-19 upon arrival in Japan. The national federation did not identify the athlete, citing privacy concerns. But another player told The Associated Press that Taylor Crabb was in quarantine. The other player spoke on condition of anonymity because they were not authorized to disclose the information. NBC4 News in Los Angeles first reported that Crabb tested positive. They quoted his brother, fellow beach volleyball pro Trevor Crabb, as saying the first-time Olympian is "fine and healthy and should be allowed to play in my personal opinion."
— Brisbane will host the 2032 Olympics, the inevitable winner of a one-city race steered by the IOC to avoid rival bids. The Games will go back to Australia 32 years after the popular 2000 Sydney Olympics. Melbourne hosted in 1956. Prime Minister Scott Morrison says Australia knows what it takes to deliver a successful Games. Brisbane follows 2028 host Los Angeles in getting 11 years to prepare for hosting the Games. Paris will host in 2024.
NFL-NEWS
Jets assistant badly injured in accident
UNDATED (AP) — New York Jets assistant coach Greg Knapp was in what's described as a "horrific" bicycle accident over the weekend and is in critical condition.
A Denver TV station (9News) reported Monday night that Knapp was hit by a vehicle while riding his bike in California. The nature of Knapp's injuries was not immediately known. ESPN says the accident happened Saturday near his home in Danville, California.
The 58-year-old Knapp was hired by Jets coach Robert Saleh in January as the pass game specialist. His focus is on the development of quarterback Zach Wilson, the No. 2 overall draft pick.
In other NFL news:
— Tom Brady had some fun with President Joe Biden as he and his Super Bowl-champion Buccaneers were honored at the White House on Tuesday. Brady compared those backing former President Donald Trump's false assertion that he won the 2020 election to people who couldn't believe the underdog Buccaneers beat the Kansas City Chiefs in February. Brady also played off Trump's derisive "Sleepy Joe" nickname for Biden when talking about a time last season when he forgot what down it was.
— Rams running back Cam Akers is out indefinitely after tearing his Achilles tendon in an offseason training session. Akers was expected to be the Rams' starter after coming on late in his outstanding rookie season. Akers had 272 yards from scrimmage in the Rams' two playoff games last season.
— The Jets have signed rookie guard Alijah Vera-Tucker, the 14th overall pick in the NFL draft in April. He received a four-year, $15.9 million contract with an $8.9 million signing bonus.
—Veteran defensive end Alex Okafor has signed a one-year deal to return to the Chiefs. The 30-year-old Okafor has 30 sacks and 183 tackles in eight NFL seasons, including the past two with the Chiefs.
— The Steelers have added depth by signing linebackerMelvin Ingram and offensive lineman Chaz Green. The 32-year-old Ingram was a three-time Pro Bowler during his nine seasons with the Chargers. Ingram had 49 sacks with Los Angeles.
— Running back Travis Etienne, cornerback Tyson Campbell and left tackle Walker Little have signed four-year rookie deals with the Jaguars. The Jaguars now have their entire 2021 draft class under contract, including quarterback and No. 1 pick Trevor Lawrence.
— The Pro Football Hall of Fame says the 19 members of those combined classes who will be giving enshrinement speeches this summer have been asked to limit their remarks to six minutes. An Academy Awards-style musical cue will end each speech at eight minutes if necessary.
COLLEGE SPORTS-NORTH CAROLINA
UNC to team up with marketing group for athlete endorsements
UNDATED (AP) — The University of North Carolina is believed to be the first school in the nation to launch a group licensing program for current athletes. Under the program, athletes will receive a cut of net revenue for merchandising opportunities pursued by The Brandr Group with products that include the school's official trademarks and logos. Participating in the voluntary program won't restrict individual endorsement deals.
NASCAR-KESELEWSKI-ROUSH
CHARLOTTE, N.C. (AP) — NASCAR team owner Jack Roush has introduced driver Brad Keselowski (kehs-LOW'-skee) as a new partner in Roush Fenway Racing.
The 2012 Cup champion is leaving Team Penske because he wanted an ownership role in an organization as part of his legacy in NASCAR. With Roush Fenway, Keselowski will not only drive the No. 6 Ford next season but have a considerable role off the track.
In world and national news…
WASHINGTON (AP) — President Joe Biden just can't quit Ohio — even if it rejected him in last year's election. The president travels to Cincinnati on Wednesday to push his economic policies. It's the third visit of his presidency to Ohio, the only state Biden lost that he has visited multiple times as president. Ohio was once an electoral prize that could decide who occupied the White House, but its embrace of Republicans has tightened over the past decade. The visit is a testament to Biden's belief that going straight to voters will help to cross a barbed political divide.
PORTLAND, Ore. (AP) — Wildfires in the American West, including one burning in Oregon that's currently the largest in the U.S., are creating hazy skies as far away as New York as the massive infernos spew smoke and ash into the air in columns up to six miles high. Skies over New York City were hazy as strong winds blew smoke east from California, Oregon, Montana and other states. Oregon's Bootleg Fire grew to 606 square miles (1,569 square kilometers) — half the size of Rhode Island.
LOS ANGELES (AP) — Several court battles are underway as California moves toward finalizing the list of candidates for the September recall election that could remove Democratic Gov. Gavin Newsom. Conservative talk radio host Larry Elder filed a lawsuit arguing that California election officials improperly blocked him from the contest. Meanwhile, former San Diego Mayor Kevin Faulconer is expected to be in court fighting for the right to be called the "retired" San Diego mayor on the ballot. The courtroom maneuvering is the latest drama in the run-up to the Sept. 14 election. The state Wednesday is scheduled to release the final list of candidates vying to replace Newsom.
BERLIN (AP) — Germany's Cabinet has approved a roughly 400 million-euro ($472 million) package of immediate aid for victims of last week's floods and vowed to get started quickly on rebuilding the devastated areas. Finance Minister Olaf Scholz said Wednesday that the package, financed half by the federal government and half by Germany's state governments, to help people deal with the immediate aftermath of the flooding will be expanded if needed. He said that "we will do what is necessary to help everyone as quickly as possible." The government also expects to spend billions on rebuilding, but how much exactly won't be clear until authorities have a better overview of the extent of the damage.
WASHINGTON (AP) — The bipartisan infrastructure deal senators brokered with President Joe Biden is hanging by a thread. Senators are struggling to reach a compromise over how to pay for nearly $1 trillion in public works spending. Tensions are rising as Republicans prepare to block Wednesday's procedural vote with a filibuster, saying they need more time. Restless Democrats say it's time to at least start debate as talks continue. Biden says his infrastructure and families agenda must be passed to sustain economic momentum. Overall, he is seeking more than $4 trillion in new domestic outlays.