Valley City, ND – "Beginning in September, the Sheyenne Valley Memory Café will begin meeting monthly. If you or a loved one is experiencing memory loss, this is an opportunity to connect and visit with healthcare professionals and individuals," states Theresa Will, City-County Health District Administrator.
Sheyenne Valley Memory Café will be held on Thursday, September 28 at Faith Lutheran Church, 309 4th Street NE, Valley City. Coffee and dessert will be available from 1-3 PM. A brief program, Powerful Tools for Caregivers will start at 1:30 PM.
"Caregivers provide an important role for someone experiencing memory loss, we want to provide them with skills needed to take care of themselves," states Sue Milender, NDSU Extension. In September, the Sheyenne Valley Memory Café program will provide an overview of upcoming class Powerful Tools for Caregivers that NDSU Extension is hosting starting October 4.
For more information, call City-County Health District at 845-8518 or follow @SheyenneValleyMemoryCafe on Facebook.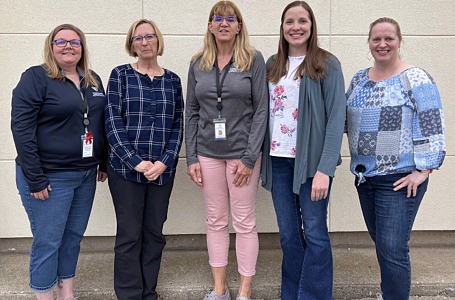 Caption: The local Healthy Brain Initiative team will help caregivers develop a toolkit during the Sheyenne Valley Memory Café on September 28. Individuals pictured include Kerry Due, Colleen Jones, Theresa Will, Amber Schmidt and Nikki Johnson.