Jamestown – September theme: apples
Calling all cookbook and food lovers! Choose a recipe from a cookbook in our library that fits the theme of apples, prepare it at home, and bring it when we meet. September 19 6:30pm at Alfred Dickey Library.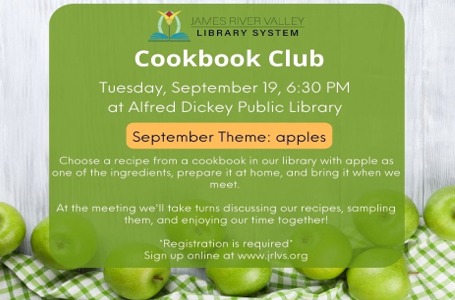 At the meeting we'll take turns discussing our recipes, sampling them, and enjoying our time together. Cookbook Club encourages new and veteran cooks alike to join our club and share the love of food.
Need help selecting a cookbook? Stop by the front desk of ADPL and ask our librarians for some suggestions or call us at 701-252-2990 for any other questions you may have.
Register for our Cookbook Club here https://www.jrvls.org/event…/cookbook-club-september-2