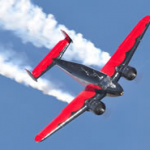 Update…. 9-5-12
Valley City, ND (KCSi-T.V. News) — The Barnes County Municipal Airport in Valley City is hosting the "Wings & Wheels Airshow," Saturday September 8, 2012.
Airshow Co-Director, Lori Jury said there will be military and static aircraft displays, plus, and evening outdoor bbq dinner served.
Ms. Jury, on City Matters, updated by saying the dinner has been sold out with about 600 tickets having been sold.
Airplane rides will also be available.
Those attending will be treated by sky-divers from Fargo, opening the show.
Aircraft performers include…award winning Pilots Matt Younkin, and Warren Pietsch, along with Jim "Fang" Maroney, Toby McPherson, Rex Hammarback, and Jarrod and Paul Lindemann.
McPherson, from Page, North Dakota, flies the P-51 Mustang, which he says won World War II for the allies.
Barnes County Airport Authority Chairman, Denny Helland said there will be a "Night Air Show," beginning that evening at 9:30.
He added the last air show in Valley City was in the early 1980's when the new runway at that time was dedicated.
Plans include a fireworks display, and entertainment by the band "Past Due."
On site concessions will also be available.
Other ctivities include: A fireworks display, Military and Static Aircraft Displays, a Children's Play Area, On site concessions/Beer Garden, and a helicopter ride.
This year's airshow is being dedicated to the memory of local aviators Larry Lindemann and Bob Beyer.
Lindemann served as the manager of the Barnes County Municipal Airport for 27 years from 1985-2012. He passed away March 17, 2012.
Beyer was appointed to the Barnes County Municipal Airport Authority in 1976, serving as chairman for eight years.
He retired in 2009, and passed away in 2011. Beyer was instrumental in securing funding for and implemented many ideas for development of the local airport.
In addition to aerobatic entertainment, the event will feature the Bridge City Cruisers Classic Car Show & Shine.
Show and Shine events include a Tire Changing Contest, and Balance Beam.
For more information contact Terry Gortmaker at 701-845-1839, and on line www.bridgecitycruisers.com
On Sunday September 9th there will be a breakfast at the Barnes County Municipal Airport from 8-a.m. until noon.
The Workship Service is at 9:30-a.m., with Guest Pastor, Lu Mathison of the J.T. Rice Chapter of Pilots for Christ, International, with a free will offering taken.
The breakfast proceeds will benefit the Experimental Aircraft Association, Chapter 317 in Fargo.
In Jamestown advance tickets are available at Stop N Go, and Cork N Barrel, along with several locations in Valley City.
For a listing of ticket locations and additional information, on line log onto
www.barnescountyairport.com or E-Mail bcairport@hotmail.com
Ms. Jury pointed out that the air show costs about $50,000 to put on and thanked the many sponsors and supporters to make the air show happen.