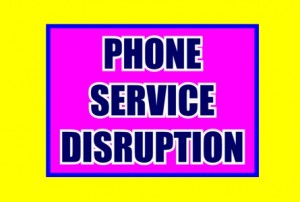 Jamestown  (CSi)  The idea of sending a letter  to the North Dakota Public Service Commission with local concerns over occurrences of local phone service disruptions, will apparently not happen.
Jamestown businesses have indicated loss of business due to phone lines down, stemming primarily from cut fiber optic lines, with the latest occurrence on April 21st this year, when a Century Link phone line was cut near West Fargo, disrupting local and long distance phone services along with  9-1-1 calls for over four hours.
Stutsman County Emergency Manager, and 9-1-1 Coordinator Jerry Bergquist had suggested the Stutsman County Commission, and Jamestown Area Chamber of Commerce send a letter to the PSC, outlining concerns, that included 9-1-1 records with documentation of five cable cuts that have occurred since 2011.
The Stutsman County Commission Tuesday, tabled sending a letter  after Bergquist said he spoke with the Chamber's Executive Becky Thatcher-Keller, who is proposing, after speaking with Century Link's Director of Legislative Affairs, Kent Blickensderfer, that the Chamber host a meeting in a few weeks with input from representatives of phone companies, and business owners, and customers, plus Stutsman County and City of Jamestown representatives.
Stutsman County Commission Chairman, Mark Klose indicated that the best idea is exploring other options than filing a complaint letter with the PSC.