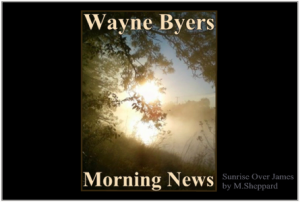 CSi Weather…
.REST OF TODAY…Sunny. Highs zero to 5 above. West winds 5 to 15 mph.
Wind chills around 25 below.
.TONIGHT…Mostly clear. Lows around 10 below. West winds 10 to
15 mph. Wind chills around 25 below.
.SATURDAY…Sunny. Highs around 10. West winds 10 to 15 mph.
Lowest wind chills around 30 below in the morning.
.SATURDAY NIGHT…Partly cloudy. Lows zero to 5 above. West winds
around 10 mph.
.SUNDAY…Partly sunny. Highs 15 to 20. Northwest winds 10 to
15 mph.
.SUNDAY NIGHT…Increasing clouds. Lows around 5 below.
.MONDAY…Mostly cloudy. A 20 percent chance of snow in the
afternoon. Highs around 10.
.MONDAY NIGHT…Mostly cloudy with a 20 percent chance of snow in
the evening, then partly cloudy after midnight. Lows near zero.
.TUESDAY…Sunny. Highs around 20.
.TUESDAY NIGHT…Partly cloudy. Lows 5 to 10 above.
.WEDNESDAY…Partly sunny. Highs in the mid 20s.
.WEDNESDAY NIGHT…Mostly cloudy with a 20 percent chance of
snow. Lows zero to 5 above.
.THURSDAY…Partly sunny. Highs 15 to 20.
Below normal temperatures and generally dry conditions through the weekend, followed by a slight moderation of temperatures Tuesday through Thursday.
A chance for snow Monday and again Wednesday, however both appear to have limited moisture potential so see no significant winter weather at this time.
UPDATE
Jamestown  (CSi)  Jamestown City Fire Chief Jim Reuther called the Dispatch Center Thursday evening when he spotted diesel fuel spilling from a pump nozzle at Sooper Pumper, in Southwest Jamestown.
The charter bus being filled, was unattended with the driver inside the bus , as the pump nozzle failed to shut off when the bus' tank was full.
Reuther tells CSiNewsNow.com that he shut off the pump and notified the driver.
No injuries reported
Jamestown City Firefighters  responded at about 6:20-p.m. assisting with hazmat containment, of around 15 gallons of fuel, pumping the fuel into a tanker, and applying a floor-dry padding material to keep the fuel from reaching near-by storm sewers, followed by sand applied by city workers.
25 firefighters remained on  standby at the city fire hall.
Reuther says the store employees will clean the rest of the material today.
Jamestown  (CSi)  A knephla soup contest will have proceeds going to the James River Humane Society.
The contest will be Saturday February 10th  from 11 a.m. to 2 p.m at Aaron's Sales and Lease, 119 Business Loop W, Jamestown. For a $5 donation people can sample from 10 different soups and vote on the favorites.
Fifty percent of proceeds go to benefit the James River Humane Society. The remaining 50 percent is divided among four prize winners.
Contestants may cook up to 2 gallons of soup and bring it to Aaron's Sales and Lease between 10 and 10:45 a.m. on Saturday.
To enter or for more information, call Jerome at 320-0790.
Jamestown  (NDFU)  — Enduring the worst economic slide in generations, American family farmers and ranchers need Congress to pass a farm bill in 2018 to strengthen the farm safety net.
North Dakota Farmers Union and National Farmers Union have teamed with other state divisions in developing a digital campaign to support the 2018 farm bill. The campaign includes a website (2018farmbill.org), a farm bill video, animated short videos, weekly promotions and a petition. The family farm organization is calling on Congress to strengthen programs that support family farm agriculture, vibrant rural communities, a clean environment and hungry Americans.
North Dakota Farmers Union President Mark Watne says, "We need Congress to start working on a farm bill immediately. Commodity prices are low, and net farm income is projected to be down $4.3 billion this year. Family farmers need to be certain of crop insurance and other programs in the farm bill, so they can plan accordingly with their lenders in this time of low prices."
Travis and Ashley Bruner, family farmers from Drake, were featured in a nine-minute video on the importance of the farm bill to family farmers, the environment and consumers. Three short animated videos are also being launched to help the general public understand what the farm bill is, what Farmers Union's ideal farm bill looks like, and how to advocate for the farm bill.
NFU President Roger Johnson, says, "Family farmers and consumers alike are in urgent need of strong farm and food policies to be passed in the farm bill this year.  As the agriculture committees ready to propose farm bill legislation, Farmers Union wants to be sure all members of Congress understand why the farm bill is so vital to family farm agriculture, our land, our rural communities, and our nation's most vulnerable citizens. We're hopeful this campaign can bridge the support of the entire farm and food community."
Family farmers, consumers, lawmakers and advocates are encouraged to share the video on social media, tweet with the hashtag #FarmBillNow, and sign the petition to call on Congress to pass a Farm Bill in 2018.
Bismarck  (NDDOT) The North Dakota Department of Transportation reports that  law enforcement agencies across the state participated in the national enforcement campaign, Drive Sober or Get Pulled Over, from December 16, 2017 through January 31, 2018, to deter motorists from driving impaired.
A total of 732 citations were attributed to the added enforcement patrols. Of the total citations, 101 were alcohol-related, of which 91 were driving under the influence (DUI) arrests. There were another 26 arrests or citations for other alcohol-related violations such as minor in consumption or open container and 33 drug-related arrests.
Impaired driving is 100 percent preventable and stopping it can prevent tragedies on North Dakota's roads. Every driver and vehicle occupant in North Dakota can help meet the state's goal of zero motor vehicle fatalities and serious injuries by taking personal responsibility when travelling on the road. This means wearing a seat belt at all times, transporting children in child passenger safety seats appropriate for the child's age and height, driving distraction free, driving sober (i.e. not under the influence of alcohol and/or drugs) and obeying all posted speed limits.
Funding for additional traffic safety enforcement is provided by federal grant money distributed through the NDDOT. High-visibility enforcement for traffic safety is one element of a collaborative effort to eliminate motor vehicle deaths in North Dakota.
Learn more about traffic safety initiatives at visionzero.nd.gov or join the conversation on the Vision Zero ND Facebook or Twitter page.
TOWNER, N.D. (AP) — A Minnesota man charged with attacking a priest in North Dakota accused the reverend during a bond hearing of raping a woman, an accusation that the Catholic Diocese of Fargo says has no merit.
Forty-two-year-old Chad Legare of Alexandria, Minnesota, is accused of assaulting Rev. Robert Wapenski at St. Francis Xavier Catholic Church in Anamoose on Jan. 30. Authorities haven't discussed a possible motive.
KXMC-TV reports that Legare appeared in court Thursday on charges of attempted murder, aggravated assault and burglary, and a judge set bond at $250,000. Legare during the hearing made a reference to the priest being a rapist.
The diocese told KXMC they had been informed of Legare's allegations and reached out to the alleged victim, and that the woman denied the allegations.
BISMARCK, N.D. (AP) — A GOP candidate for North Dakota's U.S. Senate seat has acknowledged deleting more than 100 social media posts after entering the race, including one that called anti-Israel protesters "a bunch of Arabs."
Gary Emineth also retweeted an image that called for "no more mosques in America" and shared a Facebook post that compared people on food stamps to animals, CNN reported. The network posted frame-grabs of Emineth's posts.
Emineth acknowledged the posts and said he doesn't apologize for them. He told The Associated Press he might re-post them because they might help him win.
Emineth, a businessman and former North Dakota GOP chairman, is one of two Republicans hoping to face Democratic Sen. Heidi Heitkamp in November.
BISMARCK, N.D. (AP) — One of the four American Indian tribes still fighting the Dakota Access oil pipeline in court says it's being left out as federal officials work to comply with a judge's order to determine the pipeline's impact on tribal interests.
Attorney Nicole Ducheneaux (DOO'-shuh-noh) says the Army Corps of Engineers "has been almost completely non-responsive" to tribal requests for more information and direct consultation.
She's asking federal Judge James Boasberg to force the Corps "to engage in meaningful consultation" with the tribe.
Boasberg last June ordered the Corps to further study the pipeline's impact on the Dakotas tribes. The Corps says it's had difficulties obtaining needed information from the tribes. But Justice Department attorney Matthew Marinelli says the Corps still expects to finish its work by its earlier estimate of April.
MANDAN, N.D. (AP) — The county sheriff who led the law enforcement response to the Dakota Access oil pipeline protest in North Dakota says he'll seek a second term in office.
The Bismarck Tribune reports that Morton County Sheriff Kyle Kirchmeier made his announcement Thursday.
Kirchmeier first sought the sheriff's position in 2014 after 29 years with the state Highway Patrol. In 2016 and 2017 he led the response to the pipeline protests that drew thousands of people and resulted in 761 arrests over a six-month span.
Kirchmeier says some of his plans for the sheriff's office were delayed by the prolonged protest, and he wants to continue serving.
BISMARCK, N.D. (AP) — North Dakota's Public Service Commission says state rail safety inspectors found nearly 2,700 defects to tracks and equipment last year.
The panel says the defects resulted in 49 violations, which can include fines, reduced speeds or equipment taken out of service.
The North Dakota Legislature in 2015 established the state-run rail safety pilot program that includes two rail safety inspectors to supplement inspections by the Federal Railroad Administration.
The program is funded by a tax that railroads pay on diesel.
MINOT, N.D. (AP) — A Ward County Jail inmate is charged with breaking another inmate's jaw in two places during a fight over ramen noodles.
The Minot Daily News reports that 32-year-old Jesse Levi Jones, of Kenmare, is charged with aggravated assault, a Class C felony.
Court documents show that the incident happened after 26-year-old inmate David Pieper Jr. accused Jones of stealing seven ramen noodle packages and a bowl from Pieper's cell. Pieper was unable to talk about the fight but gave a written account to investigators.
Authorities say security cameras showed Jones punching Pieper.
Jones faces a maximum sentence of five years in prison. His attorney did not immediately respond to an email request for comment.
BISMARCK, N.D. (AP) — North Dakota's state climatologist says drought conditions could continue into this year.
Adnan Akyuz (AHD'-non AW'-kewz) tells the Bismarck Tribune that the potential for drought comes as wetter-than-normal weather is expected in February and March.
Akyuz says the lack of snow so far this winter makes the state vulnerable for drought as spring approaches.
The U.S. Drought Monitor released Thursday shows nearly 97 percent of North Dakota is abnormally dry, and 61 percent of the state is experiencing moderate drought.
In sports…
Jamestown  (CSi) The Jamestown Civic Center hosts the 2018 North Dakota Class B District 5 Girls Basketball Tournament beginning Friday, February 9, continuing Saturday, February 10 and Monday, February 12.
Opening round Friday, February 9:
4:30 p.m.
No. 4 Oakes (3-3) vs. No.5 Ellendale (2-4).
6-p.m.
No.2 Edgeley-Kulm-Montpelier (5-1) takes on  No.7 Midkota (0-6).
7:30-p.m.
No.3 Carrington (4-2) vs. No.6 Barnes County North (1-5)
Saturday
6-p.m.
Regular Season Champion No.1 LaMoure-Litchville/Marion (6-0) having the first round bye plays  the winner of Oakes/Ellendale.
Monday
7:30-p.m.
Championship game, teams TBD
Girl's Hockey…
Dickinson 4, Jamestown 1
The bus and driver contracted to transport the Dickinson girls hockey team from Dickinson to play Jamestown High School, encountered a problem with a diesel fuel spill at Sooper Pumper in Jamestown while refueling the bus about 6:20-p.m. Thursday.
Jamestown' Hazmat team contained the spill, and city workers spread sand at the site.
A faulty pump nozzle failed, causing the fuel to overflow.
Also Thursday evening….
Fargo North 6, Fargo Davies 1
Boy's Hockey…
Bismarck 2 Jamestown 0
Fargo Davies 6, Sheyenne 1
Fargo North 3, Fargo South 2, SO
Grand Forks Central 5, West Fargo 2
Grand Forks Red River 4, Devils Lake-Cando 0
May Port CG 7, Bagley/Fosston, Minn. 1
Minot 8, Bottineau 0
Boys Basketball…
Barnes County North 77, Warwick 71, OT
Bismarck Century 68, Dickinson 54
Carrington 65, Edgeley-Kulm-Montpelier 61
Harvey-Wells County 55, Midkota 39
Hillsboro/Central Valley 71, Grafton/St. Thomas 64, OT
LaMoure-Litchville-Marion 69, Medina-Pingree-Buchanan 53
Larimore 67, Lakota 46
Leola/Frederick, S.D. 78, Oakes 61
Mandan 72, Bismarck Legacy 61
Mott-Regent 61, Grant County 47
New Rockford-Sheyenne 72, Rolette-Wolford 57
Richardton-Taylor 38, Heart River 37
St. John 75, Langdon-Edmore-Munich 62
Washburn 52, Hazen 39
Girls Basketball…
Bismarck Century 92, Dickinson 30
Dickinson Trinity 75, Richardton-Taylor 17
Drayton/Valley-Edinburg 52, Hatton-Northwood 29
Enderlin 48, Milnor-North Sargent 34
Fargo Oak Grove Lutheran 41, Maple Valley 34
Heart River 52, Beach 47
Killdeer 67, Glen Ullin-Hebron 52
Kindred 78, Northern Cass 30
Linton 63, Strasburg 22
Lisbon 70, Central Cass 52
New England 54, Beulah 25
Thompson 67, Midway-Minto 42
Tri-State 64, Wyndmere-Lidgerwood 57
Class B District Tournaments
District 6
First Round
Linton-HMB 63, Strasburg-Zeeland 22
Napoleon 48, South Border 30
District 10
First Round
Center-Stanton 57, Washburn 39
Garrison 58, Max 30
Wilton-Wing 52, Turtle Lake-Mercer-McClusky 25
District 11
First Round
Towner-Granville-Upham 42, Bottineau 37
Velva 58, Drake-Anamoose 19
Westhope-Newburg 58, Nedrose 56, OT
District 12
First Round
Des Lacs-Burlington 57, South Prairie 34
Lewis and Clark/Our Redeemers 60, Surrey 44
Minot Bishop Ryan 38, Glenburn 27
Mohall-Lansford-Sherwood 37, Minot Our Redeemer's 21
District 15
First Round
New Town 61, Trinity Christian 23
Parshall 62, White Shield 10
Trenton 54, Mandaree 39
Watford City 62, North Shore – Plaza 15
District 16
First Round
Divide County 45, Ray 25
Kenmare 54, Tioga 24
Powers Lake 48, Kenmare-Bowbells-Burke Central 35
NATIONAL BASKETBALL ASSOCIATION
Final Orlando 100 Atlanta 98
Final Toronto 113 N-Y Knicks 88
Final OT Boston 110 Washington 104
Final OT Portland 109 Charlotte 103
Final Golden State 121 Dallas 103
Final L.A. Lakers 106 Oklahoma City 81
NATIONAL HOCKEY LEAGUE
ST. PAUL, Minn. (AP) — Clayton Keller scored Arizona's fourth straight goal at 3:55 of overtime to give the Coyotes a 4-3 comeback victory over the Minnesota Wild. Nick Cousins scored twice for Arizona, which entered the game with the worst record in the NHL. Cousins' second goal tied it with 18.3 seconds remaining in regulation after Arizona pulled goalie Antti Raanta for an extra attacker.
Final Buffalo 4 N-Y Islanders 3
Final Calgary 3 New Jersey 2
Final Philadelphia 5 Montreal 3
Final OT Ottawa 4 Nashville 3
Final Tampa Bay 5 Vancouver 2
Final St. Louis 6 Colorado 1
Final Dallas 4 Chicago 2
Final Vegas 5 San Jose 3
MEN'S COLLEGE BASKETBALL…
TULSA, Okla. (AP) — Austin Ruder scored 18 points with six 3-pointers, including the game-winning 3 with one second left in overtime, and Oral Roberts beat North Dakota State 67-66 to end a two-game skid. The teams combined to miss five shots and force six turnovers before Ruder's 3 put ORU up 64-61 with 49 seconds left in overtime.
OGDEN, Utah (AP) — Zach Braxton scored 22 points, Jerrick Harding 21 and Brekkott Chapman added 18 points and 12 rebounds to lead Weber State over North Dakota 84-76. Ryan Richardson scored 13 points for the Wildcats, who won their sixth straight and remain alone in second place in the Big Sky Conference behind 12-0 Montana.
CHAMPAIGN, Ill. (AP) — Ethan Happ scored 27 points on 12-of-20 shooting to lead Wisconsin to its 13th straight win over Illinois, 78-69. Brevin Pritzl scored 15 and Brad Davison added 14 points for the Badgers.
TOP-25 MEN'ES COLLEGE BASKETBALL
Final (21) North Carolina 82 (9) Duke 78
Final (11) Saint Mary's (Cal) 83 Loyola Marymount 62
Final (12) Gonzaga 71 Pacific 61
Final UCLA 82 (13) Arizona 74
Final (16) Clemson 72 Pittsburgh 48
NBA-CAVALIERS-TRADES
CLEVELAND (AP) — Cleveland Cavaliers fans will have to buy programs to identify the overhauled team. About half the roster was turned over before today's NBA trade deadline, with guards Isaiah Thomas, Dwyane (dwayn) Wade and Derrick Rose among six players and two draft picks dealt by the Cavs.
Thomas, forward Channing Frye and a first-round pick went to the Lakers for guard Jordan Clarkson and forward Larry Nance. Thomas had been a disappointment after being acquired from Boston for Kyrie Irving, averaging 14.7 points and 4.5 assists after missing the team's first 36 games with an injury.
Wade was shipped back to Miami for a protected second-round selection, two years after leaving the Heat. The 36-year-old Wade is scoring a career-low 11.2 points a game this season after spending last year with the Bulls. He played his first 13 NBA seasons with the Heat, averaging 23.7 points and 5.6 assists.
The Cavs also were part of a three-team deal that sends Rose and forward Jae Crowder to the Jazz for forward Rodney Hood and brings guard George Hill to Cleveland from Sacramento for guard Iman Shumpert. Hood may have the biggest upside among the players acquired by Cleveland, averaging 16.8 points in his fourth NBA season.
In other NBA news:
— The Suns have acquired point guard Elfrid Payton from the Magic for a second-round pick this summer. Payton is averaging a career-high 13.0 points with 6.3 assists and four rebounds.
— The Celtics have added depth to their frontcourt by signing free-agent center Greg Monroe, who was waived by the Suns after being traded by the Bucks in November. Monroe is averaging 10.4 points and 7.4 rebounds this season.
— The Pelicans have agreed to trade veteran forward Dante Cunningham to Brooklyn for third-year guard Rashad Vaughn. Cunningham started 24 of his 51 games this season, averaging five points and 3.8 rebounds. Vaughn is on the move again after being acquired from Milwaukee on Monday.
— The Nuggets have traded Emmanuel Mudiay to the Knicks and acquired Devin Harris from Dallas in a three-team deal. The Mavericks will get Doug McDermott from New York.
— The Pistons have acquired James Ennis from the Grizzlies for Brice Johnson and a 2022 second-round draft pick. Detroit also acquired Jameer Nelson from Chicago.
— Warriors forward Draymond Green has been fined $50,000 by the NBA for directing inappropriate and offensive language toward a game official. Green was ejected in the second quarter of Tuesday's 125-105 home loss to the Thunder after a second technical when he argued with the officials.
— Bulls guard Kris Dunn is out of concussion protocol, although he will miss two more games. Dunn was averaging 13.7 points and 6.4 assists before missing Chicago's last eight games. The Bulls have dropped their last seven games.
— Mavericks guard Seth Curry has undergone season-ending surgery for a stress fracture in his lower left leg. He is expected to resume full activities within three months.
— Hornets guard Kemba Walker is replacing injured Knicks forward/center Kristaps Porzingis (KRIHS'-tahps pohr-ZIHN'-gihs) on Team LeBron in the Feb. 18 All-Star game at Los Angeles. Walker is averaging 22.6 points, 5.8 assists and 3.4 rebounds in 51 games. Porzingis is out for the season after tearing the ACL in his left knee during Tuesday's game against the Bucks.
OLYMPICS
PYEONGCHANG, South Korea (AP) — The Winter Games opening ceremony in South Korea has started. The program is broken down into 14 different sections, including the parade of athletes and the lighting of the Olympic flame.
As the ceremony began, the lights dimmed and the crowd cheered as fireworks exploded overhead.
The ceremony's program follows the journey of five children as they travel through time from the past to the future as "they discover peace envisioned by Koreans."
Part of the ceremony pays tribute to the South Korean flag, which is an illustration of balance and law in the universe. The interlocking semi-circles represent yin (blue) and yang (red).
NFL-SUPER BOWL-EAGLES PARADE
PHILADELPHIA (AP) — The Super Bowl champion Philadelphia Eagles concluded their raucous, emotional victory rally by giving props to their fans.
Super Bowl MVP Nick Foles and injured quarterback Carson Wentz thanked the roaring crowds from the "Rocky" steps at the art museum. Jason Kelce gave a rousing lecture on the meaning of the word underdog for Philadelphia. Malcolm Jenkins also hit the underdog theme: "They doubted us as players, they doubted us as a team."
It was a passionate defense of the coach and general manager and went through all the criticism they have faced over the years.
COLLEGE FOOTBALL-WISCONSIN
MADISON, Wis. (AP) — The University of Wisconsin System Board of Regents has approved new contracts for football coach Paul Chryst (krihst), offensive coordinator Joe Rudolph and defensive coordinator Jim Leonhard.
Terms were not disclosed, but Chryst was due to make $3.3 million this year after guiding the Badgers to a school-record 13 victories.
Wisconsin is 34-7 in three seasons under Chryst, including the program's first 12-0 start last year.
PGA-PEBBLE BEACH
PEBBLE BEACH, Calif. (AP) — Kevin Streelman and Beau Hossler are co-leaders through the first round of the PGA's Pebble Beach Pro-Am.
Streelman and Hossler shot 7-under 65s, with Streelman playing Spyglass and Hossler handling the Pebble Beach course.
Aaron Wise shot a 6-under 65 at Monterey Peninsula. Matt Kuchar (KOO'-chur), Cameron Percy and Julian Suri fired 6-under 66s.
In world and national news…
WASHINGTON (AP) — The House has narrowly passed a sweeping bipartisan budget accord, ending an hours-long government shutdown and clearing a path for huge spending increases for both the Pentagon and domestic programs. The 240-186 vote sends the $400 billion spending plan to President Donald Trump, who has promised to sign it.
WASHINGTON (AP) — A relatively obscure career federal prosecutor has found himself at the epicenter of several Trump administration controversies. Dana Boente (BEHN'-tay) is a former federal prosecutor in Virginia. Boente was revealed to have signed off on surveillance in the controversial memo that Trump declassified and Republicans released last week. But thus far, Boente has avoided Republican wrath.
WASHINGTON (AP) — President Donald Trump says he wants to lower prescription drug costs for Medicare beneficiaries by allowing them to share in rebates that drug companies pay to insurers and other middlemen. A senior administration official has outlined the plan ahead of the release of Trump's 2019 budget plan next week. Under the proposal, seniors covered by Medicare's "Part D" prescription benefit would be able to share in rebates for individual drugs that they purchase at the pharmacy.
PYEONGCHANG, South Korea (AP) — North and South Korea sat side by side Friday night under exploding fireworks that represented peace, not destruction, as the 2018 Winter Olympics opened on a Korean Peninsula riven by generations of anger. The sister of North Korea's leader, Kim Jong Un, shook hands with South Korean President Moon Jae-in while they watched an elaborate show of light, sound and human performance.