Valley City  (CSi)  The 35th Annual Rally in the Valley is set for Saturday June 16th.  Photos from last year . . .  After The Parade-Cars-Medicine Wheel-People Vol 2 (72 photos) and the 2017 Parade Photo Album Vol 1 (98 photos) by Matt Sheppard.
Like, Tag, Share your favorites.  Enjoy small sample of pixs here.
Link to Video of Hi-Liner Reunion Marching Band
2017 Parade Photos Vol 1 at Facebook.com/TheReplayChannel
2017 Vol 2 Photos    After The Parade-Cars-Medicine Wheel-People
The day starts out with the 37th Annual Bill Jansen Road Race/Walk at Hi -Liner Park at 8-a.m.
Food and Craft vendors at Veteran's Park from 9-a.m., to 5-p.m.
Events include the parade at 10-a.m., on Central Avenue, followed by the Bridge City Cruisers Show, from 11-a.m., to 5-p.m., at Central Avenue and Main Street,
Also 11-a.m., to 5-p.m., Kid Zone: With inflatable games, food and fun.
At 3:30-p.m., it's the Duckin Down the Sheyenne, Rubber Duck Race, to be held at the traditional location at the City Park footbridge.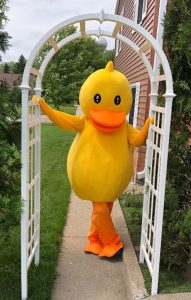 "Shy Ann," the newly named Chamber Duck was given her moniker by Kathy Edinger, in the Name the Duck Contest.
Rounding out the day is the Street Dance from 9-p.m., to 1-a.m., featuring the Woofers.
The Chamber will notify the media for any changes that may occur due to weather.
Also that weekend, June 14th Barnes County Relay for Life, Cruise Night and Chalk Festival.
June 14th-16th,  City Wide Garage Sales, June 15th-17th Class Reunions …Class of 1961, 1963 and 1965.
June 17th, Dakota Riders Motorcycle Club, Hill Climb.
For more information call the Valley City Area Chamber of Commerce at 701-845-1891…Toll free…1-800-888-288-1891.