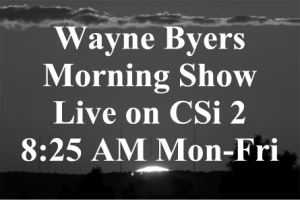 CSi Weather…
.REST OF TODAY…Decreasing clouds. Highs in the mid 70s. Northeast winds 5 to 10 mph.
.TONIGHT…Partly cloudy. Lows in the upper 50s. East winds 5 to 10 mph shifting to the north after midnight.
.WEDNESDAY…Mostly sunny. Highs in the lower 80s. Northeast
winds 5 to 10 mph.
.WEDNESDAY NIGHT…Partly cloudy. Lows in the upper 50s. North
winds 5 to 10 mph.
.THURSDAY…Mostly sunny. Highs in the lower 80s. North winds
around 5 mph shifting to the southeast in the afternoon.
.THURSDAY NIGHT…Mostly cloudy. Lows around 60.
.FRIDAY…Partly sunny. Highs in the lower 80s.
.FRIDAY NIGHT…Decreasing clouds. Lows around 60.
.SATURDAY…Mostly sunny. Highs in the lower 80s.
.SATURDAY NIGHT…Mostly cloudy. Lows in the lower 60s.
.SUNDAY…Partly sunny with chance of showers and slight chance
of thunderstorms. Highs in the lower 80s. Chance of precipitation
30 percent.
.SUNDAY NIGHT…Decreasing clouds. Lows in the lower 60s.
.MONDAY…Mostly sunny. A 20 percent chance of showers and
thunderstorms in the morning. Highs in the lower 80s.
The next  chance of precip is Friday, and the weekend, and early next week.
Jamestown  (CSi)  Jamestown's Mayor-Elect, Dwaine Heinrich will take the oath of  the office of mayor at the Jun 26th Organization Meeting of the new city council, at 4-p.m., at City.
On the Monday, June 18th,  Wayne Byers Show on CSi Cable 2, on winning the election over two term Jamestown Mayor Katie Andersen, and challenger Joshua Meade, Heinrich said he felt he was a viable alternative to the mayoral candidates on the ballot, and that he appreciates the support of voters.  He plans to make himself available to citizens, and passed along his cell phone number on the show 701-269-1128.
As of now, he hasn't determined his office hours at city hall, noting that he has a more flexible schedule with changes to his business' structure, to dedicate the office of mayor.
One of the campaign issues he clarified on our show is that he is definitely in favor of continuing and improving residential recycling in Jamestown.  He said during the campaign rumors indicated he was not in favor of recycling, which is not true.
He said the current recycler needs to continue to look at a sorting process locally, of the materials collected, and city officials need to make sure recycling is properly executed, and additional education is likely needed so residents are putting the appropriate items in the recycling containers.
He said if the Jamestown residential recycling program is not handled well, by the current recycler, another recycler would need to be sought.
Heinrich pointed out that he will meet with city council members, and make committee assignments.  He also wants to review the city's financial condition, including dollars in the city's reserve fund and deficit spending, noting that the 2019 budget meetings will be starting soon.
He wants the state to look at charging state sales tax for items individuals purchase on line in an effort to keep "brick and mortar," business in operation, in addition to adding to the city's sale tax base.
Heinrich also wants to look into reviewing the number of outside consultants the city hires, concerning costs to the city.
With the proposed railroad overpass at Third Street Southeast, he feels that the plan is not practical, and that the city needs to look into improving the current underpass at the viaduct.
He said the method of funding an overpass, needs to be reviewed as well, and  any local costs.
On the proposal for the "road diet" plan concerning the changes relative to traffic flow issues, downtown, he suggested painting street markings on the pavement to "test" how the changes are affecting traffic.  He said changing the traffic flow on major city streets, also affects the flow of traffic on side streets.  He added that improved traffic lights are also needed in the city.
He questioned if the city will be receiving grant dollars for the project, which has yet to be determined.
He also brought up possible snow clearing issues under the plan, and noted that "bump-outs" under the plan would mean a costly relocating of storm sewer inlets.
On our show, he indicated that during the 10 years he previously spent as a city council member, the city implemented the  city council's Consent Agenda, shortening the length of meetings, and that with cooperation of former city council member, Jeff Wilhelm, the City Wide Clean Up program was started.  He also pointed out that during his tenure on the city council, the city implemented city employee's coming under the North Dakota retirement plan.   Heinrich added that the Jamestown garbage pick up routes were restructured including commercial garbage pick up.
On another topic said there is one other individual, in the United States, a farmer in California also named, "Dwaine Heinrich," with the same spelling.  He discovered the Jamestown Dwaine Heinrich's election campaign and requested a campaign sign, which Jamestown's Heinrich obliged, saying he will send him a 4×4 campaign sign.
The California man indicated that he plans to hang the sign in his barn.
See the video of the interview on line at CSiNewsNow.com
Jamestown  (CSi)  A former Stutsman County Deputy has announced her bid, running for Stutsman County Sheriff and plans to be on the November General Election.
Elizabeth Kapp on her Facebook page says, " I would like to thank the people who wrote my name on the primary ballot for Sheriff of Stutsman County.
Since I received more than enough votes to be on the November 2018 general election ballot, I will accept this opportunity to run for Sheriff.
My campaign will focus upon building strong community connections, community policing, and ensuring the safety of the citizens of Stutsman County.
I would appreciate your support in the upcoming November election."
Kapp had 139 write-in votes in the June 12th Stutsman County primary,  148 after canvassing on Monday, of the 169 write-ins, with 130 needed, to qualify her to become a ballot candidate in the November elections, to run against incumbent Sheriff, Chad Kaiser, who was unopposed on the June primary ballot and received 2810 votes.
Stutsman County Sheriff Chad Kaiser terminated Elizabeth Kapp on February, 27, 2016, and according to Kapp's termination letter she was terminated for violating the Peace Officer Code of Conduct, violating the Peace Officer Oath and the Employee Code of Conduct per the Stutsman County Personnel Police. Kapp also allegedly was insubordinate and used offensive language and conduct.
The Stutsman County Grievance Committee unanimously ruled to uphold the termination of a former Stutsman County Sheriff's Office sergeant.
The Stutsman County Commission, upheld the termination of former Sheriff's Deputy, Sgt., Elizabeth Kapp, by Stutsman County Sheriff, Chad Kaiser.
The North Dakota Department of Labor, found in favor of Kaiser.
Jamestown (CSi)  The Jamestown Public School Board has confirmed the results of the June 12th elections.
As reported previously rural board member Sedrick Trevithick had moved outside the rural school district, in the Barnes County North District, and ineligible to serve on the board.
Superintendent Rob Lech says, Trevithick's vacant seat, will need to be filled by appointment  or special election, that would need to be held within 60 days.
The other rural seat, currently held by Greg Allen, had no candidates.
Allen received the majority of write-in votes, and he has agreed to serve another term.
He has served more than 20 years on the school board.
Lech thanked both Brenda Roemmich and Sedrick Trevithick for their services to the district as they leave the school board following last Tuesday's school board election.
In other business, the school board will be releasing the long-term planning report.
The school board noted that the district will no longer be deficit spending, due budget cutting.
The meeting was recorded by CSi 10 The Replay Channel with showings starting Tuesday.
THOMPSON, N.D. (AP) — The North Dakota Highway Patrol says a man operating a forklift was struck and killed by a minivan on a state highway near Thompson.The patrol says the 61-year-old Grand Forks man was driving the forklift on Highway 15 when he was struck Monday afternoon. Authorities say the minivan was driven by an 80-year-old Northwood woman. She and her 75-year-old passenger were not injured.The victim has not been identified.
BISMARCK, N.D. (AP) — Health officials in North Dakota have confirmed at least one person has contracted the mosquito-borne West Nile virus.
It's the first-reported case of the virus this year, which is spread by mosquitoes. North Dakota Department of Health tests also show a pool of mosquitoes tested positive for the virus in Grand Forks.
Severe cases can be fatal and cause confusion, paralysis and coma. Milder cases can lead to fever, headache, aches and rashes.
Health officials say 62 people contracted the virus in North Dakota last year, resulting in two deaths.
State epidemiologist Jenny Galbraith said Monday that people can limit the spread of the disease by wearing insect repellent, protective clothing and by removing standing pools of water where mosquitoes lay eggs.
BISMARCK, N.D. (AP) — A company supplying fertilizer to farmers in North Dakota, South Dakota and Montana is focusing on expanding partnerships after overcoming some challenges in its first year.
Half of Dakota Gasification Company's business is now fertilizer with the addition of the Great Plains Synfuels Plant, which produces agricultural fertilizer like urea, sulfate and anhydrous ammonia, The Bismarck Tribune reported .
The company faced difficulties last month after a late spring unexpectedly sent farmers from across the upper Midwest to seek the manufacturer's product all at the same time, said Trinity Turnbow, operations manager.
"From May 1 through May 12, 85,000 tons of urea was loaded and left the plant," he said.
More than 100 trucks lined up daily for several days, with wait times spanning hours, Turnbow said. The company had a second loading bay for rail and truck traffic, but put off the necessary third-party certifications because the company thought train traffic wouldn't pick up until later.
ST. PAUL, Minn. (AP) — Passions ran high though people remained polite as Minnesota regulators opened a key hearing that's meant to lead to a final decision on whether to approve Enbridge Energy's proposal for replacing its deteriorating Line 3 crude oil pipeline across northern Minnesota.
A crowd that was about evenly divided between supporters and opponents began lining up early Monday morning for the limited seating. People held signs outside reading, "Minnesotans for Line 3" or "No Pipelines — Keep it in the Ground" and "Love Water, Not Oil."
The crowd grew to over 200 by the time the Public Utilities Commission began hearing final arguments in the long-running proceedings. The five-member commission plans to decide next week whether the project is needed. If they choose in favor, they'll decide if it should follow the company's preferred route or another path.
In sports…
VALLEY CITY, N.D. (VCSUVikings.com) – A total of 30 teams and 118 golfers competed Saturday, June 9, during the annual Viking Golf Scramble held in Valley City. 
The annual fundraiser for VCSU athletic scholarships was played at both Bjornson Park Golf Course and the Valley City Town & Country Club. 
The team of Jamie Paurus, Nate Zerface, Jared Lentz and John Samuelson recorded an 18-hole score of 54 (17-under) to win the Championship Flight. 
In the Open Flight, the team of Tom Morehouse, Greg Bischoff, Mike Morehouse and David Beierle fired a 62 (9-under) to win the Open title. 
The annual Viking Golf Scramble is one of the biggest fundraisers put on by the VCSU Century Club Booster Board, which raises money for athletic scholarships at VCSU. Major sponsors for the event included Dacotah Bank, Puklich Chevrolet Buick GMC, Leevers Foods and Valley Sales. 
MLB ..
UNDATED (AP) — The Houston Astros performed a high-wire act yet managed to run their winning streak to a team record-tying dozen games. The defending World Series champs spotted Tampa Bay a 4-0 lead before pulling out a 5-4 victory on Alex Bregman's two-run double in the bottom of the ninth.Yuli Gurriel (YOO'-lee gur-ee-EHL') sandwiched a pair of RBI singles around Josh Reddick's sacrifice fly after Joey Wendle's two-run single gave the Rays a four-run cushion in the third inning. Bregman bailed out Gerrit Cole, who was about to drop to 8-2 despite yielding only three hits over seven innings.The win gives the Astros a two-game lead over Seattle in the AL West.Wilson Ramos hit a two-run homer for the Rays.Checking out Monday's other major league action:— The Yankees dropped the completion of a May 15 suspended game before earning a split of the odd twinbill. Aaron Hicks launched a go-ahead, two-run homer in the fifth inning of the Yankees' 4-2 victory over the Nationals. Giancarlo Stanton opened the scoring with an RBI single in the first inning and doubled home in the insurance run in the seventh.— The Nats took the suspended game as Juan Soto belted a tiebreaking, two-run homer in the sixth inning of a 5-3 decision over the Bombers. Soto's blast came three batters after the resumption of the game, which was halted by rain on May 15. It was his sixth home run since making his major league debut May 20, five days after the game was suspended.

— Trevor Bauer tossed three-hit ball over seven shutout innings and Jason Kipnis went 3-for-4 with a two-run homer as the Indians whipped the White Sox, 6-2. Robert Perez also had two RBIs to support Bauer, who struck out eight and lowered his ERA to 2.50. The White Sox committed three errors in the first three innings, lost their fifth straight and dropped a season-worst 23 games under .500.

— Adrian Beltre smacked a three-run homer and Shin-Soo Choo added a solo homer while reaching base five times as the Rangers doubled up the Royals, 6-3. Bartolo Colon gave up three runs over six innings before becoming the winningest Domincan-born pitcher in major league history. It was Colon's 244th win, one more than Hall of Famer Juan Marichal.

— Trevor Williams struck out seven and held the Brewers to one hit over seven innings of Pittsburgh's 1-0 victory. Francisco Cervelli went 2-for-2 and scored the lone run on Jordy Mercer's seventh-inning double. Milwaukee managed just two hits and suffered their third consecutive loss to fall into a virtual tie with the Cubs for the NL Central lead.

— Paul Goldschmidt launched a two-run homer while the Arizona Diamondbacks were building a 6-0 lead in a 7-4 win over the Los Angeles Angels. Ketel (keh-TEHL') Marte and Nick Ahmed (ah-MEHD') added solo shots for the Diamondbacks, who stopped a two-game skid and moved two games ahead of the second-place Dodgers in the NL West. Zack Greinke (GREHN'-kee) gave up three runs over 6 1/3 innings, including back-to-back homers by Justin Upton and Albert Pujols (POO'-hohlz).

— The Phillies blew a 4-0 lead before beating the Cardinals, 6-5 on Aaron Altherr's (ahl'-TEHRZ') two-run double in the bottom of the 10th. St. Louis tied it with a two-run ninth and went ahead on Tommy Pham's home run before Altherr sent Philadelphia to its third win in a row. Odubel (oh-DOO'-bul) Herrera belted a three-run homer in the first for the Phillies, who are 3 ½ games behind the NL East-leading Braves.

— Jacob deGrom picked up his first victory in exactly one month by holding the Rockies to one earned run over eight innings of the Mets' third straight win, 12-2 at Coors Field. DeGrom struck out seven and lowered his major league-leading ERA to 1.51. Brandon Nimmo hit two of New York's four home runs while going 4-for-6 with four RBIs.

— Hunter Strickland blew a 4-2 lead in the ninth inning of the Giants' 5-4 loss to the Marlins. J.T. Realmuto (ree-al-MOO'-toh) got the rally going with an RBI double before Lewis Brinson and Miguel Rojas furnished run-scoring singles. Rojas had two hits and three RBIs to help Miami overcome a 4-0 deficit.

— The Cubs and Dodgers were postponed by rain and a limited power outage at Wrigley Field. The game will be made up as part of a day-night doubleheader on Tuesday.

MLB-NEWS

UNDATED (AP) — The Washington Nationals have bolstered their bullpen by getting Kelvin Herrera from the Royals for three minor leaguers.

Herrera has 14 saves and a 1.05 ERA this season, allowing just three runs while striking out 22 over 25 2/3 innings. The two-time All-Star helped Kansas City win the 2015 World Series.

The Royals received infielder Kelvin Gutierrez, outfielder Blake Perkins and right-hander Yohanse Morel.

In MLB news:

— Elvis Andrus (AN'-droos) is back in the Texas Rangers' lineup against Kansas City following his first trip to the disabled list. The two-time All-Star missed 59 games after a pitch by Kenyan Middleton broke his right elbow in an April 11 game against the Los Angeles Angels. Texas went 25-34 without Andrus, who hit .327 with two home runs and five RBIs in 14 games before the injury.

— Dodgers ace Clayton Kershaw threw a three-inning simulated game Monday as he moves forward in his recovery from a strained lower back. The three-time NL Cy Young Award winner says he felt really good and plans to pitch somewhere in four or five days, either in a minor league rehab start or for the Dodgers.

— Indians starter Carlos Carrasco only bruised his right elbow when he was hit by a vicious line drive on Saturday. An MRI was negative and Carrasco is not expected to miss significant time. The right-hander has been hit before, and Indians manager Terry Francona does not anticipate Carrasco being affected.

— The Phillies have optioned former closer Hector Neris to Triple-A Lehigh Valley and recalled lefty Austin Davis. The move comes after Neris gave up four runs in the ninth inning of yesterday's 10-9 win at Milwaukee, raising his ERA to 6.00 in 30 appearances this season. He has 13 saves this season after collecting 26 in 29 chances last year.

— The Mariners have activated right-handed reliever Juan Nicasio from the 10-day disabled list as they continue to add options in their bullpen heading into a road trip through New York and Boston. Catcher Chris Herrmann was also added to the roster by Seattle, which optioned right-hander Rob Whalen and catcher David Freitas to Triple-A Tacoma.

— The Astros have given general manager Jeff Luhnow (LOO'-now) a contract extension through 2023 and added president of baseball operations to his title. Luhnow was hired as GM in December 2011 and turned the club into World Series champions within six years.

— Braves first baseman Freddie Freeman is the leading vote-getter among all National League players in the latest results released Monday. Freeman has received over 1.4 million votes, topping outfielder and Atlanta teammate Nick Markakis (mahr-KAY'-kihs). Giants shortstop Brandon Crawford, Rockies third baseman Nolan Arenado (ar-eh-NAH'-doh) and Nationals outfielder Bryce Harper are the only other NL players with more than one million votes.
COLLEGE WORLD SERIES…
OMAHA, Neb. (AP) — The NCAA has postponed the North Carolina-Mississippi State game at the College World Series until Tuesday morning.The elimination game between Oregon State and Washington on Monday was interrupted for 4 hours, 31 minutes in the sixth inning because of storms in the Omaha area. A threat of more rain Monday night, plus the possibility of a late start time, led the NCAA to reschedule North Carolina-Mississippi State.Three games are now set for Tuesday. Texas will play Florida in an elimination game in the afternoon, and Arkansas faces Texas Tech in a Bracket 2 winners' game at night. 
NHL-CAPITALS-TROTZ
UNDATED (AP) — The NHL's most recent Stanley Cup-winning coach is now a free agent.
Barry Trotz has stepped down less than two weeks after leading the Washington Capitals to their first championship. Trotz and the team could not agree on an annual salary that would have put him in line with other Cup-winning coaches.
A person familiar with the situation told The Associated Press that the Stanley Cup final win over Vegas triggered a two-year extension for Trotz that would have given him a slight bump in salary to just over $2 million. Mike Babcock is getting $6.25 from the Maple Leafs, and Blackhawks coach Joel Quenneville (KWEHN'-vihl) makes $6 million after leading the club to three Stanley Cups in this decade.
Capitals associate coach Todd Reirden is now the leading candidate to replace Trotz. The New York Islanders are currently the only NHL team without a head coach.
Elsewhere in the NHL:
— Former NHL coach Dave Tippett has signed on as senior adviser for the group looking to put an NHL expansion team in Seattle. The city is in the middle of the expansion process with the goal of renovating KeyArena and starting up for the 2020-21 season. NHL Commissioner Gary Bettman says the league's board of governors could vote to approve a 32nd franchise as soon as this fall but has emphasized there is no specific timetable.
SOCCER-WORLD CUP
UNDATED (AP) — Harry Kane's second goal of the game came in stoppage time to lift England past Tunisia, 2-1 in the World Cup opener for both teams. Kane opened the scoring in the 11th minute, but the Tunisians were able to knot the score on a penalty kick in the 35th.
Monday's other World Cup action had Belgium beating Panama, 3-0 and Sweden earning a 1-0 win over South Korea.
Meanwhile, Saudi team officials say the players made a safe landing after reported engine failure on their flight to Rostov-on-Don for a World Cup game against Uruguay. The team posted photos of the players exiting the plane and smiling Monday night but did not release further details of the engine problem.
NFL-PANTHERS-MOORE
CHARLOTTE, N.C. (AP) — The Carolina Panthers now have all of their 2018 draft picks under contract after working out a deal with first-rounder D.J. Moore.
The wide receiver was selected with the 24th overall selection after setting a Maryland single-season school record with 80 receptions last season. He also had 1,033 yards receiving and eight touchdowns.
In world and national news
BROWNSVILLE, Texas (AP) — An audio recording that appears to capture the heartbreaking voices of Spanish-speaking children crying out for their parents at a U.S. immigration facility has stoked the outrage over the Trump administration's policy of separating immigrant children from their parents.
"Papa! Papa!" one child is heard saying in the audio file that was first reported by the nonprofit ProPublica and later provided to The Associated Press.
Human rights attorney Jennifer Harbury said she received the tape from a whistleblower and told ProPublica it was recorded in the last week. She did not provide details about where exactly it was recorded.
WASHINGTON (AP) — President Donald Trump and House Republicans are set for a crucial meeting as lawmakers push to end the policy of separating children from their parents at the southern border.
Members of both parties are decrying the administration's "zero tolerance" approach to migrant detention. Many of them are demanding that the administration act to keep families together.
Legislation in the House could end the family separations, but it appears unlikely to pass. Senators say they may soon work on a bill of their own.
The Trump administration says the family separations are required under the law and can only be ended by Congress. Democrats say Trump is refusing to take responsibility for his own policy.
BEIJING (AP) — State broadcaster China Central Television has shown Chinese President Xi Jinping welcoming North Korean leader Kim Jong Un on a visit to Beijing.
CCTV showed Kim in talks with Xi on Tuesday at the Great Hall of the People in Beijing. Experts have said Kim is expected to discuss his next steps with Chinese leaders after last week's nuclear summit with U.S. President Donald Trump.
Kim's two-day visit to Beijing, while expected, is one way for China to highlight its crucial role in U.S. efforts to get North Korea to abandon its nuclear program. The U.S. has long looked to China to use its influence with North Korea to bring it to negotiations, but the visit comes as ties between Beijing and Washington are being tested by a major trade dispute.
SEOUL, South Korea (AP) — South Korea says a joint military exercise scheduled with the U.S. has been suspended to support ongoing talks both countries have with North Korea.
Defense Ministry spokeswoman Choi Hyun-soo said Tuesday that her government believes the decision will help maintain momentum in the talks.
She spoke after the U.S. and South Korea announced that the Ulchi Freedom Guardian drills slated for August have been called off.
The announcement was widely anticipated following President Donald Trump's meeting with North Korean leader Kim Jong Un last week.
Trump said after the summit that he would suspend the U.S. military's "war games" with South Korea unless the talks on ending North Korea's nuclear weapons program break down. His statement appeared to catch both South Korea and the Pentagon by surprise.
COLORADO SPRINGS, Colorado (AP) — The U.S. Food and Drug Administration is expected to decide soon whether to give its first approval to a prescription drug made from the marijuana plant.
But parents who have used other products containing chemicals from the plant to treat their children's severe forms of epilepsy are feeling more cautious than celebratory.
They want assurance that existing medical marijuana markets in more than two dozen states won't be harmed if the drug called Epidiolex (Eh-peh-DYE'-oh-lex) gets approved.
In particular, some advocates worry that drugmaker GW Pharmaceuticals has lobbied for changes to several states' definition of marijuana, seeking legal cover for pharmacies to sell cannabis-derived products that have the FDA's backing.
A company representative says GW Pharmaceuticals only wants to ensure its product can reach patients.