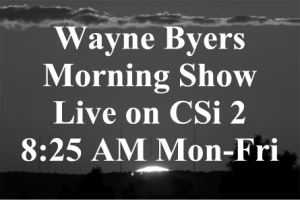 CSi Weather
.REST OF TODAY…Mostly sunny. Highs in the lower 80s. East winds 5 to 10 mph.
.TONIGHT…Partly cloudy in the evening, then mostly cloudy with a 30 percent chance of showers and thunderstorms after midnight in the Jamestown area, 20 percent in the Valley City area.
Lows in the mid 60s. Southeast winds 5 to 10 mph.
.TUESDAY…Mostly sunny. Chance of showers and slight chance of
thunderstorms in the morning. Highs in the mid 80s. Southeast
winds 10 to 15 mph. Chance of precipitation 30 percent.
.TUESDAY NIGHT…Increasing clouds. Lows in the lower 70s. South
winds around 15 mph.
.WEDNESDAY…Mostly sunny. A 20 percent chance of showers in the
morning. Highs in the upper 80s. Southwest winds around 15 mph
shifting to the west in the afternoon.
.WEDNESDAY NIGHT…Mostly clear. Lows in the mid 60s.
.THURSDAY…Sunny. Highs in the mid 80s.
.THURSDAY NIGHT…Mostly clear. Lows in the lower 60s.
.FRIDAY…Sunny. Highs in the upper 80s.
.FRIDAY NIGHT…Partly cloudy. Lows in the mid 60s.
.SATURDAY…Mostly sunny. Highs in the mid 80s.
.SATURDAY NIGHT…Partly cloudy with a 30 percent chance of
showers and thunderstorms. Lows in the lower 60s.
.SUNDAY…Mostly sunny. A 20 percent chance of showers and
thunderstorms in the morning. Highs in the upper 70s.
There is a chance of thunderstorms today and tonight. The main
threat will be locally heavy rain tonight.
There is a chance of thunderstorms Tuesday evening through
Wednesday evening. Some of these storms could be strong to
severe.  There could be a significant damaging wind threat.
Expect quiet weather  mid to late week as weak ridging and a slightly drier air mass builds in. A return to active weather may be in store for the upcoming weekend. There are also hints of a significant cool-down for the weekend, with highs returning to the 70s.
Recap weekend story on CSiNews.com
JAMESTOWN, N.D. (AP) — Authorities in central North Dakota Saturday afternoon found the body of a 4-month-old boy whose mother told law enforcement officers she couldn't remember the last four days or where she left the baby.
Stutsman County Sheriff Chad Kaiser says that the baby's body was found Saturday in the search in tall grass near a slough. Kaiser says an autopsy will be conducted to find out how long the baby had been dead.
No other details about the baby's death were released.
Agencies involved in the search included include the Jamestown City Fire Department's including the under water rover,Jamestown Rural Fire Department, North Dakota Highway Patrol, Bureau of Criminal Investigation, Jamestown Special Operations, North Dakota Game & Fish, Stutsman County Sheriff's Reserves, and U.S. Fish and Wildlife.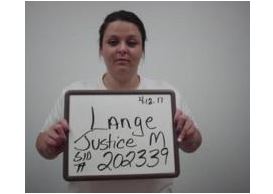 The sheriff says a farmer on Friday found the baby's mother, Justice Lange, in rural Woodworth. Lange and the baby were reported missing on Monday.
Kaiser says the search  centered near where Lange was found.
Kaiser says Lange had several warrants out for her arrest. She was taken to a Fargo hospital with undisclosed injuries.
Come back to CSiNewsNow.com with more information on this developing story.
Jamestown  (Chamber) The Young Professionals of Jamestown has given the June Customer Service Award  to Debbie Stroh, owner of the Polar King Drive-In.
"Given in recognition for her outstanding customer service and leadership as the owner of this wonderful eatery."
The nomination letter:
"Debbie does an outstanding job of providing wonderful food and delectable dessert options. They have the best chicken in town! She is patient with her staff, and a great role model for the wonderful customer service that is provided by this establishment. This is the best family-run restaurant in Jamestown! Thank you to Debbie for all you do for your customers and the community."
Deb will be recognized at the Chamber's annual banquet in January 2019 along with all the other monthly winners.
The chamber honors individuals who demonstrate a consistent commitment to delivering products or services that satisfy customers by exceeding their requirements or expectations.
Customer Service Award nomination forms are available at the Chamber office and on their website at www.jamestownchamber.com or call 701-252-4830.
Jamestown, ND, (JRMC)   An outdoor music event is set to benefit two long-time community healthcare organizations.
Concert for CARE is set for Thursday, July 26. The evening features entertainer 32 Below and includes an all-ages barbecue and street dance.
The night begins with a pork loin dinner at 5 p.m. at the Jamestown Elks Lodge, and a concert to follow at 8 p.m., to be held at 2nd Avenue  Southwest in front of Elks Lodge and Bank Forward.                  Proceeds benefit the JRMC Foundation's greatest area of need and the Anne Carlsen Center.
Tickets:
Meals are $10 and also include corn on the cob, coleslaw and ice-cream
Concert admission is $10. Ages 5 and under are free.
Concert for CARE, which raises funds for both the Anne Carlsen Center and Jamestown Regional Medical Center will help purchase healthcare equipment.
Anne Carlsen Center Associate Development Director, Felicia Sargeant says, "We couldn't be more excited to partner together for our fifth annual Concert for CARE.  We didn't look beyond the first year when we knew we wanted to showcase two amazing organizations and our shared desires to provide quality healthcare in Jamestown and across North Dakota."
All proceeds JRMC receives will support the purchase of a "FAST" ultrasound. Commonly used in Emergency Departments, "FAST" ultrasounds identify internal bleeding in trauma patients.
JRMC Foundation Director Lisa Jackson  says, "JRMC and Anne Carlsen Center have a long history of partnering to care for this community.  Jamestown and the surrounding areas are fortunate to have such high-quality healthcare services."
Event sponsors include Bank Forward, Cork & Barrel Liquors, Crop Production Services, Jamestown Elks #995, Midwest Dairy Association, Stutsman Harley-Davidson, Sparks Trailers, Strata Corporation, Valley Plains Equipment, Haut, Williams-Lisko and Eddy Funeral Homes.
To volunteer, sponsor or participate, contact JRMC's Foundation at (701) 952-4880 or foundation@jrmcnd.com.
Carrington  (Sen. Heitkamp's Office)  U.S. Senator Heidi Heitkamp Friday continued her discussions with farmers, ranchers, agriculture leaders, and faith leaders in Carrington and Wahpeton to discuss North Dakota priorities in the Farm Bill being debated in Congress and the damaging impact of the administration's escalating trade war. Thursday, she held similar meetings in Mandan and Minot.
In Carrington,  Friday, Heitkamp met with representatives from the North Dakota Barley Council, Farm Crop Insurance Corporation Board, and farmers from the region at the Carrington Research Extension Center. Following their discussion of the Farm Bill and trade policy priorities, Heitkamp toured the center's facilities and test plots to learn about their latest work in agriculture research, which she prioritized in the Farm Bill.
In Wahpeton, Heitkamp met with representatives from the North Dakota Grain Growers Association, North Dakota Corn Growers Association, Great Plains Food Bank, the FSA state director, and local farmers at Ag Country Farm Credit Services.
Heitkamp, a member of the Senate Agriculture Committee, helped pass a Senate Farm Bill with overwhelming bipartisan support which includes many provisions she fought for to support North Dakota agriculture. The Senate and the U.S. House of Representatives must now work to find an agreement on the Farm Bill before the current bill expires in September.
BISMARCK, N.D. (AP) — North Dakota's largest farm group is pushing for adjustments to crop insurance payments to protect farmers from international trade retaliations.
The Bismarck Tribune reports that the U.S. House and Senate versions of a new Farm Bill are heading to conference committee. The North Dakota Farmers Union sees the bill as an opportunity to raise reference prices for price loss coverage crop insurance plans.
The insurance plan provides payments when a commodity's marketing year average price falls below the reference price set by Congress in the 2014 Farm Bill.
Farmers are facing an unfriendly market as negotiations for new agreements with U.S. trade partners continue to flounder. Canada announced new tariffs earlier this week and China imposed $34 billion in retaliatory tariffs on U.S. products Friday.
BLACKFOOT, Idaho (AP) — A motorcyclist was killed after hitting a bus near Blackfoot, Idaho.
The Idaho State Journal reports that Corey Beeson of Williston, North Dakota, was riding a Yamaha motorcycle west on U.S. Highway 26 at about 12:15 p.m. Saturday.
At about that same time, Rocio Perez of Blackfoot was turning onto the highway in a 2002 Ford bus.
Perez entered the highway in front of the motorcycle and Beeson was unable to stop, striking the driver's side of the bus.
Beeson was not wearing a helmet and was taken to Bingham Memorial Hospital in Blackfoot, where he died.
Beeson's passenger, Priscilla McCarty of Blackfoot was taken by air ambulance to Eastern Idaho Regional Medical Center in Idaho Falls.
The crash is still under investigation by Idaho State Police.
GRAND FORKS, N.D. (AP) — The North Dakota Bureau of Criminal Investigation is reviewing the fatal shooting of a suspect by Grand Forks police.The shooting happened Sunday after police responded to a report of a suicidal subject with a gun. Officers encountered two people at the location, one of whom was armed.The release says two officers fired "in response to a perceived threat."Once the BCI completes its investigation, it will turn it over to the state attorney's office which will determine whether or not charges will be filed in the shooting.The officers involved have been placed on administrative leave, as required by department policy.
Updates…
BISMARCK, N.D. (AP) — Authorities have identified the victims of two weekend motorcycle crashes in western North Dakota.The Highway Patrol says 65-year-old Paul Sagaser of Epping died late Saturday when he was struck by a train while attempting to move a motorcycle that was stuck on railroad tracks in Williams County.In McKenzie County, 49-year-old Dana O'Dell of Williston was killed Saturday afternoon when he failed to negotiate a curve on a county road and crashed north of Watford City.
BISMARCK, N.D. (AP) — An Oregon man caught in North Dakota with 30 pounds of marijuana in his vehicle has been sentenced to three years in prison.
A Morton County sheriff's deputy stopped 61-year-old Ricky Fischer, of Culver, Oregon, on Interstate 94 in mid-December.
The Bismarck Tribune reports that Fischer pleaded guilty to a felony drug count and was sentenced in late June.
BISMARCK, N.D. (AP) — A new class in Bismarck allows students to go outside and become one with nature, learn self-reliance, creativity and problem-solving.
Tinkergarten classes are held once a week, typically over a 10-week period during the spring, summer and fall seasons. They take place at local parks and include expert-designed curriculum geared toward children from 18 months to 8 years old, the Bismarck Tribune reported .
The program was originally founded in 2012 by Brian and Meghan Fitzgerald. Nikki Bushaw decided to start the classes in Bismarck to provide a new option for parents that they can also engage in.
Each class has five parts: an opening activity and song, circle time to discuss the day's lesson, a main activity, clean-up time and snack time.
In sports…
American Association…
Fargo-Moorhead 8, Winnipeg 2
MLB…— Cleveland's division lead is down to 9 ½ games over Minnesota after Mitch Garver, Eduardo Escobar and Brian Dozier homered in the Twins' 10-1 romp over the Orioles. Escobar and Dozier went deep in an eight-run sixth that secured the Twins' four-game sweep. Jake Odorizzi worked six scoreless innings and has allowed just two earned runs in 17 innings over his last three starts.— The Brewers crushed the Braves, 10-3 as Jesus Aguilar (AG'-ee-ahr) homered twice and Hernan Perez launched a three-run blast. Aguilar's three-run shot in the eighth leaves him tied with Colorado's Nolan Arenado for the NL home run lead with 22. Junior Guerra was reached for just one run over six innings as Milwaukee won for the sixth time in seven games to maintain a 1 ½-game lead over the Cubs in the NL Central.
— The Diamondbacks still lead the NL West by one game over Los Angeles after the Dodgers squandered an early 3-0 lead in a 4-3 loss to the Angels. Shohei Ohtani (SHOH'-hay oh-TAH'-nee) broke a 3-3 deadlock with a solo blast in the seventh, one inning after Albert Pujols (POO'-hohlz) tied it with a solo shot. The Angels rallied after Yasiel Puig (YAH'-see-ul pweeg) slammed a three-run shot in the second.
 — The Boston Red Sox continue to own a two-game lead over the New York Yankees in the AL East, although the Bombers have four games in hand.Eduardo Nunez, Mitch Moreland and Xander Bogaerts (BOH'-gahrts) drove in two runs apiece and Andrew Benintendi had four hits as the Red Sox won their sixth in a row, 7-4 at Kansas City. The Bosox trailed 3-2 in the fifth until Moreland worked out a bases-loaded walk and Bogaerts added a sacrifice fly.Moreland, Bogaerts and Nunez added RBI hits in the seventh to break the game open and help Rick Porcello improve to 11-3.Boston is a major league-leading 33 games over .500 at 62-29.The Yankees kept pace by beating the Blue Jays, 2-1 on Brett Gardner's RBI single in the 10th inning. Kendrys (KEHN'-drees) Morales tied it for Toronto with a sixth-inning homer off Domingo German (hehr-MAHN'), who gave up just three other hits over six frames.David Robertson worked the 10th to get the save while Aroldis Chapman sat out with a sore left knee.Elsewhere in the majors:— Dallas Keuchel (KY'-kul) yielded six hits and a run over seven innings as the Astros downed the White Sox, 2-1 to complete a four-game sweep. Jose Altuve (al-TOO'-vay) hit a solo homer for the Astros, but the game was tied 1-1 when Marwin Gonzalez laid down a bunt that scored Yuli Gurriel (gur-ee-EHL') in the seventh. Houston picked up its sixth consecutive victory and stayed 3 ½ games ahead of the second-place Mariners in the AL West.— Seattle avoided a three-game sweep as Ryon Healy's three-run homer and five RBIs led a 6-4 win over the Rockies. Healy hit a two-run double and put the Mariners ahead for good with his sixth-inning blast after entering the day in an 0-for-13 slump. Wade LeBlanc improved to 5-0 despite surrendering homers by Charlie Blackmon, Carlos Gonzalez and Trevor Story over six innings.— The Athletics blanked the Indians, 6-0 as Brett Anderson limited the AL Central leaders to three hits over five-plus innings. Anderson made his first start since May 18 after a strained shoulder landed him on the disabled list. Stephen Piscotty belted a two-run homer and Jed Lowrie added a solo shot in Oakland's 10th win in 12 games.— Cleveland's division lead is down to 9 ½ games over Minnesota after Mitch Garver, Eduardo Escobar and Brian Dozier homered in the Twins' 10-1 romp over the Orioles. Escobar and Dozier went deep in an eight-run sixth that secured the Twins' four-game sweep. Jake Odorizzi worked six scoreless innings and has allowed just two earned runs in 17 innings over his last three starts.— The Cubs pulled out a 6-5 win over the Reds on David Bote's bases-loaded walk in the bottom of the 10th. Addison Russell drove in three runs and Javier Baez provided a pair of hits and two RBIs in Chicago's ninth comeback win of the season. Baez forced extra innings with a two-run single in the seventh before the Cubs won for the eighth time in nine games.— Philadelphia remains in a virtual first-place tie with Atlanta in the NL East after the Phillies dropped a 4-1 decision to the Pirates. Nick Kingham went six innings and delivered a two-run double for his first big league hit. Nick Williams homered for the Phils, who had won six in a row.— Wil Myers homered off catcher-turned-reliever Jeff Mathis in the 16th inning to send the Padres past the Diamondbacks, 4-3. Myers was 0-for-5 with two strikeouts before his solo shot allowed San Diego to avoid a three-game sweep. A.J. Pollock drove in two runs and Paul Goldschmidt had three of Arizona's 11 hits.— The Diamondbacks still lead the NL West by one game over Los Angeles after the Dodgers squandered an early 3-0 lead in a 4-3 loss to the Angels. Shohei Ohtani (SHOH'-hay oh-TAH'-nee) broke a 3-3 deadlock with a solo blast in the seventh, one inning after Albert Pujols (POO'-hohlz) tied it with a solo shot. The Angels rallied after Yasiel Puig (YAH'-see-ul pweeg) slammed a three-run shot in the second.— The Marlins finally beat the Nationals as J.T. Realmuto (ree-al-MOO'-toh) had a career-high five hits and drove in three runs to lead a 10-2 laugher at Washington. Martin Prado had four of Miami's season-high 22 hits and the Marlins' bullpen tossed 5 1/3 shutout innings of one-hit relief. The Nats had won 14 straight against the Marlins, the longest winning streak against any ballclub in team history.— Pablo Sandoval smacked a go-ahead grand slam in the fifth inning and was 3-for-5 with five RBIs as the Giants outscored the Cardinals, 13-8. Andrew McCutchen and Alen Hanson also had three of the Giants' 17 hits while Gorkys (GOHR'-kees) Hernandez was 2-for-4 with two RBIs. Madison Bumgarner picked up the win despite yielding four runs and seven hits over 5 1/3 innings.

Nathan Eovaldi (eh-VAHl'-dee) carried a perfect game into the seventh and C.J. Cron (krohn) slammed a three-run homer as the Rays hammered the Mets, 9-0. Eovaldi retired his first 18 hitters before Brandon Nimmo singled, one of the Mets' two hits in their second straight shutout loss. Jake Bauers and Joey Wendle added solo shots for Tampa Bay.

— Austin Bibens-Dirkx (BIH'-behnz durks) tossed three-hit ball over 5 1/3 innings to lead the Rangers' 3-0 shutout of the Tigers. Jurickson Profar put Texas ahead with a solo shot in the first inning. Ronald Guzman added an RBI single to help the Rangers earn a four-game split.

MLB-ALL-STAR STARTERS

Altuve wins popular vote as All-Star lineups announced

Twins pitcher Jose Berrios was the only Minnesota player selected.

Twins left fielder Eddie Rosario, a surprising omission from Sunday's selections, is one of five players in the Final Man vote for the AL. He's up against Giancarlo Stanton (Yankees), Andrew Benintendi (Red Sox), Andrelton Simmons (Angels) and Jean Segura (Mariners).

— Astros second baseman Jose Altuve (al-TOO'-vay) is the leading vote-getter for the July 17 All-Star game and will head an American League squad that has dominated the game over the last 25 years.

Altuve claimed 4.8 million votes, one season after being named the AL MVP.

Mike Trout of the Angels, Yankees slugger Aaron Judge and Boston's Mookie Betts have been voted into the AL starting outfield.

Orioles shortstop Manny Machado, White Sox first baseman Jose Abreu and Indians third baseman Jose Ramirez complete the AL infield. Red Sox designated hitter J.D. Martinez and Tampa Bay Rays catcher Wilson Ramos also were voted into the AL lineup.

The National League starting outfield includes Bryce Harper of the Nationals, giving the host city their lone starter among non-pitchers. Harper is batting just .218 this season, but he has 21 homers and 50 RBIs.

Joining Harper in the starting outfield are Nick Markakis (mahr-KAY'-kihs) of the Braves and Matt Kemp of the Dodgers.

The Chicago Cubs will have two starters after catcher Willson Contreras and second baseman Javier Baez each won a close race at their position in fan balloting. Braves first baseman Freddie Freeman, Colorado Rockies third baseman Nolan Arenado and Giants shortstop Brandon Crawford round out the NL starting lineup.

More information at CSiNewsNow.com under Sports…

MLB-NEWS

UNDATED (AP) — For the first time in three years the Royals began a game without Alcides (al-SEE'-dehs) Escobar in the lineup.

Escobar had started 421 consecutive games, the longest streak in the majors until manager Ned Yost kept him on the bench Sunday against Boston. The struggling shortstop is hitting .194 with 16 extra-base hits in 309 at-bats for a ballclub that currently owns the second-worst record in the majors.

In addition, Yost said Jason Hammel is being removed from the rotation after going 2-11 with a hefty 6.16 ERA this season.

The Royals also placed Jakob Junis on the disabled list with back tightness and recalled pitcher Glenn Sparkman from Triple-A Omaha. Junis has dropped his last seven starts.

Also in the majors:

— The Brewers have activated centerfielder Lorenzo Cain off the 10-day disabled list and placed outfielder Ryan Braun and catcher Manny Pina on the DL as part of eight roster moves. Cain has been out since June 24 after hitting .291 with eight homers and 26 RBIs in his first 72 games this season.

— The Rangers have acquired right-handed pitchers Cory Gearrin and Jason Bahr, and outfielder Austin Jackson from the Giants for a player to be named later or cash considerations. The 32-year-old Gearrin has a 1-1 record with one save and a 4.20 ERA over 35 relief appearances this season, and Jackson is batting .242 with 13 RBIs in 59 games.

NBA NEWS

Bulls keep LaVine

UNDATED (AP) — Zach LaVine (lah-VEEN') is staying with the Chicago Bulls, after the team matched a four-year, $80 million offer sheet that he got from the Sacramento Kings.

LaVine was a restricted free agent, which meant the Bulls had right of first refusal.

LaVine has missed 91 of a possible 162 games over the past two seasons because of injuries. He appeared in only 24 games for the Bulls last season, averaging 16.7 points on 38 percent shooting.

In other NBA news:

— A person familiar with the negotiations says Brook Lopez has agreed to a one-year, $3.5 million contract with the Bucks. The 10-year NBA veteran averaged 13 points for the Lakers last season, about five points below his career average.

— A person familiar with the terms says Zaza Pachulia (ZAH'-zah pah-CHOOOL'-yuh) is signing a one-year, $2.4 million contract with the Pistons. The 34-year-old Pachulia just helped the Warriors win back-to-back NBA titles and owns a 6.9 career scoring average.

WIMBLEDON

LONDON (AP) — The second week of play has started at Wimbledon.

The only remaining top-10 seeded woman, No. 7 Karolina Pliskova, is trying to avoid further upsets as she faced Kiki Bertens of the Netherlands. Other early starters included No. 12 Jelena Ostapenko of Latvia facing Donna Vekic of Croatia and Camila Giorgi of Italy playing Russia's Ekaterina Makarova.

The so-called "Manic Monday" sees every remaining men's and women's singles title challenger play their fourth-round matches, making it one of the busiest days of the championships.

PGA-GOLF-GREENBRIER

WHITE SULPHUR SPRINGS, W.Va. (AP) — Kevin Na has broken a nearly seven-year winless drought on the PGA Tour by shooting a 6-under 64 for a five-stroke victory at A Military Tribute at The Greenbrier.

Na birdied six of his first 10 holes to open up a big lead over third-round co-leader Kelly Kraft. The 34-year-old Na cruised from there and finished at 19-under 261.

Na's only previous tour win came in Las Vegas in October 2011.

Kraft shot 70 and finished second at 14 under. Brandt Snedeker and Jason Kokrak tied for third at 13 under. Snedeker had a 64 and Kokrak shot 67.

Kraft, Snedeker, Kokrak and Austin Cook earned spots in the British Open in two weeks.

LPGA-THORNBERRY CREEK CLASSIC

Kim sets LPGA scoring mark

ONEIDA, Wis. (AP) — Sei Young Kim became the first player in LPGA Tour history to go lower than 30 under in a tournament as she earned a nine-stroke victory at the Thornberry Creek LPGA Classic.

Kim ended up at minus-31 after closing the tournament with a 7-under 65. That broke by four shots to par the record Kim had shared with Annika Sorenstam.

TOUR DE FRANCE

Sagan wins Stage 2 to take early lead

LA ROCHE-SUR-YON, France (AP) — World champion Peter Sagan won a sprint finish to claim the second stage of the Tour de France and the race's overall lead on Sunday.

The Slovakian rider for Bora-Hansgrohe edged Sonny Colbrelli at the finish line.

Sagan won the flat 113.4-mile leg from Mouilleron-Saint-Germain to the department capital of La Roche-sur-Yon in just over four hours.

INDYCAR-IOWA

Hinchcliffe wins at Iowa for 1st victory of '18

NEWTON, Iowa (AP) — Canadian James Hinchcliffe passed Josef Newgarden with just over 40 laps left to win the IndyCar race at the Iowa Speedway, his first victory of the season.

Hinchcliff picked up his first win since Long Beach in 2017 and his second win at Iowa, six weeks after failing to qualify for the Indianapolis 500.

Spencer Pigot was a career-best second, followed by Takuma Sato.

Newgarden dominated much of the race, leading 229 of the 300 laps before Hinchcliffe seized control.
In world and national news…
MAE SAI, Thailand (AP) — Thai authorities are being tight-lipped about who was inside an ambulance seen leaving the site of a flooded cave Monday, as they were the night before when four of the 13 people trapped inside the underground complex were rescued. Multiple calls to senior government officials and military personnel leading the operation to rescue the members of the youth soccer team rang unanswered Monday evening.
WASHINGTON (AP) — President Donald Trump announces his pick to replace retiring Supreme Court Justice Anthony Kennedy at 9 p.m. Monday. Trump told reporters that as of Sunday afternoon he still hadn't narrowed his choices down to one candidate, but said with his final four options "you can't go wrong." Those options are believed to be federal appeals judges Brett Kavanaugh, Raymond Kethledge, Amy Coney Barrett and Thomas Hardiman.
SAN DIEGO (AP) — The Trump administration has until Tuesday to reunite young children who were separated at the border with their parents. But the American Civil Liberties Union said Sunday night that the administration provided it with a list of 102 children under 5 years old and that "appears likely that less than half will be reunited" by the deadline. The Justice Department plans to present a progress report Monday to U.S. District Judge Dana Sabraw.
HIROSHIMA, Japan (AP) — European Union chief Donald Tusk has suggested moving the postponed summit with Prime Minister Shinzo Abe to Tokyo next week. Abe was set to visit Tusk on Wednesday to sign a free trade pact with the EU but was forced to abandon a trip to Europe to oversee the emergency response to deadly heavy rains.
BAGHDAD (AP) — Nearly a third of the sentences handed down in Iraq's trials of accused Islamic State group members are death sentences. But the trials are so fast and the evidence so thin that even the president is wary of approving the execution orders, as the law required before than can be carried out. Often convictions depend on the word of informants, who can sometimes be motivated by personal grudges.