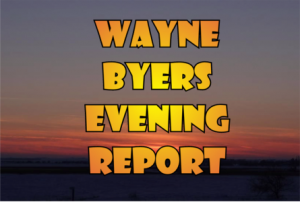 CSi Weather…
.TONIGHT…Partly cloudy. Lows in the mid 60s. Northwest winds 5 to 10 mph.
.THURSDAY…Partly sunny. Highs in the lower 80s. West winds 5 to 10 mph.
.THURSDAY NIGHT…Mostly clear. Lows in the lower 60s. West winds 5 to 10 mph.
.FRIDAY…Sunny. Highs in the upper 80s. Southwest winds around
5 mph.
.FRIDAY NIGHT…Clear. Lows in the mid 60s.
.SATURDAY…Sunny. Highs in the upper 80s.
.SATURDAY NIGHT…Increasing clouds. A 30 percent chance of
showers and thunderstorms. Lows in the lower 60s.
.SUNDAY…Mostly sunny. Highs in the upper 70s.
.SUNDAY NIGHT…Mostly clear. Lows in the upper 50s.
.MONDAY…Sunny. Highs in the upper 70s.
.MONDAY NIGHT…Mostly clear. Lows in the upper 50s.
.TUESDAY…Sunny. A 20 percent chance of rain showers and
thunderstorms in the afternoon. Highs around 80.
Another round of isolated thunderstorms are forecast across southern North Dakota after midnight into Thursday. Severe weather is not anticipated.
Isolated thunderstorms are forecast Thursday morning. Thunderstorms are forecast to remain non-severe.
Chances of thunderstorms return Saturday afternoon through
Saturday evening along and ahead of a potent cold front. Severe
thunderstorms are possible.
A much cooler and drier air mass will build in behind the weekend
cold front, with a likely return to highs in the 70s. The cool down
may only last a couple days though as long-range guidance is hinting
at another building ridge by mid-week.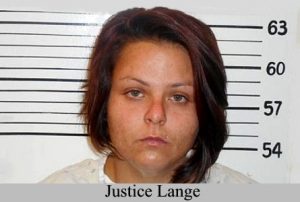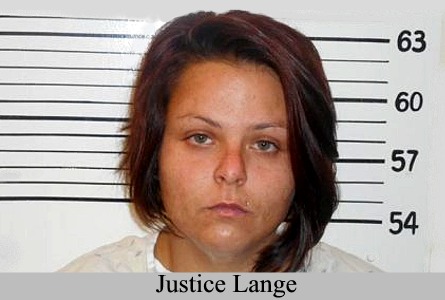 Jamestown  (KFYR) The woman whose four-month-old son was found dead on Saturday in rural Stutsman County has been charged with manslaughter and child neglect, according to court records.
Twenty-five-year old Justice Lange had been missing for four days and told authorities she couldn't remember the last time she had her son.
She will have an initial appearance Thursday morning at 10:30 in Stutsman County.
Last Friday, Lange was found wandering on a road east of Woodworth by a farmer. She was taken to a hospital in Fargo, while authorities launched a search for the baby.
His body was found on Saturday afternoon after a two-day search on the edge of a slough in some reeds.
Authorities were unsure how long he had been there.
Lange is being held in Stutsman County on a parole violation.
The Stutsman County Clerk of Court confirms there was oral probable cause for the charges.
Stutsman County Sheriff Chad Kaiser says the autopsy report on the official cause of the baby's death has still not been released.
Previously Published by CSiNewsNow.com
Valley City  (KLJ)  KLJ in Valley City reminds motorists that a mill & overlay project on 7th Street Southeast from 5th Avenue Southeast to 12th Avenue Southeast, in Valley City is scheduled to begin on Thursday, July 12th.
KLJ engineer Chad Peterson says the work includes milling the streets and placing a hot bituminous overlay, as roadway will be partially open to traffic but delays are expected.
Flag people will be present to help guide the public through the work zone. Peterson adds that the work is anticipated to be completed by the end of the week, weather pending.
Any questions concerning the project can be directed to the KLJ office in Valley City at 845-4980.
Jamestown  (JRMC) — Community members young and old are helping bring cancer care to Jamestown.
Katie Osbourne and the 20 or so members of the Prairie Pals 4-H Club baked breakfast items and lunches to sell as part of the Stutsman County Gardening Day in May.
She says, "I thought of cancer because my grandpa had cancer."
Harold Osbourne passed away in April. His family gave the option of memorial gifts. One of the choices was the JRMC Cancer Center.
That's because JRMC cared for Harold throughout his journey. He traveled for some tests, however, he received many of his infusions at JRMC.
Katie says, "We were happy for what he could have done here. Most of the students in her 4-H group also are related to or know individuals struggling with cancer. The cause is relatable.  The whole club thought supporting the JRMC Cancer Center was a good idea."
Like the students, Jamestown and the surrounding community are gathering in support of the upcoming JRMC Cancer Center.
The annual Golf "FORE" Good tournament is set for Friday, July 20. All proceeds benefit Jamestown Regional Medical's Cancer Center.
"Golf "FORE" Good is a great way to support the 55,000 people in our community," said Lisa Jackson, JRMC Foundation director. "Miles matter when it comes to cancer care."
Each year, the JRMC Cancer Center will provide chemotherapy infusions for more than 100 residents of Jamestown and the surrounding communities. Currently, those people travel more than 100 miles for that care. This will eliminate more than 160,000 miles of travel per year.
The JRMC Cancer Center will include six infusion rooms, a consultation area and space for nurses and staff.
So far, JRMC Foundation has raised more than $1.2 million of its $1.5 million Phase II goal. Gifts support the buildout of existing space, equipment and technology, staff recruitment and training.
This year's Title Golf "FORE" Good sponsor is the JRMC Auxiliary. The 40 or so members support JRMC through organizing fundraisers and supporting the JRMC Gift Shoppe.
Eunice Sahr, JRMC Auxiliary president, says, "Everyone is so in favor of getting the JRMC Cancer Center here so people don't have to drive."
Other Golf "FORE" Good sponsors include:
Birdie $1,000+
Cargill, Inc.
Central Business Systems
Great River Energy
Hillerud Construction, Inc.
Sanford Health
Driving Range $750+
Eide Bailly, LLP
Farmers Union Insurance: Garit Irey Agent
Neis Bus Service
Ottmar & Ottmar P.C.
Hole $300+
Bismarck Cancer Center
Casey's General Stores
Compeer Financial
Dakota Central
Hart Counseling
Knights of Columbus
Mutual Insurance Company
M. Stoudt, Inc.
Schauer and Associates PC
Barb and Curt Togstad
Vogel Law Firm
Wilhelm Chevrolet Buick GMC
Teams
Alerus Financial
Cargill, Inc.Team 1
Cargill, Inc.Team 2
Central Business Systems
Cimbura Team
Credit Collections Bureau Team
Dakota Plains Credit Union
Ed Ryan Team
First Community Credit Union Team
Great River Energy
Hart Counseling
Hillerud Construction, Inc.
Layered Salon
Lifetime Vision Source
Neis Bus Service/Farmers Union Insurance
Ottmar & Ottmar Team
Runkles Team
Sanford Health
Spring Creek Ag
Unison Bank
Weatherly Team
Registration is $100 per player and includes an 18-hole golf scramble, bag valet, cart, meals, drinks and swag bag. The tournament kicks off at noon at the Jamestown Country Club.
The Hole-in-One is presented by Wilhelm Chevrolet GMC Buick and R.M. Stoudt. Register now to secure your team's spot.
For more information, contact Jackson or Penny Holland at (701) 952-4880 or ljackson@jrmcnd.com.
For more information on services at JRMC, visit www.jrmcnd.com or call 701-952-1050.
WATFORD CITY, N.D. (AP) — A crowdfunding campaign has raised more than $13,000 for a couple who lost their week-old baby when a tornado hit a North Dakota town.
McKenzie County Sheriff Gary Schwartzenberger says the boy died after the storm flipped his family's trailer Tuesday morning at an RV park in Watford City.
The baby's name has not been released. The Bismarck Tribune says Schwartzenberger reported to Gov. Doug Burgum and other officials late Tuesday that the boy was the son of Marisa Reber and Will Maguire.
A GoFundMe account set up for the couple shows more than 225 people had donated as of early Wednesday.
WATFORD CITY, N.D. (AP) — Warning sirens were sounded before a tornado ravaged an RV park in a city on the North Dakota oil patch, but park residents said they didn't hear them, authorities said Wednesday.
A newborn baby was killed and more than two dozen people were injured when the storm moved through Watford City shortly after midnight Tuesday. More than 120 structures were demolished.
McKenzie County Sheriff Gary Schwartzenberger said the sirens were activated but "the storm was so loud you couldn't hear them." He said the storm also took out a radio communications tower and forced law enforcement to use a mobile command unit.
"I live just up on a hill from the park. When it went over our house it sounded just like a 757 jet engine," Schwartzenberger said. "It was crazy. I didn't think it was going to be that loud and that strong."
Prairie View RV park resident Clifford Bowden said he didn't hear sirens but someone he knows who lives across town heard them.
"It was pretty calm on that side of town," Bowden said.
It's not clear how many sirens are in the city and whether they were functioning properly. Karolin Jappe, the McKenzie County emergency manager, did not immediately return phone messages left Wednesday by The Associated Press.
Ken Simosko, National Weather Service meteorologist in Bismarck, said a severe thunderstorm warning with the possibility of a tornado was issued about 60 minutes in advance of the storm.
Schwartzenberger said there are numerous shelters in the city, some of them within minutes of the RV park.
The tornado destroyed 122 structures and damaged about 200 more, though about 120 are still habitable, Mike Nowatzki, spokesman for Gov. Doug Burgum, said Wednesday.
BISMARCK, N.D. (AP) — A Denver woman accused of shooting at officers during protests in North Dakota against the Dakota Access oil pipeline is finding out how long she'll spend in a federal prison.Red Fawn Fallis is being sentenced Wednesday afternoon in Bismarck. Prosecutors are recommending seven years in prison, though federal Judge Daniel Hovland could give her up to 15 years.Authorities accused Fallis of firing a handgun three times while resisting arrest in October 2016. No one was hurt. She pleaded guilty Jan. 22 to civil disorder and a weapons charge. Prosecutors agreed to drop another weapons charge.The months of protests drew thousands of pipeline opponents and resulted in 761 arrests, but it didn't stop the project. The pipeline has been moving North Dakota oil to Illinois for a year. 
GRAND FORKS, N.D. (AP) — Officials say the first trans-Atlantic flight by a medium-altitude, long-endurance unmanned aircraft has successfully landed in England.The General Atomics Aeronautical Systems Inc. drone departed from the Grand Sky park at the Grand Forks Air Force Base Tuesday afternoon.The flight covered more than 3,000 miles before landing in Gloucestershire, England, where the Royal Air Force is holding its centennial celebration.The aircraft is an MQ-9B Predator, which is made by General Atomics Aeronautical Systems Inc., a tenant at the Grand Sky park.Thomas Swoyer Jr., president of Grand Sky Development Co., says the flight is a "critical first step" in developing a commercial network of large drones that can crisscross the United States or the world to support emergency responders, provide services in a natural disaster or deliver supplies.
BISMARCK, N.D. (AP) — The North Dakota Legislature's top attorney has been hired as the new director of the Legislature's research agency.The bipartisan Legislative Management Committee voted unanimously Wednesday to hire John Bjornson to lead the Legislative Council. Its incumbent director, Jim Smith, is retiring in August after 39 years with the agency.The nonpartisan research arm's 34-member staff includes accountants and attorneys who draft new laws and budget proposals for lawmakers. The agency has a two-year budget of $11.8 million.The 55-year old Bjornson is a native of Edinburg and a graduate of the University of North Dakota. He began working at the agency in 1988.The committee did not discuss his compensation. Smith is paid $191,000 annually. 
In sports…
VALLEY CITY, N.D. (VCSUVikings.com)- The North Star Athletic Association announced Monday that 79 Valley City State University student-athletes have received the conference's scholar-athlete award for the spring academic season.
VCSU athletes from the sports of basketball, golf, track and field, softball and baseball received the NSAA Academic Scholar-Athlete honor, which recognizes success in the classroom during a student-athletes' season of competition.
To be eligible for the NSAA Academic Scholar-Athlete honor, a student-athlete must achieve a cumulative grade point average (GPA) of 3.25 on a 4.0 scale.
VCSU's 79 student-athletes receiving the honor was the second-most among all NSAA schools. They join 39 other VCSU student-athletesfrom football, volleyball and cross country that received the honor during the fall semester.
VCSU NSAA Spring Scholar-Athlete List
MINNEAPOLIS (AP) — Brian Dozier hit a two-run home run, going deep for the second straight game to give the Minnesota Twins a boost on their way to an 8-5 victory over the Kansas City Royals on Wednesday.
Lance Lynn (7-7) recovered from a three-run homer by Salvador Perez in the first inning to win his second straight start for the Twins, who used the bottom third of their lineup to launch rallies in the second and the fourth against Royals starter Burch Smith (0-1).
Max Kepler, Jake Cave and Bobby Wilson went 6 for 11 with five runs scored. Wilson, whose batting average fell to .114 last week, had two RBIs and was one of three Twins with three hits, joining Dozier and Joe Mauer. Wilson, the backup catcher, is now hitting .169.
Mike Moustakas homered twice for the Royals, who have the fewest home runs in MLB, but took the Twins deep five times over the last two games of this series. Kansas City has lost 23 of its past 27 games.
Dozier sent his 15th homer of the season into the second deck above left field in the sixth inning against reliever Enny Romero. Logan Morrison hit a solo shot one out later, padding Minnesota's lead.
INDIANAPOLIS  (Field Level Media)  —Sylvia Fowles scored 20 points, grabbed 10 rebounds and handed out seven assists and Maya Moore added 19 points as the Minnesota Lynx waltzed past the Indiana Fever 87-65 on Wednesday afternoon before a season-high crowd of 10,006 on Kids Day at Bankers Life Fieldhouse.
The victory allowed the Lynx (12-8) to avenge a home loss to Indiana on July 3, one of just two wins this season for the Fever (2-18). Indiana has the worst record in the WNBA.
In world and national news…
BRUSSELS (AP) — President Donald Trump and first lady Melania Trump are attending a dinner for NATO leaders in Brussels. The gathering comes just minutes after Trump tweeted "what good is NATO" amid a day of grievances about the decades-old alliance. The Trumps arrived at the Art and History Museum at the Cinquantenaire and first mingled with other leaders at a cocktail reception.
MATAMOROS, Mexico (AP) — Migrants attempting to cross the U.S.-Mexico border often arrive with little more than the clothes on their backs. But the few belongings they bring often include evidence intended to help them seek asylum, including audio recordings, crime-scene photos, police paperwork and even medical examiner records. Immigrant families hope these documents help demonstrate to U.S. authorities the dangers they are trying to escape back home.
GUATEMALA CITY (AP) — Eleven families who had been detained and separated after they were caught crossing the U.S. border illegally returned home to Guatemala aboard a chartered flight. They lined up on the tarmac, shuffling. Their shoelaces had been taken as a security precaution. U.S. immigration officials handed over paperwork to Guatemalan officials and shook hands. The group walked single-file into a squat grey building to be processed back into their country, along with dozens of others also deported.
MAE SAI, Thailand (AP) — The 12 Thai boys rescued from deep within a flooded cave have made two-finger victory signs from their hospital beds in a moving video from the isolation ward where they're recuperating after an 18-day ordeal. The youngest, who is 11, appeared asleep under a crisp white sheet while others including their 25-year-old soccer coach sat in bed, their faces obscured by green surgical masks. Some of their parents are seen crying and waving to them from behind glass.
MUNICH (AP) — A German court has found the main defendant guilty in a string of neo-Nazi killings a decade ago _ a high-profile trial that raised fresh questions about the treatment of migrants as Germany grapples with an unprecedented influx of refugees and surging support for a far-right party bent on keeping the country white. Beate Zschaepe, the only know survivor of the National Socialist Underground, was sentenced to life in prison in the killings of 10 people _ most of them migrants _ from 2000-2007.