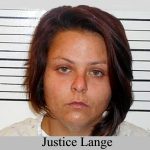 Jamestown  (KFYR-AP) The woman whose four-month-old son was found dead on Saturday in rural Stutsman County has been charged with manslaughter and child neglect, according to court records.
Twenty-five-year old Justice Lange had been missing for four days and told authorities she couldn't remember the last time she had her son.
She will have an initial appearance Thursday morning at 10:30 in Stutsman County.
Last Friday, Lange was found wandering on a road east of Woodworth by a farmer. She was taken to a hospital in Fargo, while authorities launched a search for the baby.
His body was found on Saturday afternoon after a two-day search on the edge of a slough in some reeds.
Authorities were unsure how long he had been there.
Lange is being held in Stutsman County on a parole violation.
The Stutsman County Clerk of Court confirms there was oral probable cause for the charges.
Stutsman County Sheriff Chad Kaiser says the autopsy report on the official cause of the baby's death has still not been released.