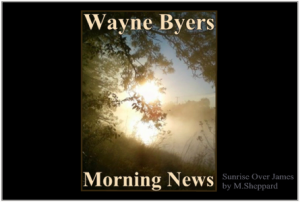 CSi Weather…
.REST OF TODAY…Partly sunny with scattered showers. Highs in the lower 80s. West winds 5 to 10 mph. Chance of showers 30 percent.
.TONIGHT…Mostly clear. Lows in the mid 60s. West winds around 5 mph.
.FRIDAY…Sunny. Highs in the mid 80s. Northwest winds around
5 mph.
.FRIDAY NIGHT…Clear. Lows in the mid 60s. South winds around
5 mph.
.SATURDAY…Sunny. Highs in the upper 80s. South winds 5 to
10 mph.
.SATURDAY NIGHT…Increasing clouds. A 30 percent chance of
showers and thunderstorms. Lows in the mid 60s.
.SUNDAY…Partly sunny. Highs in the mid 70s.
.SUNDAY NIGHT…Mostly clear. Lows in the upper 50s.
.MONDAY…Sunny. Highs in the upper 70s.
.MONDAY NIGHT…Mostly clear. Lows in the upper 50s.
.TUESDAY…Sunny. Highs in the upper 70s.
.TUESDAY NIGHT…Mostly clear. Lows in the upper 50s.
.WEDNESDAY…Sunny. Highs in the upper 70s.
Saturday night and Wednesday night thunderstorms are possible
however details are still uncertain with this activity so severe
weather can not be ruled out.
Jamestown  (CSi)  Jamestown Public Works reports, that it is possible there will be temporary water outages today, along 3rd Ave NE between 7th & 9th Streets NE.  That portion of 3rd Ave NE will be temporarily closed due to utility repairs in progress. Please watch for road detour signage. Water service will be resumed as soon as possible.
PLEASE CALL THE WATER TREATMENT PLANT AT 252-5131 FOR FURTHER INFORMATION.
Jamestown  (KFYR-AP) The woman whose four-month-old son was found dead on Saturday in rural Stutsman County has been charged with manslaughter and child neglect, according to court records.
Twenty-five-year old Justice Lange had been missing for four days and told authorities she couldn't remember the last time she had her son.
She will have an initial appearance Thursday morning at 10:30 in Stutsman County.
Last Friday, Lange was found wandering on a road east of Woodworth by a farmer. She was taken to a hospital in Fargo, while authorities launched a search for the baby.
His body was found on Saturday afternoon after a two-day search on the edge of a slough in some reeds.
Authorities were unsure how long he had been there.
Lange is being held in Stutsman County on a parole violation.
The Stutsman County Clerk of Court confirms there was oral probable cause for the charges.
Stutsman County Sheriff Chad Kaiser says the autopsy report on the official cause of the baby's death has still not been released.
Previously Published by CSiNewsNow.com
Jamestown   (CSi)  The court appointed attorney for 27 year old Kevin Hoff Wednesday requested a continuance in a preliminary hearing, which was granted.
Hoff is charged with murder in the death of his ex-wife  25 year old Nicoloe Gututala of Jamestown.
She was found shot on May 12th in the parking lot of her Southeast Jamestown apartment building.
Attorney Russell Myhre requested the continuance awaiting  the completion of a psychiatric evaluation, at the North Dakota State Hospital.
Myhre states that  the evaluation was necessary to determine if Hoff was able to understand the proceedings and aid in his defense.
Stutsman County State's Attorney Fritz Fremgen was not opposed the continuance.
Valley City  (KLJ)  KLJ in Valley City reminds motorists that a mill & overlay project on 7th Street Southeast from 5th Avenue Southeast to 12th Avenue Southeast, in Valley City is scheduled to begin today July 12th.
KLJ engineer Chad Peterson says the work includes milling the streets and placing a hot bituminous overlay, as roadway will be partially open to traffic but delays are expected.
Flag people will be present to help guide the public through the work zone. Peterson adds that the work is anticipated to be completed by the end of the week, weather pending.
Any questions concerning the project can be directed to the KLJ office in Valley City at 845-4980.
Jamestown  (JRMC) — Community members young and old are helping bring cancer care to Jamestown.
Katie Osbourne and the 20 or so members of the Prairie Pals 4-H Club baked breakfast items and lunches to sell as part of the Stutsman County Gardening Day in May.
She says, "I thought of cancer because my grandpa had cancer."
Harold Osbourne passed away in April. His family gave the option of memorial gifts. One of the choices was the JRMC Cancer Center.
That's because JRMC cared for Harold throughout his journey. He traveled for some tests, however, he received many of his infusions at JRMC.
Katie says, "We were happy for what he could have done here. Most of the students in her 4-H group also are related to or know individuals struggling with cancer. The cause is relatable.  The whole club thought supporting the JRMC Cancer Center was a good idea."
Like the students, Jamestown and the surrounding community are gathering in support of the upcoming JRMC Cancer Center.
The annual Golf "FORE" Good tournament is set for Friday, July 20. All proceeds benefit Jamestown Regional Medical's Cancer Center.
"Golf "FORE" Good is a great way to support the 55,000 people in our community," said Lisa Jackson, JRMC Foundation director. "Miles matter when it comes to cancer care."
Each year, the JRMC Cancer Center will provide chemotherapy infusions for more than 100 residents of Jamestown and the surrounding communities. Currently, those people travel more than 100 miles for that care. This will eliminate more than 160,000 miles of travel per year.
The JRMC Cancer Center will include six infusion rooms, a consultation area and space for nurses and staff.
So far, JRMC Foundation has raised more than $1.2 million of its $1.5 million Phase II goal. Gifts support the buildout of existing space, equipment and technology, staff recruitment and training.
This year's Title Golf "FORE" Good sponsor is the JRMC Auxiliary. The 40 or so members support JRMC through organizing fundraisers and supporting the JRMC Gift Shoppe.
JRMC Auxiliary president, Eunice Sahr says, "Everyone is so in favor of getting the JRMC Cancer Center here so people don't have to drive."
Other Golf "FORE" Good sponsors include:
Birdie $1,000+
Cargill, Inc.
Central Business Systems
Great River Energy
Hillerud Construction, Inc.
Sanford Health
Driving Range $750+
Eide Bailly, LLP
Farmers Union Insurance: Garit Irey Agent
Neis Bus Service
Ottmar & Ottmar P.C.
Hole $300+
Bismarck Cancer Center
Casey's General Stores
Compeer Financial
Dakota Central
Hart Counseling
Knights of Columbus
Mutual Insurance Company
M. Stoudt, Inc.
Schauer and Associates PC
Barb and Curt Togstad
Vogel Law Firm
Wilhelm Chevrolet Buick GMC
Teams
Alerus Financial
Cargill, Inc.Team 1
Cargill, Inc.Team 2
Central Business Systems
Cimbura Team
Credit Collections Bureau Team
Dakota Plains Credit Union
Ed Ryan Team
First Community Credit Union Team
Great River Energy
Hart Counseling
Hillerud Construction, Inc.
Layered Salon
Lifetime Vision Source
Neis Bus Service/Farmers Union Insurance
Ottmar & Ottmar Team
Runkles Team
Sanford Health
Spring Creek Ag
Unison Bank
Weatherly Team
Registration is $100 per player and includes an 18-hole golf scramble, bag valet, cart, meals, drinks and swag bag. The tournament kicks off at noon at the Jamestown Country Club.
The Hole-in-One is presented by Wilhelm Chevrolet GMC Buick and R.M. Stoudt. Register now to secure your team's spot.
For more information, contact Jackson or Penny Holland at (701) 952-4880 or ljackson@jrmcnd.com.
About Jamestown Regional Medical Center
Jamestown Regional Medical Center is located at 2422 20th St. SW, Jamestown, ND and serves approximately 55,000 people in nine counties. JRMC was recognized as a "Top 100 Critical Access Hospital" and a "Best Places to Work in Healthcare" in 2017 and 2018. For more information on services at JRMC, visit www.jrmcnd.com or call 701-952-1050.
WATFORD CITY, N.D. (AP) — Authorities say all eight outdoor warning sirens in a North Dakota oil patch city were sounded before a deadly tornado ravaged an RV park, but park residents and others say they didn't hear them.
A newborn baby was killed and dozens were injured when the storm moved through Watford City shortly after midnight Tuesday. More than 120 structures were destroyed.
McKenzie County emergency manager Karolin Jappe says all of the sirens functioned properly, including one within blocks of the RV park. She says the storm was so loud that someone in the path of it would have had to be outside to hear the warnings.
Prairie View RV park resident Clifford Bowden said he and his neighbors didn't hear sirens but someone he knows who lives across town heard them.
WATFORD CITY, N.D. (AP) — A crowdfunding campaign has raised more than $13,000 for a couple who lost their week-old baby when a tornado hit a North Dakota town.
McKenzie County Sheriff Gary Schwartzenberger says the boy died after the storm flipped his family's trailer Tuesday morning at an RV park in Watford City.
The baby's name has not been released. The Bismarck Tribune says Schwartzenberger reported to Gov. Doug Burgum and other officials late Tuesday that the boy was the son of Marisa Reber and Will Maguire.
A GoFundMe account set up for the couple shows more than 225 people had donated as of early Wednesday.
BISMARCK, N.D. (AP) — A Denver woman accused of shooting at officers during protests in North Dakota against the Dakota Access oil pipeline was sentenced Wednesday to four years and nine months in federal prison.
Red Fawn Fallis, 39, was accused of firing a handgun three times while resisting arrest on Oct. 27, 2016. No one was hurt. Fallis, a member of the Oglala Sioux tribe, denied intentionally trying to injure anyone and claimed not to remember firing the gun after being tackled by police.
She pleaded guilty Jan. 22 to civil disorder and illegal possession of a gun by a convicted felon. She has a 2003 conviction in Colorado for being an accessory to a felony crime. Court records show she was accused of driving a car for a man who shot and wounded another man.
Prosecutors in the pipeline case agreed to drop a count of discharge of a firearm during a felony crime of violence and to recommend a sentence of no more than seven years in prison, though U.S. District Judge Daniel Hovland could have gone as high as 15 years. He could have gone up to 25 years had the third charge not been dropped. The defense asked for no more than 2 ½ years.
FARGO, N.D. (AP) — Fargo police are investigating a reported armed robbery of a liquor store.
Officers responded to Royal Liquors just before midnight Wednesday for a report of a man with a handgun stealing money.
No injuries were reported.
ALEXANDER, N.D. (AP) — State officials are monitoring cleanup of a spill at a saltwater disposal site in McKenzie County.
Murex Petroleum Corp. on Tuesday reported the spill of 12,600 gallons of brine and 2,100 gallons of oil due to a fire at the site about 3 ½ miles south of Alexander.
The state Oil and Gas Division says all of the brine and oil was contained within on-site diking. A state inspector has visited the site.
GRAND FORKS, N.D. (AP) — Officials say the first trans-Atlantic flight by a medium-altitude, long-endurance unmanned aircraft has successfully landed in England.
The General Atomics Aeronautical Systems Inc. drone departed from the Grand Sky park at the Grand Forks Air Force Base Tuesday afternoon.
The flight covered more than 3,000 miles before landing in Gloucestershire, England, where the Royal Air Force is holding its centennial celebration.
The aircraft is an MQ-9B Predator, which is made by General Atomics Aeronautical Systems Inc., a tenant at the Grand Sky park.
Thomas Swoyer Jr., president of Grand Sky Development Co., says the flight is a "critical first step" in developing a commercial network of large drones that can crisscross the United States or the world to support emergency responders, provide services in a natural disaster or deliver supplies.
BISMARCK, N.D. (AP) — The North Dakota Legislature's top attorney has been hired as the new director of the Legislature's research agency.
The bipartisan Legislative Management Committee voted unanimously Wednesday to hire John Bjornson to lead the Legislative Council. Its incumbent director, Jim Smith, is retiring in August after 39 years with the agency.
The nonpartisan research arm's 34-member staff includes accountants and attorneys who draft new laws and budget proposals for lawmakers. The agency has a two-year budget of $11.8 million.
The 55-year old Bjornson is a native of Edinburg and a graduate of the University of North Dakota. He began working at the agency in 1988.
The committee did not discuss his compensation. Smith is paid $191,000 annually.
In sports…
VALLEY CITY, N.D. (VCSUVikings.com)- The North Star Athletic Association announced Monday that 79 Valley City State University student-athletes have received the conference's scholar-athlete award for the spring academic season.
VCSU athletes from the sports of basketball, golf, track and field, softball and baseball received the NSAA Academic Scholar-Athlete honor, which recognizes success in the classroom during a student-athletes' season of competition.
To be eligible for the NSAA Academic Scholar-Athlete honor, a student-athlete must achieve a cumulative grade point average (GPA) of 3.25 on a 4.0 scale.
VCSU's 79 student-athletes receiving the honor was the second-most among all NSAA schools. They join 39 other VCSU student-athletesfrom football, volleyball and cross country that received the honor during the fall semester.
VCSU NSAA Spring Scholar-Athlete List
INDIANAPOLIS  (Field Level Media)  —Sylvia Fowles scored 20 points, grabbed 10 rebounds and handed out seven assists and Maya Moore added 19 points as the Minnesota Lynx waltzed past the Indiana Fever 87-65 on Wednesday afternoon before a season-high crowd of 10,006 on Kids Day at Bankers Life Fieldhouse.
The victory allowed the Lynx (12-8) to avenge a home loss to Indiana on July 3, one of just two wins this season for the Fever (2-18). Indiana has the worst record in the WNBA.
VALLEY CITY, N.D. (VCSUVikings.com)- Valley City State University athletic director Jill DeVries announced Wednesday that cross country and track and field coach Chris Johnson has resigned to take a position at Tulane University.
DeVries said a search for his replacement at VCSU will begin immediately.
DeVries says,  "We want to thank Chris for the job he did as the head coach of Viking cross country and track and field, and we wish him the very best at Tulane.  The program is in great shape and the future is bright for VCSU track and cross country."
Johnson had been head coach of VCSU's cross country and track and field programs for the past three seasons. Under his direction, the rosters for both programs have grown significantly and the teams have become competitive at the conference and national levels. The VCSU women's program had its first ever national champion during Johnson's tenure as he coached Seri Geisler to national titles in the women's javelin in both 2016 and 2017.
American Association…
Fargo-Moorhead 8, Wichita 5
WORLD CUP
MOSCOW (AP) — Some are calling it the greatest generation of Croatian soccer players and who could argue? Mario Mandzukic scored the go-ahead goal in the 109th minute and Croatia stunned England 2-1 in Moscow in their World Cup semifinal. It was the third consecutive extra time win for Croatia, which advanced to the World Cup final for the first time.France, which won its only title on home soil in 1998, will play Croatia in Sunday's final.England will have to regroup for Saturday's third-place game against Belgium in St. Petersburg.WIMBLEDONLONDON (AP) — Serena Williams is the only former champion left in the field as the women's semifinalists take to Centre Court at Wimbledon. Williams will play Julia Goerges in a match of experience against youth. Williams will be playing in her 35th Grand Slam semifinal, while Goerges will be playing in her first.In the other semifinal, No. 11 Angelique Kerber faces 12th-seeded Jelena Ostapenko.LONDON (AP) — Roger Federer was a point away from a neat, straight-sets victory in the Wimbledon men's quarterfinals Wednesday, but he failed to convert.What followed over the next two-plus hours was a stunning rally by South African Kevin Anderson who beat the top-seeded Federer 2-6, 6-7 (5), 7-5, 6-4, 13-11 in a 4-hour, 14-minute battle.Friday, Anderson will face No. 9 John Isner, the 33-year-old American who reached his first major semifinal in his 41st try by eliminating 2016 runner-up Milos Raonic (MEE'-lohsh ROW'-nich) of Canada 6-7 (5), 7-6 (7), 6-4, 6-3.The other men's semifinal will be a battle between Rafael Nadal and Novak Djokovic (NOH'-vak JOH'-kuh-vich).

Nadal, who's won two of his 17 Grand Slam titles at Wimbledon, edged 2009 U.S. Open champion Juan Martin del Potro 7-5, 6-7 (7), 4-6, 6-4, 6-4.

Djokovic, whose 12 major championships include three from the All England Club, got to his first Grand Slam semifinal since 2016 by beating No. 24 seed Kei Nishikori 6-3, 3-6, 6-2, 6-2.

MLB
— Brian Dozier went deep for the second straight game, hitting a two-run homer in the Minnesota Twins' 8-5 victory over the Kansas City Royals. Dozier has 15 homers on the season.
__ Chris Sale struck out 12 in seven innings in his final start before the All-Star game and major league batting leader Mookie Betts had two more hits leading the Boston Red Sox to a 4-2 victory over the Texas Rangers. It was the ninth straight win for Boston.
 — Greg Bird belted his first career grand slam and Sonny Gray put on a dominant pitching performance as the New York Yankees blasted the Baltimore Orioles 9-0 for a split of the four-game series.Bird launched a drive off the right-field foul pole in the third inning to put the Yankees up 5-0.Gray allowed three hits, walked one and struck out eight over six innings to improve to 6-7 after losing three straight starts.Elsewhere in the majors:__ Kenta Maeda registered 9 strikeouts and allowed a run and four hits over 5 /23 innings as the Los Angeles Dodgers beat the San Diego Padres 4-2. Matt Kemp, Logan Forsythe and Chris Taylor each had an RBI single for the Dodgers.__ Marco Gonzalez retired the first 10 batters he faced and gave up just two hits with four strikeouts over seven innings pitching the Seattle Mariners to a 3-0 win over the Los Angeles Angels. David Freitas hit his first major league home run for Seattle.__ Chad Pinder ripped a three-run homer and Khris Davis drove in three runs leading the Oakland Athletics to an 8-3 romp over the Houston Astros. Davis extended his career-best hitting streak to 13 games.__ Jose Ramirez belted a pair of home runs and drove in five runs as the Cleveland Indians blasted the Cincinnati Reds 19-4. Ramirez hit a two-run homer in the first inning and added a three-run shot in Cleveland's nine-run third.__ Ozzie Albies, who's headed to his first All-Star game next week, launched two homers as the Atlanta Braves outscored the Toronto Blue Jays 9-5 to move back into a first-place tie in the National League East. The Braves led 7-0 before Toronto scored five runs in the seventh on Justin Smoak's leadoff homer and a grand slam from Devon Travis.__ Carlos Gonzalez hit two homers and starter German Marquez added a home run in the Colorado Rockies' 19-2 drubbing of the Arizona Diamondbacks. The Rockies socked five home runs in the game.__ Buster Posey delivered a single off the right-field wall in the 13th inning to drive in the winning run as the San Francisco Giants edged the Chicago Cubs 5-4. The winning rally was set up as Brandon Belt drew a two-out walk from James Norwood (0-1) and Andrew McCutchen singled to bring up Posey, who ended the 4-hour, 30-minute game.

__ Carlos Rodon pitched into the eighth inning allowing only three hits and no runs as the Chicago White Sox blanked the St. Louis Cardinals 4-0. Tim Anderson tripled and had two RBIs for the White Sox who ended a six-game losing streak.

__ Brandon Nimmo delivered a three-run pinch homer in the bottom of the 10th inning, lifting the New York Mets to a 3-0 win over the Philadelphia Phillies. All-Star Jacob deGrom was dominant for the Mets, scattering five hits over eight innings.

— Starling Marte hit a two-run home run and Trevor Williams combined with four relievers on a five-hitter as the Pittsburgh Pirates beat the Washington Nationals 2-0 on Wednesday. Washington (46-46) lost for the 11th time in 16 games and fell back to .500. The Nationals entered the season as favorites to win a third consecutive NL East title.

— C.J. Cron's three-run home run in the seventh inning carried the Tampa Bay Rays to their fifth straight win, a 4-2 victory over the Detroit Tigers. Cron and Kiermaier each had three hits for the Rays, who have won 14 of 18.
MLB NEWS
UNDATED (AP) — The Philadelphia Phillies have adjusted their rotation for this weekend's series against the Miami Marlins to allow ace Aaron Nola to pitch in the All-Star Game Tuesday night in Washington.Nola will move up one day and will draw a Saturday start and Zach Eflin will pitch for the Phils on Sunday.Nola has a 2.27 ERA with 126 strikeouts over 19 starts and he leads the National League with 12 wins.The 25-year-old right-hander is the youngest Philadelphia pitcher selected to an All-Star game since then-23-year-old Cole Hamels got the honor in 2007.In other MLB news:— St. Louis Cardinals pitcher Miles Mikolas has been removed from the National League's active roster for the All-Star Game because he's scheduled to start Sunday against the Cincinnati Reds. Mikolas will be replaced on the NL pitching staff by Los Angeles Dodgers right-hander Ross Stripling.— The Phillies have activated right-hander Vince Velasquez from the 10-day disabled list. Velasquez had been out with a bruised right forearm.— The Baltimore Orioles placed right-hander Andrew Cashner on the 10-day disabled list on Wednesday with a neck strain. Baltimore manager Buck Showalter said, "It's something he gets once a year." Cashner received an injection on Wednesday to treat the injury.NFL-NEWSUNDATED (AP) — The New York Giants spent a 2019 third-round draft pick on Western Michigan cornerback Sam Beal, and Washington selected Virginia Tech cornerback Adonis Alexander in the sixth round Wednesday.

New York will surrender its third-round pick in next April's draft in Nashville, while the Redskins give up a sixth-rounder.

Both players were ruled academically ineligible for the upcoming college football season and entered the supplemental draft.

Not selected were Mississippi State safety Brandon Bryant, Grand Valley State running back Martayveus Carter and Oregon State linebacker Bright Ugwoegbu.

In other NFL news:

—Police say Cincinnati Bengals cornerback Adam "Pacman" Jones was attacked during a run-in with a facility-service employee at the airport in Atlanta. Atlanta police say Jones confronted ABM Industries employee Frank Ragin after Ragin made a "gesture" toward the football player Tuesday night at Hartsfield-Jackson Atlanta International Airport. Police say words were exchanged before Ragin struck Jones with a closed fist, causing a cut to Jones' face. Ragin was arrested on two counts of battery and taken to a nearby hospital to be treated for injuries.
—The ex-girlfriend of NFL star LeSean McCoy says through her lawyer that the Buffalo Bills running back orchestrated an attack that left her bloody amid attempts to get her to leave his suburban Atlanta mansion. Attorney Tanya Mitchell Graham says in a statement to news outlets that her client was physically assaulted by a man who entered the home with no signs of forced entry and demanded specific items of jewelry that had been given to her by McCoy. McCoy and the woman have been in court over his attempts to evict her from the home.FOOTBALL NEWSUNDATED (AP) — Darryl Rogers, who coached Michigan State to a share of the Big Ten title in 1978 and later took coached the Detroit Lions, has died. He was 83.The Lions said Rogers' family confirmed his death Wednesday.Rogers coached Michigan State from 1976-79, going 24-18-2. The 1978 team, which included star flanker Kirk Gibson, won its final seven games to finish tied for first in the conference.Rogers also coached at Arizona State from 1980-84 before heading to the NFL.In other football news—Two-time national champion and 2007 Heisman Trophy winner Tim Tebow will be inducted into Florida's ring of honor, becoming the sixth player to receive the honor. The school announced Wednesday that Tebow will be recognized during the LSU-Florida game on Oct. 6. His name will be unveiled on a wall inside Ben Hill Griffin Stadium.LOUISVILLE-ESCORTS-LAWSUITLOUISVILLE, Ky. (AP) — An attorney representing a group of former Louisville men's basketball players says they have filed a lawsuit against the NCAA over the Cardinals' 2013 vacated national championship and 2012 Final Four.John Morgan, one of several attorneys representing former Cardinals captain Luke Hancock, the 2013 Final Four Most Outstanding Player, and four teammates from that title team, described the NCAA during a Wednesday news conference as "a morally bankrupt organization" that exploits student-athletes.

The NCAA stripped Louisville of the title as part of sanctions for violations discovered during an escort scandal investigation.

The governing body in February denied the school's appeal and vacated 123 victories, including their third NCAA title following an escort's book allegations in October 2015 that former basketball staffer Andre McGee hired her and other dancers for sex parties. Louisville removed the championship banner from its home arena soon afterward.

HORSE RACING

ARCADIA, Calif. (AP) — Triple Crown winner Justify has swelling in his left front ankle and he's been taken out of training to see if the swelling subsides.

Trainer Bob Baffert says Justify will be re-evaluated in two weeks.

Baffert told the Daily Racing Form on Wednesday that Justify will ship to Del Mar and be part of his stable based at the track for the summer meet that begins July 18.
In world and national news…
BRUSSELS (AP) — French President Emmanuel Macron has denied reports that U.S. President Donald Trump threatened to withdraw the United States from the NATO military alliance in a dispute over funding. "President Trump never at any moment, either in public or in private, threatened to withdraw from NATO," Macron told reporters.
BRUSSELS (AP) — U.S. President Donald Trump says Russian President Vladimir Putin is neither friend nor foe. Instead, the U.S. leader calls Putin a "competitor" and says Russia's president is representing the best interests of his people as Trump represents those of Americans. Speaking during an unscheduled press conference at the NATO summit in Brussels, Trump says significant progress in the relationship with Putin could be made during Monday's meeting in Helsinki.
WASHINGTON (AP) — An FBI agent removed from special counsel Robert Mueller's team because of derogatory text messages about President Donald Trump is testifying publicly for the first time. Peter Strzok is to appear Thursday before the House judiciary and oversight committees. Strzok was reassigned last summer from Mueller's investigation into potential ties between Russia and the Trump following the discovery of anti-Trump text exchanged with an FBI lawyer, Lisa Page.
BIRMINGHAM, Ala. (AP) — The federal government has reopened its investigation into the slaying of Emmett Till, a black teenager whose brutal killing in Mississippi shocked the world more than 60 years ago. A Justice Department report to Congress says the agency is reinvestigating the 1955 slaying after receiving what it calls "new information." The report doesn't describe any potential new evidence, but it follows the publication of a book that says the woman who accused Till of grabbing her acknowledged she lied.
NEW YORK (AP) — The founder of Papa John's pizza has stepped down as chairman of the board. The company made the announcement Wednesday night, hours after John Schnatter apologized for using a racial slur during a media training conference in May. Forbes reported that when asked how he would distance himself from racist groups, Schnatter reportedly said that Colonel Sanders never faced a backlash for using the n-word. Schnatter says reports of his "hurtful" language are true.