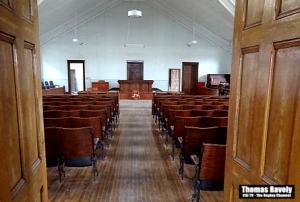 Jamestown  (CSi)  In addition to the Saturday October 20, Halloween Open House from 5-p.m., to 8:30-p.m., last summer, the 1883 Stutsman County Courthouse was busy with concerts, events, and tourists.
Site supervisor, Steve Reidburn says, the 1883 Stutsman County Courthouse had around 1,500 visitors last summer, including guests from Germany, Australia and Japan.
Events included a wedding ceremony in July, that was held the former courtroom and attended by 350 people.
The courthouse also hosted several concerts.
He added that this fall and winter, visits and tours can be arranged by calling him at 701-252-1170.
Coming up December 9, and 16 will be the Holiday Open House at the 1883 Courthouse, with the building's interior decorated by local organizations in Jamestown.
The 1883 Courthouse will be the site of a Jamestown commemoration of the end of World War I.
On October 30 at 7:30-p.m., Professor Carol Barrett will conduct an event, telling how the "Doughboys," got their name.
Then on November 11, at 11-a.m., on the steps outside the old courthouse, names will be read of the Stutsman County military persons who gave their lives in World War I, to be read by Stutsman County Veterans Service office, David Bratton.