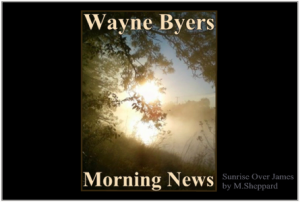 CSi Weather…
.REST OF TODAY…Light snow, possibly mixed with rain. New snow accumulation up to 1 inch. Highs in the mid 30s. Temperature falling through the afternoon. Northeast winds 10 to 20 mph. Chance of precipitation near 100 percent.
.TONIGHT…Cloudy. Snow likely and slight chance of light
freezing drizzle in the evening, then slight chance of snow after midnight. Lows 15 to 20. North winds around 15 mph with gusts to around 30 mph. Chance of precipitation. Chance of snow near 100 percent.
.THURSDAY…Mostly cloudy in the morning then clearing. Highs in
the mid 20s. Northwest winds 10 to 15 mph.
.THURSDAY NIGHT…Mostly clear. Lows around 15. West winds around
5 mph.
.FRIDAY…Sunny. Highs in the upper 30s. Southwest winds 5 to
10 mph.
.FRIDAY NIGHT…Mostly clear. Lows in the mid 20s.
.SATURDAY…Mostly sunny. Highs in the upper 30s.
.SATURDAY NIGHT…Partly cloudy. Lows in the upper 20s.
.SUNDAY…Mostly sunny. Highs in the lower 40s.
.SUNDAY NIGHT…Partly cloudy. Lows in the mid 20s.
.MONDAY…Partly sunny. Highs in the upper 30s.
.MONDAY NIGHT…Mostly cloudy. Lows in the lower 20s.
.TUESDAY…Mostly cloudy with a 20 percent chance of snow. Highs
in the lower 30s.
The National Weather Service reports,  a storm system, with rain or snow quickly changing over to all snow as it spreads east across northern North Dakota, Wednesday.
Locations along and north of Highway 2 could receive 2 to 6 inches of snow  through Wednesday afternoon. Farther south, across southwest and south central North Dakota, a mix of snow and light freezing rain or freezing drizzle will be the main threats through Wednesday night. Light ice accumulations are possible.
Travelers across North Dakota through Wednesday night should monitor the latest weather conditions and updated forecasts.
OMAHA, Neb  (11-19-19)– Starting Tuesday, the U.S. Army Corps of Engineers increased the releases from Jamestown and Pipestem Dams by a combined 200 cubic feet per second per day as the cities of Jamestown and LaMoure prepare for the higher flows.  The target combined release rate is 2,200 cfs.  Combined releases are currently planned to be reduced back to 1,400 cfs by Sunday, December 1, but could be held if weather allows.
Daily high temperatures have been near to above freezing for the last several weeks, resulting in river ice breakup and melting from Jamestown to LaMoure, North Dakota. Observed water temperatures have increased, and updated forecasts indicate the James River downstream of Jamestown and Pipestem Dams should not see significant ice formation for the rest of November.  The Corps of Engineers is coordinating closely with the National Weather Service to monitor temperature forecasts.
The increased releases will allow for the dams to release as much flood storage as possible before ice formation and prior to spring runoff.
To mitigate the risk of freeze-up ice jams or other ice-related flooding, the target combined release rate before ice sets in is 800 cfs.  The Corps of Engineers will operate to minimize the risk of ice-related flooding, and adjustments to the releases will be made as needed.
On Tuesday, Jamestown Dam was at a pool elevation of 1442.0 ft, 31% into the flood pool, and is steady.  Inflows into the reservoir peaked on October 30 and are steady, currently near 675 cfs.  Reservoir releases are 700 cfs.
Pipestem Dam is currently at a pool elevation of 1467.6 ft, 29% into the flood pool, and dropping.  The pool elevation peaked on October 29 at 1475.0 ft, which was 43% into the flood pool.  Inflows are near 325 cfs, and releases are 700 cfs.
The Corps of Engineers is coordinating with relevant agencies in North and South Dakota.
Jamestown  (CSi)  The Jamestown City Council's Finance & Legal, Building, Planning & Zoning, and Civic Center & Promotion Committees met Tuesday evening at City Hall.  All members were present.
CIVIC CENTER AND PROMOTION COMMITTEE:
A Frontier Village update was given.
City Attorney Leo Ryan said the Frontier Village Association has withdrawn its lawsuit against the city.  He added that negotiations on other issues and differences between the city and Frontier Village is progressing.  He added that the Village representative needs to further negotiate some differences, with the city, and it's likely that another meeting for discussions will be necessary, for a resolution. He anticipates when an agreement is reached, no other action will be needed by the city.  It was noted that the Frontier Village buildings have been secured, and winterized.
At a November 1 meeting of the Frontier Village Association Board, a motion was made to turn over all items at Frontier Village to the City of Jamestown, including artifacts and all debts, including attorney fees .
The motion passed on a 3-1 vote with one abstention.
In other Civic Center & Promotion Committee business, Tuesday, considered was authorizing the amendment to the ATM lease agreement with Carr Enterprises, cancelling the present agreement and establishing a new agreement, with adjustments in the transaction fees and risks of loss of cash in the machine, the responsibility of the vendor.  The committee recommends authorizing the amendment and lease agreement.
Three Jamestown High School students were introduced attending the committee meeting, outlining a food drive for the Christmas holiday with items collected at the Civic Center, and distributed by the students to area food pantries.
The committee recommends approving waiving the Civic Center fee.
A Rodeo event update was given.  Civic Center Manager Pam Fosse said, the attendance was 2,286, with the revenue at $11,693.41.  She said the Civic Center paid the rental fee, of $5,000 and the dirt hauling fee of $12,000.
Next year it will be a 50/50 rental payment arrangement between the rodeo and the Civic Center.
A damage report was also included.
FINANCE & LEGAL COMMITTEE:
The Committee recommends acceptance of the 2018 City Audit Report as prepared by Schauer & Associates, PC.
Considered was the employee annual leave policy.  Deputy City Auditor Jay Sveum talked about recruitment and retention, of city employees, and suggested an improvement in the benefit package, including the annual leave.  He asked that the policy, comparable to the current Stutsman County policy, be considered by the City Council.
The committee moved the information for discussion at next month's committee meeting.
City Assessor, Jamison Veil explained abatement applications.
The committee recommends approval of the Application for Abatement for 609 4th Ave NW due to a Fire.
The committee recommends approval of the Application for Abatement for 617 3rd Ave NW destroyed by Fire with the structure removed.
The committee recommends approval of  the Application for Abatement for 632 2nd St SW, with the owner saying the property that was foreclosed on, was over valued.   Upon inspection by Veil he re-evaluated the assessment, to match the purchase price.  Veil recommended $27,900, which was approved by the committee.
Considered was the request from Northern Roots Hair Salon for ten (10) parking spaces in the 3rd St/2nd Ave SW parking lot, adjacent to the former Eagle Club location. No  recommendation was made by the committee.
Approved was moving the Community Corrections agreement to the December committee agenda.
Considered was approval of utility rate adjustments for 2020.  City Administrator Sarah Hellekson  explained the rate changes including increases in the water and waste water rates, while commercial roll off rate decreased, and the haul charge was reduced.  She explained other adjustments.  The committee recommends, approval of the rates as proposed.
Considered was approval of licenses and permit fee adjustments for 2020. Included is the Medical marijuana dispensary permit fee proposed to increase from $4,000 to $5,000.  The committee recommends approval of all the proposed adjustments.
BUILDING, PLANNING & ZONING COMMITTEE:
The committee recommends approval of  the Minor Subdivision, Preliminary/Final plat – Kraehenbuehl Addition, Lot 1, Block 1, being within the City of Jamestown, Midway Township, Stutsman County, North Dakota, a replat of the East 100 feet of Lots 16 and 17 and East 100 feet of the South 20 feet of Lot 18, Block 31 of Original Plat of Jamestown, within the SW 1/4 of Section 25, T140N, R64W, City of Jamestown, North Dakota. The property is located at 124 3rd Ave SE.
The meeting was shown live on CSi Cable 67 followed by replays.
Valley City  (CSi)  The Valley City Commission met in Regular Session, Tuesday evening at City Hall.
Commissioner Magnuson was not present.
APPROVAL OF CONSENT AGENDA:
A Raffle Permit for American Fisheries Society Student Sub-unit.
A Raffle permit for the Valley City Fire Department.
A Permit for the Parade of Lights, and street block off for the parade.
PUBLIC COMMENTS … No one spoke.
RESOLUTION:
Approved was Resolution Approving the Oxbow Addition Plat.
Approved was a Resolution Authorizing Filing of Addition with North Dakota Department of Environmental Quality for a Loan under the Clean Water Act and/or Safewater Drinking Act.
It replaces a refunding bond at a lower rate, and will be reimbursed from special assessments.
NEW BUSINESS
Commissioners approved  City Recommendations for Streetscape II on Main Street and Central Avenue, improvements to be submitted to the NDDOT. The city's share of the $2.2 million costs is $500,000, previously approved by commissioners.
City Commissioners approved a Contract between Western Area Power Administration (WAPA), Missouri River Energy Services (MRES) and the City of Valley City regarding Scheduling & Payment.
Approved was the Annual Blue Cross Blue Shield Contract for 2020.  City Attorney Martineck said a committee decided to look at another provider for next year, due to premium increases, but stay with the 2020 contract with Blue Cross Blue Shield.
CITY ADMINISTRATOR'S REPORT:
David Schelkoph said flood mitigation accomplished over the past few years, including permanent flood walls, and property buyouts protected the city to a river rise of 18 feet, this fall which included two feet of free board.  The river level this fall rose to about 16 feet.
He said the city incurred a flood fight cost of $487,000 including erosion control.  Without that additional cost, the flood fight itself cost the city about $160,000.  The costs have been submitted to FEMA for reimbursement.
He added that energy efficient lights bulbs, two each, are being distributed to Valley City electric utility users, in an effort to show energy usage reduction.
CITY UPDATES & COMMISSION REPORTS:
Mayor Carlsrud reported that the Corps of Engineers is lowering the elevation of Lake Ashtabula, in an effort to lower the lake's level and increase flood control storage.
The meeting was shown live on CSi Cable 68 followed by replays.
St. Paul  (USACE)  The Corps is currently lowering the elevation of Lake Ashtabula, located near Valley City, North Dakota. The current elevation is 1,265.5 feet, and will be further drawn down to 1,262.5 feet by March 1. The reservoir may be lowered further prior to spring runoff based on snowpack conditions.
The Corps also reports…
Elevation at Homme Dam, near Park River, North Dakota, is currently at 1,078 feet, and will be drawn down to 1,077 feet by the end of the week. The reservoir may be lowered further prior to spring runoff based on snowpack conditions.
The U.S. Army Corps of Engineers, St. Paul District, is lowering its reservoir elevations within the Red River of the North basin to prepare for potential spring snowmelt.
White Rock Dam, part of the Lake Traverse project, near Wheaton, Minnesota, is currently at 973.9 feet, almost 2 feet above normal. Normal levels of 972 feet are expected by the end of November. Additional drawdown at the Lake Traverse project may occur prior to the spring melt based on snowpack conditions.
Red Lake Dam, near Red Lake, Minnesota, is currently at 1,175.3 feet and is currently being drawn down to target 1,173.5 feet before spring runoff.
A wet fall has caused above average stream flows and reservoir levels for this time of year throughout the basin. River and reservoir levels may change more rapidly as ice forms than they have in the past due to the higher water levels this fall.
Drawdown releases may degrade river ice downstream of the reservoirs and care should be taken for those recreating or working in these areas. Just because ice has formed, doesn't mean it is safe. Lake ice conditions will vary throughout the winter and lake users should exercise caution at all time
Valley City  (CSi)  The Barnes County Salvation Army Red Kettle, Bell Ringer Campaign will begin Friday, November 29, with kettle locations at Leevers north and south and at Petro Serve USA in Valley City.
Those interested in volunteer bell ringing call Tim Kadrmas or Don Fiebiger.
In 2018 bell ringing campaign, raised over $72,000, a new record.
Bismarck (Gov. Burgum's Office) – Gov. Doug Burgum submitted a letter Monday seeking an extension for the North Dakota Department of Emergency Services (NDDES) to finish compiling local preliminary damage assessments for a presidential disaster declaration following historic fall flooding that has caused millions of dollars in damage to public infrastructure.
In conjunction with NDDES, Burgum submitted a written request to the Federal Emergency Management Agency (FEMA) to grant local and state officials more time to assess extensive damage to public infrastructure. Federal guidelines require that a request for a presidential disaster declaration must be made within 30 days of the event, but widespread flooding has prevented access to the damaged areas and completion of preliminary damage assessments.
The disaster period for which North Dakota counties are being submitted for a presidential disaster declaration spans from Oct. 9-26, 2019.
Fargo, ND (Valley News Live) – Juan Francisco Martinez, a fugitive who walked away from Centre Inc in Fargo this weekend, has been apprehended.
The High Plains Fugitive Task Force, with assistance from the Cass County Sheriff's Office and the Fargo Police Department, arrested Martinez in North Fargo early Tuesday morning.
Martinez was seen being picked up in a car and was stopped a short time later by Fargo PD Patrol units.
According to a release from the US Marshals Service, information from the public and local law enforcement helped find Martinez.
Martinez is serving a federal sentence for a Felon in Possession of a Firearm charge in 2015 and was scheduled to be released in February of 2020.
The investigation is now ongoing to determine what additional charges will be filed.
BISMARCK, N.D. (AP) — Gov. Doug Burgum is embracing an executive order from President Donald Trump that gives states and cities the authority to refuse to accept refugees.
Burgum says in a statement Tuesday that North Dakota will continue to receive refugees as long as local jurisdictions agree to it.
Trump has already proposed cutting the number of refugees next year to the lowest level since Congress passed the Refugee Act of 1980.
After Trump's executive order was announced, Fargo Mayor Tim Mahoney said he hoped Burgum would ensure refugees remain welcome. He said his city needs refugees to grow its economy.
Mahoney said Tuesday he doesn't think the order will affect North Dakota's larger cities, were refugees almost always settle. He says nearly all North Dakota cities are looking to fill jobs.
BISMARCK, N.D. (AP) — Some U.S. House Democrats want a review of the Keystone pipeline and the federal agency that regulates it.
The request Monday to the Government Accountability Office comes after a pipeline breach in North Dakota leaked an estimated 383,000 gallons (1.4 million liters) of oil.
House Energy and Commerce Chairman Rep. Frank Pallone; Transportation and Infrastructure Chairman Peter DeFazio; Railroads, Pipelines and Hazardous Materials subcommittee Chairman Dan Lipinski; and Energy subcommittee Chairman Bobby Rush say in a letter that the North Dakota leak is the third spill from the pipeline in three years.
The lawmakers say the spills raise "serious questions" about pipeline owner TC Energy's management of the line. They also question whether the Pipeline and Hazardous Materials Safety Administration is providing adequate oversight of it.
BISMARCK, N.D. (AP) — North Dakota regulators say oil production in September was down slightly from the record set a month earlier.
The Department of Mineral Resources says the state produced an average of 1.44 million barrels of oil daily in September. That's down from the record of 1.48 million barrels a day in set in August.
North Dakota also produced a 2.9 billion cubic feet of natural gas per day in September, down from a record 3 billion cubic feet in August.
Statewide, companies flared 18 percent of all gas produced in September, above the 12 percent target.
A record 16,099 wells were producing in September, up from 15,964 in August. The September tallies are the latest figures available.
There were 55 drill rigs operating Tuesday, down six from the September average.
GRAND FORKS, N.D. (AP) — Law enforcement officers pursued a fleeing driver at speeds of 95 mph in Grand Forks before the suspect crashed his vehicle.
University of North Dakota police stopped the driver about 2:30 a.m. Tuesday, but the driver took off and Grand Forks police gave chase. Officers ended the pursuit as speeds climbed.
The driver eventually crashed into a minivan and fled on foot. He was apprehended as he tried to enter a Walmart.
Police are recommending at least nine charges, including fleeing and drug possession.
Update…
FARGO, N.D. (AP) — Prosecutors have filed five felony charges against a Fargo man accused of shooting at police in a hotel lobby.
Fifty-four-year-old Henry Aiken is jailed in Cass County on $500,000 bond. KFGO reports Aiken has been charged with attempted murder, aggravated assault, terrorizing, reckless endangerment and unlawful possession of a firearm.
Officers were dispatched to the Radisson in downtown Fargo about 4 a.m. Friday on the report of a man with a gun. Officers arrived to find a man with a gun outside of the hotel entrance. He fired one shot at officers and additional shots at the Radisson before entering the lobby where he was quickly taken into custody.
A police sergeant was injured during the incident when he accidentally shot himself in the hand while taking cover.
In sports…
BEMIDJI, MINN. (VCSU) – The Valley City State women's basketball team dropped an exhibition game to Bemidji State Tuesday night 62-46. The loss will not count towards the Vikings' overall season record.
Valley City State shot 30 percent overall (15-50), 25 percent on 3's (3-12), and 81 percent on free throws (13-16). Bemidji State shot 36 percent overall (21-59), 36 percent on 3's (9-25), and 69 percent from the free throw line (11-16).
The Vikings shot 15 percent in the first half and were held to only four points in the second quarter as Division II school Bemidji State led 22-12 at halftime.
Valley City State gained some momentum coming out of the locker room as a Macey Kvilvang jumper cut the Beaver lead to 7 at 24-31 with 5:36 left in the third quarter. The Vikings continued to shoot 48 percent in the second half but couldn't get any closer as they fell to Bemidji State 62-46.
The Vikings were led by Macey Kvilvang who had 12 points, eight rebounds, and a block for the Vikings. Maara Nelson added nine points while Adriana Torres added eight off the bench.
Valley City State out-rebounded Bemidji State 41-36 including nine from senior Mackenzie Huber. The Beavers scored 19 points off of 19 Viking turnovers.
Bemidji State was led by Claire Wolhowe who scored 18 points Tuesday night. Brooklyn Bachman added 15 points, three steals, and a block for the Beavers.
UP NEXT: The Vikings return home Saturday, Nov. 23, when they host No. 7 Dakota Wesleyan at 6 p.m.
SIOUX CITY, Iowa  (uj.edu)  — Jamestown Jimmies Punter Izaak Myles (SO/Apple Valley, Calif.) and defensive lineman Vincent Corral (SO/Gilbert, Ariz.) were named to the Great Plains Athletic Conference second team as the conference office announced its All-Conference teams Tuesday.
Myles set a new Jimmie single season record with his 41.0 yards per punt average. He ranked second in the GPAC in punting average and led the conference in punting yards with 2747. Myles'  longest punt of the season traveled 61 yards and he finished with 10 punts of 50 yards or more. Twelve of his punts landed inside the opponents' 20-yard line.
Corral played nose guard in Jamestown's 3-4 defensive scheme and recorded 16 tackles, including a quarterback sack. His best game of the season came in UJ's 13-10 four-overtime victory against Concordia (Neb.) as he made six total tackles, four of them solo.
Wide receiver Garrett Mitchell (SO/Shakopee, Minn.) and linebacker/defensive back Aundre Purnell (SR/Garden Grove, Calif.) were named honorable mention All-Conference.
Mitchell led Jimmie receivers with 48 catches, 677 yards, and six touchdowns. He ranked among the top 10 in the GPAC in catches, yards, touchdowns, yards per game, and catches per game.
Purnell was the leading tackler on the Jimmie defense in 2019. He made 63 total tackles (32 solo) with 4 1/2 tackles for loss and a quarterback sack. Purnell set a career high with 14 tackles in UJ's 13-10 win against Concordia (Neb.)
2019 GPAC Football All-Conference Honors
SIOUX CITY, Iowa   (uj.edu) — The University of Jamestown men's soccer team had three players earn Great Plains Athletic Conference honorable mention all-conference honors, the conference office announced Monday.
Goalkeeper Jake Askew (SR/Rotherham, England), midfielder Karl Gatiramu (FR/Nairobi, Kenya), and forward Aaron Pike (SO/Milton Keynes, England) were recoginzed for their play this season.
Askew appeared in 14 matches, starting 13. He recorded 57 saves and two shutouts with a save percentage of .606.
Gatiramu had four goals and two assists in 16 matches, with 15 starts.
Pike started all 19 matches for the Jimmies, scoring a team-high 11 goals to go along with three assists. Two of Pike's goals were game-winners.
Jamestown finished 8-9-2 this season, advancing to the semifinals of the GPAC postseason tournament.
2019 GPAC Men's Soccer All-Conference Honors (PDF)
NBA…
LeBron sets triple-double mark, Lakers hold off OKC 112-107
LOS ANGELES (AP) — LeBron James became the first player in NBA history to record a triple-double against every team in the league, and Anthony Davis scored 34 points during the Los Angeles Lakers' fifth straight victory, 112-107 over the Oklahoma City Thunder Tuesday night.
James posted 25 points, 11 rebounds and 10 assists to boost the NBA-leading Lakers, who have won 12 of 13 after a perfect four-game homestand.
James is fifth in NBA history with 86 triple-doubles, but the four players in front of him — Oscar Robertson, Russell Westbrook, Lakers great Magic Johnson and Lakers assistant coach Jason Kidd — hadn't done it against 30 different teams.
Dennis Schröder scored 20 of his season-high 31 points in a phenomenal first half for the Thunder, who have lost four of five despite two solid performances at Staples Center. Danilo Gallinari added 25 points in his former home arena, and Nerlens Noel had 15.
In other NBA action:
— Jrue Holiday had 22 points and 10 assists, Brandon Ingram added 21 points, and the New Orleans Pelicans spoiled Carmelo Anthony's Portland debut with a 115-104 victory over the Trail Blazers. Anthony scored the Blazers' first points of the game on a 3 from 26 feet out, but wound up missing 10 of 14 shots and finishing with 10 points in what was the first game of his 17th NBA season. Portland's Damian Lillard sat out with back spasms.
—Alec Burks scored a season-high 29 points, Glenn Robinson III added 20 as the Golden State Warriors snapped a seven-game losing streak with a commanding 114-95 victory over the Memphis Grizzlies. Marquese Chriss and Eric Paschall added 17 points each for the Warriors. Draymond Green was just short of his 24th career triple-double with 8 points, 10 rebounds and 11 assists.
—Bogdan Bogdanovic set career highs with 31 points and seven 3-pointers, and the Sacramento Kings beat the Phoenix Suns 120-116. Richaun Holmes had 20 points and 15 rebounds, Nemanja Bjelica (neh-MAHN'-yah bee-eh-LEET'-zuh) scored 17 points and Harrison Barnes added 15 for Sacramento. The Kings have won four of five.
Men's Basketball…
MILWAUKEE (AP) — Darius Roy had 21 points as Milwaukee got past North Dakota 79-70 on Tuesday night.
Milwaukee led 41-36 at halftime and the lead was double digits for most of the final 10 minutes of the game. A 3-pointer from Roy put the Panthers up by 12 with 1:47 remaining.
Marlon Stewart made a layup for North Dakota, Roy missed a 3-pointer and De'sean Allen-Eikens made a layup to draw the Fighting Hawks within eight points with 48 seconds to go. The Panthers made 1 of 2 free throws three times in the final seconds but it was enough to win.
T-25 COLLEGE BASKETBALL
— Jalen Smith had 17 points and eight rebounds, and No. 6 Maryland used its depth and balance to wear down Fairfield in a 74-55 victory. Anthony Cowan Jr. scored 12 points to pass James Gist and move into the Top 20 on Maryland's career scoring list with 1,424.
— Udoka Azubuike pounded home 21 points, Devon Dotson added 19 and fourth-ranked Kansas weathered East Tennessee State's second-half charge to escape with a 75-63 victory. Marcus Garrett added 13 points for the Jayhawks, who led by as many as 18 early in the game before the Pirates closed within 61-56 with just over 5 minutes to go. Bo Hodges led the Pirates with 22 points.
— Ryan Woolridge scored 19 points as No. 8 Gonzaga topped Texas-Arlington 72-66. Admon Gilder added 17 points for the Bulldogs on Tuesday night, while Killian Tillie chipped in 15. Jabari Narcis led the Mavericks with 16 points and three blocks.
NHL…
— Zach Parise scored twice, Alex Stalock made 30 saves and the Minnesota Wild beat the Buffalo Sabres 4-1. Jason Zucker had a goal and an assist, and Jonas Brodin also scored for the Wild, who improved to 4-2-1 in their last seven. Buffalo is on a 1-6-2 skid and battling injuries at the forward position following 9-2-1 start.
David Pastrnak and Matt Grzelcyk (GRIHZ'-lihk) scored two goals apiece, and Brad Marchand added three assists to lead the Boston Bruins over the New Jersey Devils 5-1 on Tuesday night.
Tuukka Rask (TOO'-kah rask) made 25 saves and New Jersey native Connor Clifton added a goal as the Bruins beat the Devils for the eighth time in nine meetings.
Blake Coleman scored for New Jersey, which was looking for its first three-game winning streak since December 2018. Mackenzie Blackwood made 23 saves in starting for the 12th time in 14 games.
Pastrnak has an NHL-high 19 goals in 21 games, including 17 in his last 16 contests. Grzelcyk had six career goals in his first 149 games in the NHL. The defenseman had his first two-goal game in No. 150.
In other Tuesday night action:
— Oskar Sundqvist and David Perron scored to lead the St. Louis Blues past the Tampa Bay Lightning 3-1, spoiling Pat Maroon's much-anticipated return after helping his hometown team to a Stanley Cup title last season. Maroon, a St. Louis native, made his first trip back to the city since signing a one-year contract with the Lightning in the offseason.
— Nino Niederreiter had a goal and an assist, and the Carolina Hurricanes beat the Chicago Blackhawks 4-2 for their fourth straight victory. Andrei Svechnikov and Martin Necas also scored as Carolina earned the franchise's first sweep of a regular-season road trip of at least three games. Sebastian Aho had an empty-netter, and Petr Mrazek made 30 saves.
— Patrik Laine and Nikolaj Ehlers scored, Connor Hellebuyck made 38 saves and the Winnipeg Jets defeated the Nashville Predators 2-1. The teams are heading in opposite directions in the tough Central Division. Winnipeg has won three in a row and five of six. The reeling Predators have lost five straight and seven of eight.
— Anthony Duclair had two goals and an assist, and the Ottawa Senators held on to beat the Detroit Red Wings 4-3. John Gabriel Pageau and Brady Tkachuk also scored for Ottawa. Anders Nilsson made 35 saves, including 15 in the third period when the Senators were outshot 16-3.
— Aleksander Barkov and Brett Connolly each had a goal and an assist to lift the Florida Panthers over the Philadelphia Flyers 5-2. The Panthers are 6-2-1 in their past nine games. Morgan Frost scored a goal in his first NHL game and Travis Sanheim also scored for the Flyers, who have lost four straight.
— Pierre Luc-Dubois had a three-point night, and rookie Emil Bemstrom added a goal and an assist, to lift the Columbus Blue Jackets over the Montreal Canadians 5-2 Tuesday.
— Brock Nelson's second goal of the game 2:55 into overtime capped a frantic comeback to lift the New York Islanders over the Pittsburgh Penguins 5-4 to extend their unbeaten streak to 15 games. The Islanders trailed by two late in the third period before goals by Josh Bailey and Ryan Pulock in the final 4:29 of regulation forced overtime.
— Andre Burakovsky extended his recent surge with two more goals, leading the Colorado Avalanche to a 3-2 victory over the slumping Calgary Flames. That's five goals in the last three games for the 24-year-old left wing, who on this night took advantage of a promotion to Colorado's top line and a chance to skate with Nathan MacKinnon and Joonas Donskoi. Calgary has lost five straight.
— Jamie Benn scored twice, Ben Bishop made 32 saves and the Dallas Stars beat the Vancouver Canucks 6-1 for their fourth straight victory. The Stars have a nine-game point streak and are 11-1-1 in their last 13 games. Benn has three goals in the last two games after scoring only once in his first 20 games. He also assisted on Justin Dowling's third goal in four games.
— Connor McDavid had a goal and two assists for his third straight game with at least three points, Leon Draisaitl extended his point streak to 13 games and the Edmonton Oilers snapped the San Jose Sharks' six-game winning streak with a 5-2 victory. McDavid assisted on goals by Zack Kassian and James Neal to stake the Oilers to a 4-1 lead after two periods and then capped another big night with an insurance goal in the third.
— Marc-Andre Fleury made 31 saves for his 450th win, including a diving stop late in the game, and the Vegas Golden Knights beat the Toronto Maple Leafs 4-2. Fleury is three wins behind New York Rangers goalie Henrik Lundqvist for sixth place on the career list.
NBA-NETS-IRVING OUT
Nets' Irving to miss 3rd straight game with shoulder injury
NEW YORK (AP) — Brooklyn guard Kyrie Irving will miss a third straight game with a right shoulder injury. The Nets said Tuesday that the All-Star guard wouldn't play Wednesday when they host Charlotte.
Brooklyn beat Chicago on Saturday in its first game without Irving, but lost Monday to Indiana in its return home after a five-game road trip. The Nets are also without their other starting guard, as Caris LeVert had surgery on his right thumb.
NFL-DOLPHINS-WALTON
Dolphins release Walton, citing police matter
FORT LAUDERDALE, Fla. (AP) — The Miami Dolphins have released troubled running back Mark Walton, saying he had been involved in an unspecified police matter.
Tuesday's announcement came as the second-year player served a four-game suspension for violating NFL conduct and substance abuse policies.
The suspension stemmed from Walton being arrested three times last offseason in his hometown of Miami. He was sentenced in August to six months' probation after pleading no contest to a misdemeanor weapons charge. Other charges, including marijuana possession and reckless driving, were dismissed.
In other NFL news:
— Antonio Brown has apologized to the Patriots and team owner Robert Kraft for any negative attention he brought to the team during his brief stint in New England. The four-time All-Pro receiver posted his apology on Instagram Tuesday. It comes on the heels of past posts in which he indicated he'd fight the Patriots' decision to withhold a $9 million signing bonus.
— The Browns have placed starting safety Morgan Burnett on injured reserve with a torn Achilles tendon, another setback for Cleveland's defense. Burnett got hurt during Thursday night's victory over Pittsburgh.
— Kickers across the NFL also are struggling to put the ball through the uprights. Kickers are converting only 79.7 percent of field goals, the league's lowest conversion rate since 2003 when they hit just 79.2 percent. Nobody can explain why, though injuries have been an issue.
MLB-ASTROS-SIGN STEALING
Manfred says has broad authority for Astros discipline
ARLINGTON, Texas (AP) — Baseball Commissioner Rob Manfred hopes the investigation into sign stealing by the Houston Astros will be completed by next season and says he has broad authority to impose discipline beyond fines, the loss of amateur draft picks and taking away international signing bonus pool allocation.
Oakland pitcher Mike Fiers (FY'-urz) said that when he was with Houston in 2017, the Astros stole signs during home games by using a camera positioned in center field. That's according to a report by The Athletic last week.
Speaking Tuesday ahead of an owners' meeting, Manfred called the allegation a "most serious matter." He said discipline could extend beyond fines and amateur signings.
In other MLB news:
— Japanese pitcher Shun Yamaguchi says he wants to move to Major League Baseball through the posting system. Yamaguchi led Japan's Central League in wins, strikeouts and winning percentage this season. The 32-year-old right-hander would become the first player from Tokyo's Yomiuri Giants to pursue a career in the majors through the posting system.
FATAL FOOTBALL SHOOTING
Alabama man charged in killing of rival college football fan
LITTLEVILLE, Ala. (AP) — An Alabama sheriff says two football fans "got into it" while watching the Louisiana State University-Alabama game and one is accused of fatally shooting the other during a fight.
Colbert County Sheriff Frank Williamson tells the Florence TimesDaily that a group gathered to watch the Nov. 9 game at David Allen Fulkerson's home in Littleville. James Michael Roland Merritt was cheering for LSU, who beat Alabama that day 46-41.
Court documents say the fight escalated when Fulkerson thought Merritt called him an expletive. Williamson says Fulkerson shot Merritt and added that alcohol was a "big" factor. Fulkerson contends he acted in self-defense during the fight.
News outlets report Merritt died Friday after nearly a week on life support. Fulkerson is charged with murder.
In world and national news…
WASHINGTON (AP) — Ambassador Gordon Sondland is likely to be unpredictable when he faces questions about his evolving accounts of the Trump administration's dealings with Ukraine and a newly revealed summertime phone call with President Donald Trump.
Sondland is the most anticipated witness in the impeachment inquiry and is scheduled to appear Wednesday morning before the House intelligence committee.
Sondland is a wealthy hotelier Trump tapped as his ambassador to the European Union. He is more directly entangled than any witness yet in the president's efforts to get Ukraine to investigate political rival Joe Biden and Democrats in the 2016 election.
Sondland's closeness to Trump makes his appearance of particular concern to the White House as the historic impeachment inquiry reaches closer to the president.
JERUSALEM (AP) — A war monitoring group says Israeli airstrikes in Syria early this morning killed 11 people, including seven non-Syrians who are most likely Iranians.
The figures come from Rami Abdurrahman, who heads the Britain-based Syrian Observatory for Human Rights, an opposition activist group with a network of activists across Syria.
The Observatory says the Israeli airstrikes targeted arms depots belonging to Iran's elite Quds Force in the Damascus suburbs of Kisweh and Qudsaya.
Abdurrahman added that several other areas were targeted in Wednesday's strikes, including the Mazzeh airbase in western Damascus where air defense units are stationed.
SHANGHAI (AP) — The Sackler family's opioid empire in the United States is collapsing under an avalanche of litigation over marketing tactics that has driven their company, Purdue Pharma, into bankruptcy.
Meanwhile, the family continues to profit from sales of their signature painkiller OxyContin abroad.
Interviews and documents obtained by AP show their international affiliate, Mundipharma, has been driving growth in China using many of the same tactics that Purdue was forced to abandon in the U.S. as the death toll from opioid overdoses soared.
Mundipharma aggressively pushed high doses of opioids in China, despite warnings that higher doses carry higher risks of overdose and death.
Mundipharma sales representatives said managers required them to copy patients' private medical records without consent to better target sales, in apparent violation of Chinese law.
WASHINGTON (AP) — New uncertainty hangs over the Democratic presidential primary as 10 candidates meet on the debate stage once again.
No longer is there a clear front-runner, the fight for African American voters is raging and concerns are growing that impeachment may become a distraction from the primary.
Those issues and more will play out Wednesday night when the Democratic Party's top 10 face off in Atlanta just 75 days before primary voting begins. The debate will be carried live by MSNBC.
Turbulent polling across the first states to vote in the presidential primary has created a murky picture of the top tier of Democratic candidates. A sign of whom the candidates themselves consider to be out in front may come during the debate. Usually the perceived leader takes the most heat.