CSi Weather….
.TONIGHT…Mostly clear. Not as cold. Lows in the lower 20s. West winds 10 to 15 mph.
.TUESDAY…Sunny. Highs in the mid 30s. West winds 10 to 20 mph.
.TUESDAY NIGHT…Mostly clear. Lows in the lower 20s. Northwest winds 10 to 15 mph.
.WEDNESDAY…Sunny. Highs in the upper 20s. West winds 5 to
15 mph.
.WEDNESDAY NIGHT…Increasing clouds. Lows 15 to 20.
.THURSDAY…Partly sunny. Highs in the upper 20s.
.THURSDAY NIGHT…Partly cloudy. Lows 5 to 10 above.
.FRIDAY…Mostly sunny. Highs in the lower 20s.
.FRIDAY NIGHT…Increasing clouds. Lows 15 to 20.
.SATURDAY…Mostly cloudy. Highs in the lower 30s.
.SATURDAY NIGHT…Mostly cloudy. Lows 15 to 20.
.SUNDAY…Mostly cloudy. Highs in the lower 20s.
OMAHA, Neb. —  (12-2-19 ) (USACE)   Updated reservoir forecasts indicate that winter releases of 450 cubic feet per second are required from Jamestown Dam.  The table below shows the updated release reduction schedule for Jamestown and Pipestem Dams to winter levels.  The new target combined release rate is 700 cfs.
| | | | |
| --- | --- | --- | --- |
| | Jamestown Dam Releases (cfs) | Pipestem Dam Releases (cfs) | Total Combined Release (cfs) |
| Monday, Dec. 2 | 500 | 500 | 1,000 |
| Tuesday, Dec. 3 | 450 | 400 | 850 |
| Wednesday, Dec. 4 | 450 | 250 | 700 |
The Corps of Engineers will operate to minimize the risk of ice-related flooding, and adjustments to the releases will be made as needed.
Jamestown Dam on Monday was at a pool elevation of 1440.7 feet, 25% into the flood pool, and is dropping.  The pool elevation peaked Nov. 12 at 1442.0 feet, which was 31% into the flood pool.  Inflows are near 500 cfs, and releases are 500 cfs.
Pipestem Dam ion Monday was at a pool elevation of 1460.2 feet, 18% into the flood pool, and is dropping.  The pool elevation peaked Oct. 29 at 1475.0 feet, which was 43% into the flood pool.  Inflows are near 300 cfs, and releases are 500 cfs.
The Corps of Engineers is coordinating with relevant agencies in North and South Dakota.
Jamestown  (CSi)  Jamestown Mayor Dwaine Heinrich says, Jamestown native, developer Brian Lunde has contacted a national firm in sponsoring a project to revitalize Frontier Village in Jamestown.
On Monday's Wayne Byers Show on CSi Cable 2, Mayor Heinrich pointed out that Lunde's plan calls for no city dollars to be infused, as the developer will work with other entities in the community such as Jamestown Tourism, and the City of Jamestown officials. The mayor added that this proposal will parallel others in the Jamestown community that come forward and step up and assist.
He added that plans are to make Frontier Village a more interactive site, as envisioned by the founders in the 1960's, rather than the static attraction it has been, since the Village came on scene in the 1960's.
Jamestown Tourism Director, Searle Swedlund has said that Frontier Village need to be a unique visitor experience.
Mayor Heinrich said, to his knowledge there are no plans to close Frontier Village this coming summer for a year, while plans move forward on the development.
On another topic mayor said the legal action being brought against the city by the Frontier Village attorney has been dropped, when plans were to move the Village to Minnesota.   (Previously, a law suit filed in Southeast District Court, by the Frontier Village Association against the City of Jamestown, with a temporary restraining order has been dismissed, following a stipulation of dismissal filed.  The restraining order prohibited the City of Jamestown from interfering in the Transfer of items at Frontier Village to the Perham, Minnesota, Pioneer Village.)
Mayor Heinrich  added that legal issues have been resolved, and Frontier Village was deeded to the city, including the monetary assets.
Yet to be resolved is management and maintenance issues.  Also to be determined ownership artifacts at the Village, and what was loaned or given, which is being researched, for documentation, or cataloging of the items.
The Frontier Village Association voted November 1 on a 3-1 vote with one abstention to transfer all property and debt to the city of Jamestown.
More background information from the CSiNewsNow.com archives.
Jamestown  (CSi)  The Jamestown City Council met in Regular Session Monday evening at City Hall.  All members were present.
HEARING FROM THE AUDIENCE: No one spoke (Individuals may address the City Council about any item not contained on the agenda. A maximum of 15 minutes is allotted for the hearing. If the full 15 minutes are not needed, the City Council will continue with the agenda. The City Council will take no official action on items discussed at the hearing, with the exception of referral to staff or Committee.)
PUBLIC HEARING:
Concerning the performance of the City of Jamestown in carrying out its community development responsibilities related to the $11,000.00 Community Development Block Grant (CDBG) Project No. 4584-SL19-ED-R for the Journey Behavioral Solutions, and to obtain citizen views and to respond to proposals and questions.  No one spoke, and the Public Hearing was closed.
BIDS:
One bid was opened for the Sanitary Landfill project.  City Attorney Ryan said the previous technicality was reviewed, and the bid was opened.
The bid received was from Braun Intertech from West Fargo in the amount of $17,982.50.
Interstate Engineering recommended approval, which was approved by the City Council.
NO CONSENT AGENDA ITEMS WERE DISCUSSED SEPARATELY
(To provide more time to discuss controversial or disputed issues, the Council will consider the items on the consent agenda together at the beginning of the public meeting. These items are considered to be routine and will be enacted by one motion. If a member of the City Council or public requests to be heard on one of these items, the Council will remove the item from the consent agenda and consider that item individually.)
Approved was a Change Order No. 2, to On The Level Construction, Inc., for construction on the Inert Cell 1-4, Final Cover, for a net decrease in the contract price of $6,253.50.
Approved was  Payment No. 4 & Final, to On The Level Construction, Inc., for construction on the Inert Cell 1-4, Final Cover, in the amount of $25,902.00.
Appointed was Scott Roemmich and Thomas Steckler to serve as members of the Fire Code Board of Appeals for three year terms to November 2022.
MAYOR AND COUNCIL MEMBER'S REPORT:
Council Member Phillips said the 2020 Census Committee is still meeting regularly, and Jamestown and Valley City may be challenging each other.
She noted that businessman Brian Lunde has contacted a developer to work on forwarding progress on the redevelopement of Frontier Village.
Mayor Heinrich seconded those thoughts. (See Story on Monday's Wayne Byers Show on CSi Cable 2).
He also noted snow removal from this past weekend's snow storm, and noted changes in releases from Jamestown and Pipestem Reserviors.
Council Member Steele recently visited the Valley City Main Street project and may visit Devils Lake's project in the future.
The meeting was shown live on CSi 67, followed by replays.
Jamestown   (CSi)  The Jamestown Lions Club, with Vitalant and North Dakota Farmers Union is hosting a public blood drive on
Tues Dec 3 from 12:15-p.m., to 6-p.m.
Weds Dec 4 from 8-a.m., to 1-p.m.
at the North Dakota Farmers Union State Office, in the conference room.
For an appointment contact Vitalant at 877-258-4825, the sponsor code is: Jamestown.
On line visit vitalant.org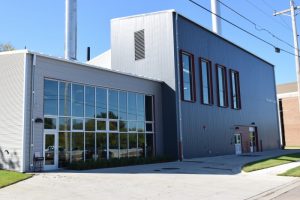 Valley City  (VCSU)   The new VCSU heat plant east of Rhoades Science Center was funded by an appropriation received from the North Dakota Legislature in its 2015 session. The new heat plant replaced an outdated facility constructed in 1910.
VCSU, in collaboration with the Institute for Energy Studies at the University of North Dakota, is pursuing an innovative carbon plant addition to the heat plant. The carbon plant would burn North Dakota lignite coal and biomass in a clean process to produce fuel for the heat plant, while at the same time producing valuable activated carbon byproducts.
Additional information on the carbon plant integration into the heat plant can be found at www.vcsu.edu/cmsfiles/48/c274c5c415.pdf.
Activated Carbon Plant/Heat Plant Integration
Valley City  (CSi) The Valley Troubadours will encore the Christmas concert at the Sheyenne Care Center Monday, December 9, at 6:30 p.m.
December 10, the group will join the Valley Voices, women's chorus, in performing at the annual Courthouse Carol Sing at 7:00 p.m.
BISMARCK, N.D. (AP) — Sanford Health has implemented visitor restrictions in the neonatal intensive care unit at its Bismarck hospital because of influenza and respiratory illnesses. The health care provider says only immediate family members of a baby in the unit are allowed to visit. And, they must have no symptoms of respiratory illness.
OMAHA, Neb. (AP) — A new monthly survey of business leaders suggests the economy is slowing down in nine Midwest and Plains states as the U.S. trade war with China continues. The overall index for the region slipped into negative territory at 48.6 in November from October's 52.6.
KANSAS CITY, Mo. (AP) — After a year that has seen some of the worst flooding ever in parts of the Midwest, concern is already rising that the spring of 2020 may bring more high water to places that still haven't fully recovered. Mark Fuchs of the National Weather Service office near St. Louis says concern is three-fold: Rivers are still unusually high; soil in the upper Midwest is extremely saturated; and a high probability for a wetter-than-usual winter.
In sports…
Jamestown  (CSi)  The Elks National Hoop Shoot ®  Free-Throw Contest, will be held a Jamestown Middle School, on Sunday December 15, 2019.  (Not sponsored by Jamestown Public Schools.)
Registration is 1-p.m., to 1:30-p.m., Warm ups 1:30 – p.m., to 2-p.m.
Event Start Time:  2-p.m.
The Elks Hoop Shoot® is free to boys and girls who will be between the ages of 8-13 on April 1, 2020.
Find your age group at elks.org/hoopshoot/ageGroupCalculator.cfm
No basketball experience required.  Winners advance through district, state and regional Hoop Shoot®
Contests.
Regional winners qualify for a trip to compete at the National Finals held April 18, 2020 in Chicago, Ill.
National champions will have their names permanently inscribed on a plaque in the Basketball Hall of Fame.
Learn more at  elks.org/hoopshoot
Hoop Shoot® Director, Jeff Douty 701-320-3282
Contact: Travis Yunck 701-320-5925
The top 25 teams in The Associated Press' men's college basketball poll, with first-place votes in parentheses, records through Dec. 1, total points based on 25 points for a first-place vote through one point for a 25th-place vote and last week's ranking:
| | Record | Pts | Prv |
| --- | --- | --- | --- |
| 1. Louisville (48) | 7-0 | 1599 | 2 |
| 2. Kansas (3) | 6-1 | 1497 | 4 |
| 3. Maryland | 8-0 | 1446 | 5 |
| 4. Michigan (9) | 7-0 | 1429 | – |
| 5. Virginia (5) | 7-0 | 1424 | 7 |
| 6. Ohio St. | 7-0 | 1244 | 10 |
| 7. North Carolina | 6-1 | 1162 | 6 |
| 8. Kentucky | 6-1 | 1096 | 9 |
| 9. Gonzaga | 8-1 | 1095 | 8 |
| 10. Duke | 7-1 | 1083 | 1 |
| 11. Michigan St. | 5-2 | 964 | 3 |
| 12. Arizona | 9-0 | 875 | 14 |
| 13. Oregon | 6-2 | 785 | 11 |
| 14. Auburn | 7-0 | 698 | 18 |
| 15. Memphis | 6-1 | 652 | 16 |
| 16. Seton Hall | 6-2 | 629 | 13 |
| 17. Florida St. | 7-1 | 562 | – |
| 18. Baylor | 5-1 | 466 | 19 |
| 19. Dayton | 5-1 | 386 | – |
| 20. Colorado | 6-0 | 371 | 21 |
| 21. Tennessee | 6-1 | 331 | 17 |
| 22. Washington | 5-1 | 222 | 23 |
| 23. Villanova | 5-2 | 192 | 22 |
| 24. Butler | 7-0 | 165 | – |
| 25. Utah St. | 7-1 | 112 | 15 |
Others receiving votes: Florida 111, Xavier 91, San Diego St. 89, Saint Mary's (Cal) 86, Oklahoma St. 85, Texas Tech 43, West Virginia 28, Purdue 24, DePaul 18, Arkansas 17, Indiana 13, Penn St. 9, Stephen F Austin 7, Oklahoma 6, Liberty 5, Notre Dame 2, Richmond 2, VCU 2, SMU 1, Delaware 1.
In world and national news…
NEW YORK (AP) — Round two of a one-two wintry punch could drop more than a foot of snow on parts of the eastern U.S. The storm has already dropped 12 inches or more on some areas after wreaking havoc on Thanksgiving weekend travel. Schools are closed across the region. Flightaware.com reports that hundreds of flights into or out of the U.S. are canceled as of Monday afternoon.
WASHINGTON (AP) — The Supreme Court considered Monday whether to dismiss the first gun rights case it has heard in nearly 10 years, an outcome that would come as a huge relief to gun-control advocates. The justices heard arguments in a dispute over New York City restrictions on transporting licensed, locked and unloaded guns outside the city limits.
SAO PAULO (AP) — Brazilian President Jair Bolsonaro's U.S.-focused foreign policy efforts have suffered a setback with threats by Donald Trump pledged to impose tariffs on steel and aluminum on the South American nation. Trump initially leveled the threat by Twitter while accusing Brazil and neighboring Argentina of manipulating their currencies and hurting American farmers. It's a blow to Bolsonaro who has made ties with Trump a cornerstone of his foreign policy.
GENEVA (AP) — A World Trade Organization panel ruled Monday that the European Union has not complied with an order to end illegal subsidies for plane maker Airbus, which prompted the Trump administration to impose tariffs on nearly $7.5 billion worth of EU goods in October. In its ruling, a WTO compliance panel found that the EU had not taken sufficient steps to end harm to Boeing, the major rival to Europe's Airbus.
MILWAUKEE (AP) — A police chief says an officer shot an armed male student in a classroom at a suburban Milwaukee high school when the suspect pointed a gun at officers. Police say it all began when a student informed a school resource officer that a classmate had a handgun around 10:17 a.m. Police say more officers arrived and tried to de-escalate the situation, but the 17-year-old suspect ignored their commands. He is in custody and in stable condition.
LONDON (AP) — President Donald Trump is accusing Democrats of scheduling this week's impeachment hearing to undercut him during his trip abroad. He's headed for a NATO summit playing out at a crucial moment for the 70-year-old military alliance. As he departed the White House for London, Trump called the trip "one of the most important journeys that we make as president."
ATLANTA (AP) — An Associated Press source says Georgia Gov. Brian Kemp is expected to choose a Republican donor and financial services executive from Georgia as his appointment to the U.S. Senate. The source, a GOP political consultant, says Kelly Loeffler is Kemp's pick to replace three-term Republican Sen. Johnny Isakson, who is stepping down because of health issues. The source spoke on condition of anonymity Monday because Kemp has yet to publicly announce the decision.
WASHINGTON (AP) — Ukrainian president Volodymyr Zelenskiy says in an interview that he never spoke to President Donald Trump from the position of a "quid pro quo." He says in an interview with Time magazine that he does not want his country to look "like beggars." Zelenskiy was asked about whether there was a connection between Trump's decision to block critical military assistance to Ukraine and the two investigations he asked Zelenskiy to do.
WASHINGTON (AP) — The Democratic majority on the House Intelligence Committee says an impeachment report on President Donald Trump will speak for itself in laying out evidence of "wrongdoing and misconduct" over his dealings with Ukraine. The report is being made available for committee members to review ahead of a vote Tuesday to send it to the Judiciary Committee. The White House counsel has turned down an invitation to appear before the first meeting of the Judiciary Committee, scheduled for Wednesday.