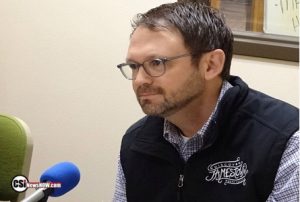 Jamestown  (CSi)  Jamestown Tourism Director, Searle Swedlund praised Brian Lunde for his efforts to spearhead, the revitalization of Jamestown's Frontier Village.
On Tuesday's Wayne Byers Show on CSi Cable 2, Searle said Brian was approached by Jamestown City Council Member Pam Phillips to see if Brian through his development contacts might be able to come forward with ideas, and financial backing for the project.
Searle added that Brian is looking at infusing his own dollars into the project, along with bringing on board major developers, and that no city finances will be used.
Searle stressed the disrepair of the Frontier Village buildings, that will need a large amount of money for repairs.  He pointed out that only about half of the buildings are historical in nature. He said, Jamestown Tourism will manger the Village this summer, as Frontier Village will be open as usual in 2020.
He said, officials will step back and take a look at the big picture of what Frontier Village needs to become, in the future, including being an interactive and entertaining tourist attraction.
He agrees that the Jamestown community will need to come together, with ideas, and other support for Frontier Village in the future.
As reported previously by CSiNewsNow.com at the November  Tourism Grant Executive Board Meeting, the board voted 3-0 to have Tourism request the City Of Jamestown to free up $15,000 from the Capital Construction Promotion Fund as matching dollars for a Grant Request to the State Historical Society, to assist in funding toward the future of Frontier Village, as a short-term solution to the immediate situation. Board embers at the Tourism meeting included President Matthew Woods, Paulette Ritter, and Frank Balak.
There currently is $50,000 available in the Capital Construction Promotion Fund.