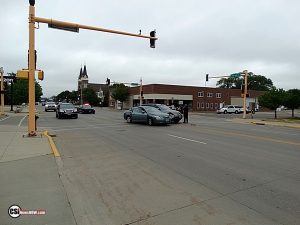 Jamestown  (CSi)  Jamestown Police are investigating a two car crash on Tuesday June 30 at the intersection of First Avenue South and Fifth Street.
The traffic signals, which had been blinking as a part of a test,  had been bagged overnight.
Motorists need to be aware there are no blinking yellow lights for north and south traffic.    There is no blinking red light for East & West traffic.
The only operating traffic signal is located at the library.
More information when the police report is filed.