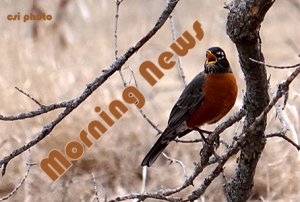 CSi Weather…
. REST OF TODAY.. Mostly sunny. Highs in the mid 70s. South winds 10 to 15 mph with gusts to around 30 mph.
.TONIGHT…Partly cloudy with a 20 percent chance of rain showers and thunderstorms in the Jamestown area, 40 percent in the Valley City area.  . Lows in the mid 50s. Southeast winds 5 to 10 mph.
.FRIDAY…Partly sunny with a 20 percent chance of rain showers and thunderstorms in the Jamestown area, 40 percent in the Valley City area.   Highs in the lower 70s. Southeast winds around 5 mph shifting to the northeast in the afternoon.
.FRIDAY NIGHT…Mostly cloudy with a 50 percent chance of rain
showers and thunderstorms. Lows in the lower 50s. Northeast winds
5 to 10 mph.
.SATURDAY…Rain showers and chance of thunderstorms. Highs in
the lower 60s. Northeast winds 5 to 10 mph.  Chance of rain 80-percent.
.SATURDAY NIGHT…Mostly cloudy. Rain showers likely and chance
of thunderstorms in the evening, then chance of rain showers and
thunderstorms after midnight. Lows in the mid 40s. Chance of
precipitation 70 percent.
.SUNDAY…Mostly sunny. A 20 percent chance of rain showers in
the morning. Highs in the mid 60s.
.SUNDAY NIGHT…Mostly clear. Lows in the lower 40s.
.COLUMBUS DAY…Sunny. Highs in the mid 60s.
.MONDAY NIGHT…Partly cloudy with a 20 percent chance of rain
showers. Lows in the mid 40s.
.TUESDAY…Mostly sunny with a 20 percent chance of rain showers.
Highs in the lower 60s.
.TUESDAY NIGHT…Mostly cloudy with a 50 percent chance of rain
showers. Lows in the mid 40s.
.WEDNESDAY…Rain showers. Highs in the upper 50s.
An isolated afternoon or evening thunderstorm possible today. Severe
weather is not expected at this time.
A few strong thunderstorms are possible Friday afternoon through
Friday night, with heavy rain possible.
This Day In History, October 7, 1872 – The first train pulls into Jamestown.   *** from the 125th Anniversary Calendar of Jamestown History & Wikipedia***
First railroad passenger train arrives in Jamestown.
The North Dakota Department of Health dashboard is updated daily by 11 am and includes cases reported through the previous day. The investigations are ongoing and information on the website is likely to change as cases are investigated. The information contained in this dashboard is the most up to date and will be different than previous news releases. This dashboard supersedes information from previous news releases or social media postings.
Check out our other dashboards: The COVID-19 Vaccine Dashboard, NDUS Dashboard.COVID- 19 stats:
COVID-19 Stats
Wed. Oct. 6,   2021
10:30-a.m.
Barnes
New Positives: 8
Total Positives: 1680
Active: 54
Recovered:  1573
New  Breakthrough Incidence Per 10K Fully Vaccinated Individuals: 136
Stutsman
New Positives: 27
Total Positives: 4149
Active: 95
Recovered: 3962
New Breakthrough Incidence Per 10K Fully Vaccinated Individuals: 180
ND Case Rates, Reported Wed.
NEW CASES REPORTED: 812
ACTIVE CASES: 4,379
DAILY POSITIVITY RATE: 7.8%
TOTAL KNOWN CASES THROUGHOUT PANDEMIC: 135,728
TOTAL RECOVERED THROUGHOUT PANDEMIC: 129,720
ND Active Hospitalizations  172
New Deaths 6
Total Deaths 1,629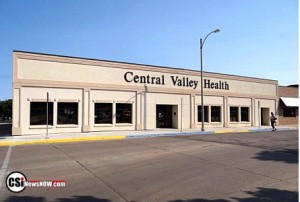 Central Valley Health District Regularly Scheduled Vaccination Clinics And Locations
The Schedule subject to changes depending if the listed vaccination clinic is full. Contact CVHD at 252-8130.
Thursday, October 7, 2021
Vaccine Type: PFIZER, MODERNA
Event Time: 9:00am – 11:30am
Event Location: Central Valley Health District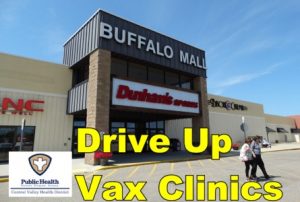 Drive up clinics at the Buffalo mall are being held on Sundays and Mondays.  The event takes place from 1 pm to 6 pm in the Buffalo Mall parking lot located at 2400 8th Ave SW in Jamestown.  The clinics are open to anyone 12 years of age and older no appointment is needed you can preregister at https://www.ndvax.org.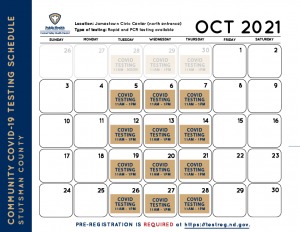 Jamestown  (CVHD)  Central Valley Health District reminds residents that COVID testing is  on Tuesdays, Wednesdays, and Thursdays, at the Jamestown Civic Center, Exchequor Room, from 11-a.m. to 1-pm
Call CVHD at 701-252-8130 to register.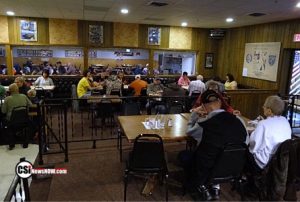 Jamestown  (CSi)    The Patriot Banquet and Fundraiser is planned for Thursday October 24 at 5-p.m. at the All Vets Club in Jamestown.
On Wednesday's Wayne Byers Show on CSi Cable 2 Stutsman County Veterans Service Officer, David Bratton said the Banquet starts at 5-p.m. Tickets for the banquet and auction are available at the club or from area veteran organizations.  The cost is $40 single and $60 with companion.
He said the VA is to resume overpayment notifications, medical copayment collections in October.
VA stands ready to offer COVID-19 booster vaccines, with more information as it becomes available.
Resources are available for Afghanistan Veterans. (Vets Crisis Line: 1-800-273-8255)
Reminder: Iraq and Afghanistan vets can file claims related to burn pit exposure.
The  V- drivers license indicator for veterans is available to indicate veteran status, good only in North Dakota.
Burleigh County Van continues to be available for rides to the Fargo VA. The Stutsman County website has the schedule available, and then contact David at his office to schedule a ride.  Restrictions for riders including wearing face masks, and proof of being fully vaccinated, and temperature checks will be made.
Contact the Stutsman County Veterans Service office at 701-252-9043, open Monday-Friday 8-a.m., to 12 noon, and 1-p.m. to 5-p.m., in the lower level of the LEC.  When entering check information in the lobby for access to Veterans Service.
Jamestown  (CSi)  The Jamestown Mayor's Committee on Disabilities scheduled for Friday October 8 has been cancelled.  The next meeting scheduled for November 12.
As the November meeting nears, they will determine if the meeting will be held in person or by ZOOM.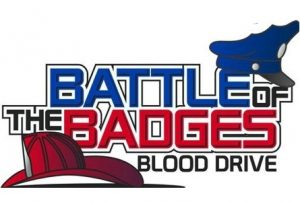 Valley City  (CSi)  In Valley City, the Annual Battle of the Badges" Blood Drive is planned for  October 12 & 13 at Stoudt Ross Ford in Valley City.
Vitalant, Blood Services will be at their showroom accepting blood donors from 11:30-am to 6-pm each day.
The friendly competition is between the Police Department and the Fire Department with which department  can get the most donations.
Appointments are preferred but walk-in's will be accepted.

Bismarck  (NDHP)  On the evening of October 5th, 2021 the North Dakota Highway Patrol conducted an aircraft detail to safely and more effectively apprehend suspects that flee from traffic stops in the Bismarck-Mandan area. The North Dakota Highway Patrol fixed-wing aircraft was used to monitor traffic stops conducted by local law enforcement in the event a vehicle fled.
At 8:16 pm CDT, a Bismarck Police Officer attempted to stop a motorcycle for a traffic violation. The driver of the motorcycle fled from the officer at a high rate of speed. Due to the dangerous nature of the driver's actions that posed a risk to other motorists, the officer did not pursue the suspect. The NDHP's fixed-wing aircraft was monitoring the traffic stop. The aircraft tracked the motorcycle to a residence in rural Bismarck. Officers responded to the residence and identified the driver as a 16-year-old male. The driver was referred to juvenile court by the Bismarck PD for fleeing a police officer and reckless endangerment-extreme indifference.
Incidents of drivers fleeing law enforcement has been increasing. Through October 5, 2021, the North Dakota Highway Patrol has been involved in 72 pursuits statewide. Drivers who flee law enforcement place themselves, other motorists, and pedestrians in danger by their actions.
Due to these incidents, the North Dakota Highway Patrol more frequently engages the fixed-wing aircraft to monitor traffic stops conducted by local law enforcement. These traffic details allow law enforcement to more  effectively apprehend suspects that flee and result in enhanced safety to the public.
FARGO, N.D. (AP) — A man accused of shooting at police officers outside a Fargo hotel in 2019 has been acquitted of attempted murder and aggravated assault. But, a jury Monday found Henry Aiken guilty on two other charges _ terrorizing and reckless endangerment. The 55-year-old Aiken earlier pleaded guilty to unlawful possession of a firearm. Officers responding to the Radisson Inn in November 2019 found Aiken armed with a gun. Police say he fired one shot toward officers and additional shots at the hotel before entering the lobby where he was quickly arrested. Police say Aiken appeared confused and in crisis at the time.
Update
BISMARCK, N.D. (AP) — A North Dakota state trooper who fatally shot a Montana man along an interstate last month has been cleared of any wrongdoing. The Morton County State's Attorney's Office determined Trooper Steve Mayer was justified in his use of deadly force against 45-year-old Craig Knutson, of Billings. Mayer was assisting Morton County sheriff's deputies who attempted to stop Knutson who refused to pull over on Interstate 94 west of Mandan on Sept. 7. Knutson's father, Jerry Knutson, also of Billings, told The Bismarck Tribune he had no issues with Mayer being cleared because "he did what he had to do." He said he was thankful his son did not get into a wreck on the highway or shoot an officer.
FORT YATES, N.D. (AP) — The Standing Rock Sioux Tribe has elected a woman to be its next leader. Results released Tuesday show that Janet Alkire would be the first woman to head the tribal council in more than two decades. Gates Kelley was elected Standing Rock chairwoman in 1946 and was the first woman to lead a tribe in the United States. South Dakota Public Broadcasting reports that Alkire received 829 votes to defeat current tribal Vice Chairman Ira Taken Alive, who came in with 762 votes. Taken Alive said he is contesting the results. Alkire is a 15-year Air Force veteran who served as Standing Rock's executive director twice. The Standing Rock Reservation straddles the North Dakota and South Dakota border and is home to about 8,000 people.
In sports…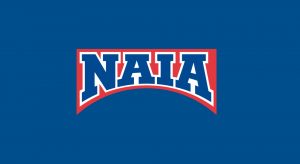 Valley City  –  (VCSU)   Valley City State University has moved up two spots to No. 17 in the Oct. 4 NAIA Football FirstDown PlayBook Top 25 Poll.
The Vikings received 172 poll points as they jumped up two spots after Saturday's 49-0 shutout against Mayville State. VCSU (5-0) is one of 13 undefeated teams remaining in the Top 25 poll, which is voted on by a panel of head coaches.
The No. 17 ranking is VCSU's highest ranking since Sept. 21, 2015, when the Vikings were No. 15 in the coaches' poll.
Wednesday
Volleyball
At Valley City State
VCSU def Mayville State 25-14,25-22,25-16
Valley City State improves to 7-13 overall and 4-2 in the North Star. Mayville State drops to 12-8 overall and 2-4 in the conference.
Wednesday
UJ Soccer
Women
Jamestown 3 Presentation College 2
ABERDEEN, S.D.  (UJ)  — The University of Jamestown women's soccer team returned to GPAC conference play Wednesday, defeating Presentation College 3-2.
The Saints took a 1-0 lead in the 11th minute as Abbie Rodgers scored on a pass from Marissa Gaytan. Rodgers unleashed a kick from the right side over the arms of Jimmie keeper Alex Nowka (JR/Anchorage, Alaska), into the top corner of the net.
Cassandra Diaz (JR/Montebello, Calif.) brought the Jimmies level in the 32nd minute with an assist by Natalia Rodriguez (SR/Camarillo, Calif.). Despite a Presentation defender getting a foot on the ball, the bounce went up just enough for Diaz to execute a one-timer shot from just inside the box to make it 1-1.
Diaz notched her second of the match in the 55th minute, heading in a corner kick from Kamryn Fiscus (JR/Yakima, Wash.) to make it 2-1. Fiscus then extended the UJ lead to 3-1 in the 56th minute. Iliana Ramirez (FR/Marysville, Wash.) passed the ball over to Fiscus, who then put a shot on net from about 25 yards out that went right into the back of the net.
The Saints got within a goal in the 74th minute as Georgia-May Murphy scored from a pass by Julia Gutierrez.
Nowka finished with two saves for Jamestown, which outshot Presentation 18-5 overall and 16-4 on target.
UJ improves to 11-0 overall, 6-0 in the GPAC, and hosts Concordia (Neb.) on Saturday at 4:00 p.m.
Men
Jamestown 4 Presentation College 1
ABERDEEN, S.D  (UJ)  — The University of Jamestown men's soccer team returned to GPAC action Wednesday afternoon, defeating Presentation College 4-1.
Jamestown moves above the .500 mark overall at 5-4-2, and is now 3-2-1 in the conference. The Jimmies host Concordia (Neb.) University Saturday at 6:30 p.m.
Three first-half goals gave UJ the advantage at halftime as Aaron Pike (SR/Milton Keynes, England) (24th), Taylor Lubungo (FR/Goma, D.R. Congo) (42nd), and Nate Vrchota (JR/Baldwin, Wis.) (45th) each scored.
Eric Fairtlough (SR/Varese, Italy) helped set up Pike's opening goal, then Lubungo scored an unassisted goal, notching his second in as many matches. Then, ten seconds from the break, Gio Cassaro (FR/Temecula, Calif.) found Vrchota near the top of the 18-yard box, and Vrchota needed just one touch to beat the Saints keeper.
Armando Quintero ended Jamestown's shutout hopes in the 62nd minute, and the score remained 3-1 until Pike netted his second in the 85th minute.
Shots were 10-6 in favor of the Jimmies, as were shots on target (7-4). Alex Hamer (SR/Solihull, England) had three saves for Jamestown.
In world and national news
AUSTIN, Texas (AP) — A federal judge has ordered Texas to suspend a new law that has banned most abortions in the state since September. The order Wednesday by U.S. District Judge Robert Pitman freezes for now the strict abortion law known as Senate Bill 8. It bans abortions once cardiac activity is detected, which is usually around six weeks. That is before some women even know they're pregnant. The decision is the first legal blow to the Texas law since the U.S. Supreme Court allowed it to take effect last month. Abortion providers in Texas say the restrictions have backlogged clinics hundreds of miles away as women now leave state borders to seek care. Texas officials were expected to seek a swift appeal.
WASHINGTON (AP) — The Justice Department is poised to sue government contractors and other companies who receive U.S. government grants if they fail to report breaches of their cyber systems. That's according to the Justice Department's No. 2 official. Deputy Attorney General Lisa Monaco said the department is prepared to take legal action under a statute called the False Claims Act against contractors who misuse federal dollars by failing to disclose hacks or by having deficient cybersecurity standards. The department will also protect whistleblowers who come forward to report those issues.
WASHINGTON (AP) — Republican and Democratic senators have edged back from a perilous standoff over lifting the nation's borrowing cap. Democrats are signaling they are receptive to an offer from Republican leader Mitch McConnell that would allow for an emergency debt limit extension into December. McConnell made the offer late Wednesday. That was shortly before Republicans were prepared to block legislation to suspend the limit much further — into December of next year — and as President Joe Biden and business leaders ramped up their concerns over what an unprecedented federal default would mean for the nation's economy.
TOKYO (AP) — Global shares and U.S. futures are higher, tracking a rally on Wall Street after signs of progress on resolving the standoff in Congress over the federal debt ceiling. Benchmarks rose Thursday in Paris, London, Tokyo and Hong Kong. Shanghai trading was closed for a Chinese national holiday. Investors are hoping Congress may manage to temporarily extend the federal government's debt ceiling and buy lawmakers time to reach a more permanent resolution. An agreement in principle between U.S. and Chinese envoys on a virtual meeting between President Joe Biden and his Chinese counterpart Xi Jinping also brightened the mood.
BC-EU-NOBEL-LITERATURE
Tanzanian Abdulrazak Gurnah awarded Nobel literature prize
STOCKHOLM (AP) — Tanzanian writer Abdulrazak Gurnah has been awarded the Nobel Prize for Literature. The Swedish Academy said Thursday the award was in recognition of his "uncompromising and compassionate penetration of the effects of colonialism." Born in Zanzibar in 1948 and based in England, Gurnah is a professor at the University of Kent. He is the author of 10 novels, including "Paradise," which was shortlisted for the Booker Prize in 1994. The prestigious award comes with a gold medal and 10 million Swedish kronor (over $1.14 million).
QUETTA, Pakistan (AP) — A powerful earthquake has collapsed at least one coal mine and as many as 100 mud houses in a remote, mountainous part of southwest Pakistan. The quake early Thursday killed at least 23 people as the death toll crept higher. At least another 200 people were injured. A local official says the death toll is expected to rise further. At least four of the dead were working in a coal mine when it collapsed. The 5.9 magnitude quake was in a remote part of Baluchistan province where most residents live in sunbaked mud houses. Television images showed people wrapped in blankets outdoors in the chilly morning air waiting for the aftershocks to subside and for help to arrive.